Classical Sheffield announces PhD student as winner of composing competition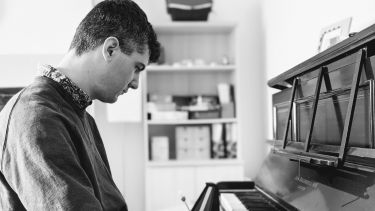 Congratulations to James! 
The Stella Jockel prize provides the opportunity for young composers who were born, lived or studied in Sheffield, to compose a piece for Sheffield Philharmonic Chorus.
The experience will allow James' work to be premiered to a full audience at Sheffield City hall - a privilege only reserved for esteemed professionals!
" It was splendid to see the commitment shown by the fourteen local young composers who submitted their work for the competition...James employed a very convincing and effective structure." 

George Nicholson 

Emeritus Professor of Composition
The piece will be played at the grand finale of the weekend - a performance of Mahler's Symphony No.2 'Resurrection' with Sheffield Philharmonic Chorus, Sheffield Philharmonic Orchestra, Hallam Sinfonia and Hallam Choral Society.
Conducted by George Morton, a University of Sheffield Alumni, the concert will bring the 10th anniversary festival to a spectacular close.
As the concert will also feature a performance of Mahler 2, a piece which makes extraordinary use of off stage performers, I decided that my setting would mirror this by spatializing some of the 200 singers to create an enhanced antiphonal effect. I'm hugely excited to attend the concert, especially as it will be the first time I hear the piece!

James Thomas 
Classical Sheffield Weekend 2023
Sheffield and its locality are home to a wealth of talented orchestras, a variety of choirs, aspiring soloists, conductors, composers and everything in between. 
To help share the success of the classical music scene in Sheffield, Classical Sheffield Weekend 2023, brings a varied selection of music-making across the city in an exciting programme of events that involves hundreds of music-makers.
The weekend runs from Friday 17th March - Sunday 19th March with concerts from Music in the Round, The Hallé and The University of Sheffield.
Many music students and alumni from the University of Sheffield are featuring at the forefront of the events, from managing venues, leading workshops or performing centre stage. 
Mahler 2 - Concert Information
Composition at the University of Sheffield
James Thomas studied music at the University of Sheffield, graduating with a first-class degree in BMus followed by a distinction for his MA in Composition. He is undertaking a PhD in instrumental and vocal composition, generously supported by a University of Sheffield Faculty of Arts and Humanities Scholarship. 
The best thing about studying composition at Sheffield is the number of opportunities that composers get to work with professional performers, with some recent highlights including Ensemble 360; the Orlando Consort; and the Ligeti Quartet. Getting the chance to work with such fantastic performers has also been central to my development, as working on pieces with musicians of that calibre never fails to provide an insightful lesson or two!
The teaching has most certainly been central to my development as a composer in a number of ways. Besides the teaching of compositional techniques and principles, they have helped me to consider music and creativity in new and exciting ways whilst also encouraging me to explore the areas of music and composition that really excite me. This approach has allowed me to refine both the technical aspects of composition (such as material generation/development; notation; score presentation) and my personal compositional voice.

James Thomas
A world-class university – a unique student experience
Sheffield is a research university with a global reputation for excellence. We're a member of the Russell Group: one of the 24 leading UK universities for research and teaching.