Department of Music receives outstanding ratings from students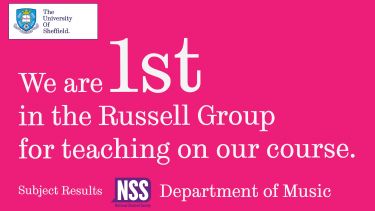 The National Student Survey (NSS) gathers students' opinions on the quality of their courses. The survey gives final year students the opportunity to give honest feedback on their overall experience, both within their chosen department and at university level.
The Department of Music has worked hard to place the student voice at the centre of teaching practices and to systematically embed students' feedback and perspectives in department processes.
For the NSS 2022, the Department of Music was rated 1st in the Russell Group for teaching on our course.
This result is testament to the hard work of our academic staff who are world-leading in research, musical engagement and teaching, who share their knowledge in an insightful and engaging way to our students. The third year undergraduate cohort reflected that during their degree the course: 'challenged me to achieve my best'. 
100% of students ranked the Department 1st in the UK for 'Staff are good at explaining things' and 'Staff have made the subject interesting'.
Students also recognised that during the course the resources provided for music study, alongside the access to collaborate with other students, deserved a 1st place rating.
These results have contributed to the The Department of Music receiving multiple top ranking positions for the NSS, with an overall rating of 82% student satisfaction. 
Student satisfaction overall at the University of Sheffield is at 78 per cent – two per cent higher than the sector average, according to the National Student Survey (NSS) 2022. 
We're delighted to have been recognised by our students as delivering some of the best learning and teaching in the country. I am grateful to our dedicated staff for their hard work in achieving this and for being an inspiration to the next generation.

Listening to the views of our students is so important in helping us further develop our student experience and the National Student Survey provides us with a really useful insight into what it is our students want and need".

Professor Mary Vincent

Vice-President for Education at the University of Sheffield
The University of Sheffield's award-winning Students' Union also ranked number one in the Russell Group, with a satisfaction rate 15 per cent above the sector average for effectively representing students' academic interests.  
Explore the University
Discover why Sheffield is the right choice for you at one of our open days or events.