Folk singer and TUOS academic, Dr Fay Hield, supports Sheffield Folk Scene during the pandemic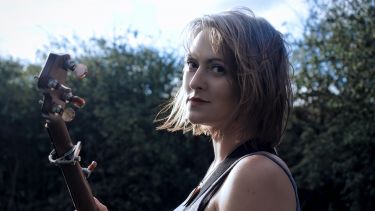 Since joining the Department of Music in 2011, Dr Hield has established several folk communities including the TUOS Folk Group and Soundpost. This network of activities across the city has provided much needed respite and support for musicians through the trying times of the global pandemic. This has included successfully moving regular weekly groups for adults and children into online spaces, and transforming the annual singing festival to a virtual event. 
Dr Hield is a Senior Lecturer at the Department of Music who teaches on the MA in Traditional and World Music, and regularly publishes new research on the cultural heritage of traditional and folk music in the UK. Dr Hield also successfully manages a performance career alongside her academic activities as a leading folk singer. Following the award of 'Best Album' at the 2014 BBC Radio 2 Folk Awards, her new album 'Wrackline' has been recognised on the BBC Folk Show and the Official Folk Album Charts UK. 
Fay Hield: Wrackline Tour
Dr Fay Hield teams up with Ben Nicholls and Rob Harbron to tour her new album, Wrackline. Exploring ideas of the space between, Wrackline looks to ghosts, fairies, spirits and talking animals to understand what it is about the unknown that entrances us. Working with traditional materials and ideas, Fay explores the feelings they evoke and how they relate to her experience in the contemporary world.
This event will take place from the intimate surroundings of the Drama Studio at the University of Sheffield. The University Concert Series state-of-the-art video and sound recording equipment offers you the opportunity to enjoy the work of these talented musicians in the comfort of your own home. 
Soundpost  was established in 2011 and has evolved over the years to become a flourishing Folk Arts organisation, running popular intensive weekends away, day-long workshops and study days, schools projects and a weekly Folk Factory. 
This year has been a year unlike any other, and like many other organisations, the Soundpost groups have had to adapt to life online. Many changes have occurred but Soundpost has continued and prosper, delivering outstanding events and workshops, such as the recent 'Soundpost Sing 2020' held on the 10th April. This included a day full of vocal workshops from guest artist tutors, and finished with a concert and singaround, receiving glowing feedback from it's participants. 
In additional to the annual Singing weekend, Dr Hield has initiated a monthly online 'singaround' which has managed to keep local folk musicians busy by making music through the online sessions. 'Covid Sings' was set up to meet the needs of people whose regular folk clubs have closed down and has attracted a community of singers from Britain, Ireland, the USA and Canada.
I am just so pleased we managed to make positive changes in response to the crisis. 

Fay Hield 

Course Tutor, MA in Traditional and World Music 
Folk Factory runs a weekly set of clubs for adults and children that explore folk music, tunes and songs in a fun and friendly way. Taught by Nicola Beazley, a current PhD student at the Department of Music, participants have been able to continue working towards their Arts Awards, and collaborate on video projects, featuring on the National Music for Youth's Youtube Channel. 
Eleanor from Folk Factory Youth describes the importance of the group, and the impact of the national lockdowns: 
Lockdown has changed the folk factory in a few ways. Normally (before the pandemic) we would meet every Wednesday night and play as a group. Since lockdown we have been unable to actually play in the same room and be able to hear each other playing in person however we still have been able to learn songs and tunes and keep the general morale of the group going via weekly Zoom calls. By keeping Folk Factory going in lockdown we have been able to keep the friendships and general community we have created in the group going. None of us knew each other before Folk Factory however now we are all good friends and keep in contact outside of the group'

Eleanor 

Folk Factory Youth
The University of Sheffield Folk Group, has been an active ensemble since Dr Hield established the group in 2012. Using the Department's facilities to rehearse, the group has enjoyed opportunities performing on the Sheffield Folk Train, Classical Sheffield and The Foundry Studios. 
The student-led group have introduced many new students to folk music over the years and provided an encouraging environment to learn music by ear. During the pandemic, this has adapted to weekly online Zoom sessions, providing a creative environment for students based in different locations across the country to collaborate. 
Find out more about the research and performance activities of the Department of Music on our webpages.
Applications are now open for the MA in Traditional and World Music which starts in August 2021. This distance learning course is part-time and allows you to study flexibly at a time and place that suits you. Course fees have recently been reduced for international students and scholarships are available. 
Explore all postgraduate courses
A masters from Sheffield means in-depth knowledge, advanced skills and the confidence to achieve your ambitions.