New Alumni Concert Series released by Music in the City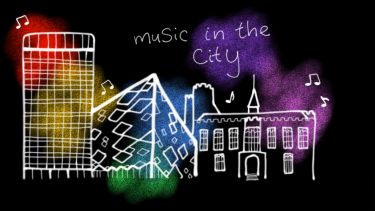 Music in the City is a student-led volunteering organisation associated with the Department of Music at the University of Sheffield. The organisation creates fantastic opportunities for students interested in gaining music education experience during their degree.
The team of volunteers provide music workshops and online collaboration sessions for schools in the local area, and work closely with The Sheffield Music Hub, Music for Youth, Create Sheffield and TUOS Arts and Humanities outreach team. Their latest project includes an Alumni Video Series with graduates from the Department of Music.
The organisations third video series, released on their YouTube channel last week, features performances of varying musical genres and highlights the achievements of six alumni since graduating. 
Each video gives an insight into the specialisms taught at Sheffield, and demonstrates the variety of genres that students can focus on during their undergraduate degree.
The series was showcased through the University of Sheffield's Spring Concert Series, and adds to their growing portfolio of content which includes 'Instrument Introductions' and 'Let's listen to...', featuring works from the BBC 10 pieces. 
Further access to resources and information about how to get involved can be found on the Music in the City webpage. 
Congratulations to the team and our alumni performers for their engaging online collaboration! 
Alex is a London based musician currently studying a masters in clarinet performance at Trinity Laban Conservatoire of music and dance, graduating from Sheffield in 2019.
Kate Griffin is a professional musician, teacher and photographer based in Sheffield, graduating from Sheffield in 2019. She is a composer and tours around the country with her own and other band's as well as working with Sheffield based projects. 
Ben Evans is an electric and double bassist freelance musician based in Sheffield, graduating from the university in 2017. Ben is a highly accomplished performer in a wide range of genres, having performed with award winning theatre companies in London and at the Edinburgh Fringe alongside playing award winning jazz venues, BBC introducing and pop and rock scenes based in Sheffield and Nottingham.
Manon is a freelance harpist and composer based in Sheffield, having graduated in 2020.
Ford graduated from Sheffield University in 2017 and works as a freelance musician.  Ford tours, writes and records music with both groups as well as teaching privately. 
Katie graduated form the university of Sheffield in 2020 and is currently training to be a music therapist, studying a masters in music therapy and partaking in a placement as a trainee music therapist at a school for special education. 
The Department has a strong network of alumni who are based all over the world in range of professional industries.
Find out more about the alumni music community on the following webpage: 
Stay connected with your University
Experience all the benefits and services that come from being a Sheffield graduate.