New research on perfect pitch and synaesthesia released by Department of Music Alumni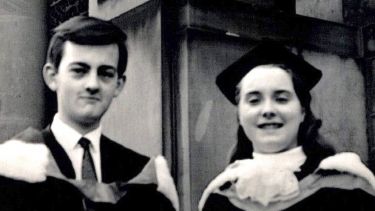 Jon Baggaley (Music, Combined Hons., 1965-66), and Sheila James (Music, Combined Hons. 1965-68) met during their studies at the Department of Music at the University of Sheffield. 
During Jon's time in the Department of Music in the 1960s, he began a series of studies on synaesthesia, the intersensory association of stimuli as in "coloured hearing". The Department's staff and students greatly supported the research with their insights. His research conclusions were contained in his Psychology Department PhD thesis 'Colour and Musical Pitch' (1972).
Upon graduating from the University of Sheffield, Jon went on to a Lectureship in Communication Studies at Liverpool University where he directed operas for their Music Department.
Jon later became Chair of Education at Concordia University, Montreal and Chair of Educational Technology at Canada's Open University in Athabasca, Alberta, where he is now Emeritus Professor.
Sheila became a professional theatre director specialising in opera and musicals, and a fibre artist known by the pseudonym Cecile Jacobs.
To mark the 50th anniversary of his perfect pitch and synaesthesia research, Jon has recently updated and added to his conclusions in a 90,000-word book 'Yinyang, Music and Colour', which is co-authored with his wife Sheila James. 
Yinyang, Music and Colour' gathers evidence from psychology, musicology, psychoacoustics, archaeology, anthropology, astronomy and the neurosciences to explain three age-old mysteries: the origin of the yinyang symbol, the rare musical capacity of absolute (or perfect) pitch, and the association of music and colour in synaesthesia. 

Jon Baggaley
The book features detailed acknowledgements of the stimulating environment that both Jon and Sheila enjoyed in the The University of Sheffield Music Department of the 1960s, then housed on the corner of Northumberland Road. It also includes how the Department's contribution was central to establishing the work of their future career. 
A special section of the book is devoted to the evolution of the Department of Music's musical psychology research in the years since, with particular emphasis on its studies of synaesthete composers, musical imagery, pitch location, and the relationship of synaesthesia and absolute pitch.  The book contains a selection of Sheila James' large-scale works of fibre art. 
Jon states a particular memorable occasion was representing the Department at the opening of the Arts Tower in 1966 where he was presented to Queen Elizabeth, the Queen Mother.
The book 'Yinyang, Music and Colour' is now available from Amazon.co.uk and Barnes & Noble and other online retailers:
The Department of Music has a strong alumni community of musicians who are based across the world. To find out more about past alumni events and how to get involved, visit the Department of Music Alumni page. 
Stay connected with your University
Experience all the benefits and services that come from being a Sheffield graduate.