Sheffield music students in the spotlight at Tramlines Festival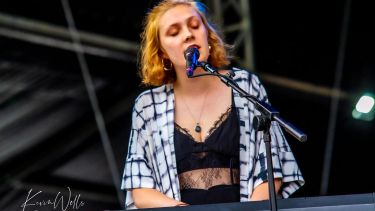 Tramlines Festival is the renowned annual music festival held in Hillsborough Park, Sheffield. Last month, the festival returned for it's 12th year and included headline acts such as Dizzee Rascal, Royal Blood and The Kooks. 
Every year, Tramlines showcases the best pop, rock and indie bands in the region and is a fantastic opportunity for local musicians to perform.
The University of Sheffield music community makes an important contribution to the diverse musical scene in Sheffield, and after months of silence for many bands, it was a thrilling spectacle to see Department of Music students being selected to perform on stages across the city once again.
We spoke to three members of our music community about what it meant to be booked for the main stage and as part of the Tramlines Fringe events. 
Molly Clark - BMus Music 
 The music department was a great starting point to meet and play with other musicians in Sheffield. 

In my first year I was lucky to join a band with a 3rd year music student which led me to discover more venues and make more musical connections in the city.

The Sheffield music scene is a great size - there are enough gig opportunities but the relatively small size of the scene means you can meet musicians and make connections easily.

It was the biggest stage I've ever played! An experience I'll never forget.... 

I was lucky enough to open the main stage of Tramlines on the Saturday with a band I recently joined, Before Breakfast. 

Our first gig ended up being the Latitude BBC 'introducing stage' the day before Tramlines, which was an amazing privilege.

Tramlines was an incredible experience, opening the main stage on Saturday felt very exciting as everyone was coming into the park excited for the festival to start.

Molly Clark

Keys Player and Singer, Before Breakfast
Rose Franchi - MA Psychology of Music
I recently joined a local band called the Tin Soldiers. We are a brass 'party band' and play a range of popular tunes, including disco, modern pop, soul and funk, as well as some classic party tunes like YMCA and Sweet Caroline!

I've known about the band for a while - one of my friends, a trumpet player who I met in the Music Players' Society at The University of Sheffield has been in the band for a few years.

My friends and I went to watch them at Tramlines Fringe two years ago and really enjoyed their performances!

The experience of playing live music again (in real life, with actual people) felt so amazing!

I played with Tin Soldiers as part of the Tramlines Fringe free music event at Trippets on the Saturday evening of Tramlines weekend.

All those same feelings you get when you play live came flooding back, the feeling of connection with both your bandmates and the audience, feeling the energy of all the people in the room enjoying music together again was incredible. 

Rose Franchi

Alto Saxophone, Tin Soldiers
Nathan Newton - MA Musicology
Aside from the fantastically broad areas of study in the Music Department at the University of Sheffield, what attracted me most to come and study in the city was its distinct musical heritage and music scene, particularly in the areas of pop and rock music that interest me.

Therefore to have been part of the celebration of music in the city that is Tramlines Festival was a huge honour. 

This year was the third time my band, Ten Eighty Trees, has played as part of the Tramlines Fringe which takes place outside of the main festival and showcases more up and coming and underground artists in Sheffield city centre.

I really can't think of another inner city festival experience on the same scale in the UK like it. So to be a part of such a unique experience in such a unique city is something we're really grateful for as a band. 

It's such an invaluable opportunity to reach new fans and play in front of music lovers who crave the more left field. This was evident this year more so than ever.

With most gig goers having been starved of live music for the best part of 18 months, our Fringe show at The Washington was a blistering half hour celebration of anthemic rock culminating in a long overdue crowd surf. It felt good to be back. 

The fact that nearly every venue in Sheffield (and there's a lot of them) is free entry for Tramlines Fringe makes the whole weekend amazing value for money.

Nathan Newton 

Lead Singer and Guitarist, Ten Eighty Trees
Explore the University
Discover what sets Sheffield apart at our next on-campus open day.