University of Sheffield concert series premieres new music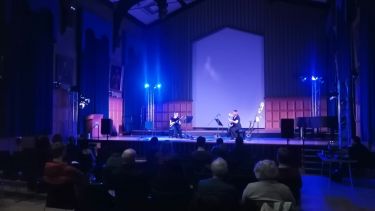 For the 2022 Spring Season, the University of Sheffield concert series has produced a programme of multicultural, world-class acts, who are performing a diverse range of music at the cutting edge of compositional practice. 
Rarescale is a flexible-instrumentation contemporary chamber music ensemble. Formed by low flutes specialist Carla Rees in 2003, the aim was to create and championing new repertoire for instruments. Dr Sarah Watts, Director of Performance at the University of Sheffield, is a member of the rarescale ensemble who initiated the collaboration for the concert.
On Thursday 31st March, Firth Hall welcomed the rarescale ensemble for an exciting concert programme of new music. This featured premieres of work for electronic and live instruments from Professor Dorothy Ker and Alumni Ellen Sargen.
'You may own us but we are going to inform on you' is a piece written by Ellen Sargen and Sarah Watts and uses machine learning code PRiSM SampleRNN with the aid of Christopher Melen. Initially conceived of to offer a 'between point' in the voices of composer and performer, this piece uses machine learning to fuse improvisation and composition; to fuse the found behaviours in two distinct voices; and to offer a glimpse of an artificial identity, as heard and generated by an algorithm.
Last night's concert was a veritable feast of new music not only composed for them but in many cases with them as collaborators dedicating time and expertise to the development of the pieces. It's wonderful to watch them working together and so obviously enjoying playing a diverse range of challenging music (including my own) with incredible skill and musicianship. The cutting edge, right here in Sheffield.

Professor Dorothy Ker 

Lecturer in Composition, The University of Sheffield 
The programme included pieces from: 
Stephen Davismoon: 'Veiled bamboo, swift water … boundless' for Alto Flute, Contrabass Clarinet + Electrics 
Claes Biehl: 'Evocazione del mare' for Bass Flute & Electronics
Dorothy Ker: 'Fauna of Shadows' (World Premiere)
Florence-Anna Maunders: Winds for Alto Flute and Bass Clarinet (World Premiere)
Ellen Sargen: 'You may own us but we are going to inform on you' for Contrabass Clarinet and Electronics (World Premiere of Live Performance)
Sohrab Uduman: 'Sound me closely' for Bass Flute, Bass Clarinet and Electronics
Dr Sarah Watts has since released a new book on 'A personal guide to bass clarinet repertoire' in collaboration with ClariPeru's online low clarinet festival. This is the first bass clarinet repertoire guide to be published. The online version of the guide book can be downloaded for free which has already received close to 2000 downloads in the last week.
Find out more about composition and performance activity on our Department of Music website and through our courses:
A world top-100 university
We're a world top-100 university renowned for the excellence, impact and distinctiveness of our research-led learning and teaching.