UoS Concert series: Looking back on a year in Music.
The Concert Series continued to adapt in 2021, despite all of the challenges. Here are just some of the highlights from what has been another great year for showcasing musical talent at Sheffield....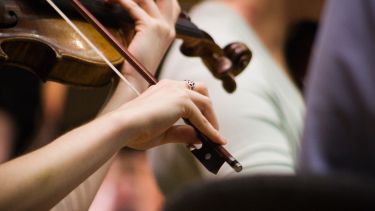 University of Sheffield Concert series 
2021 might have been a difficult year for live music in Sheffield. This didn't, however, stop the UOS concert series from showcasing a diverse range of live music, spanning classical to experimental performance. Working closely with the local community here in Sheffield and with our international friends, we have successfully showcased the full range of musical talent that is available here in Sheffield. 
The University Department of Music works closely with the Sheffield Concert Series in providing an opportunity for students to perform in a professional environment, and to engage with the local music community. This year, we welcomed world renowned touring musicians and held world class master classes. After months of virtual programming, we were happy to announce a return to 'in-person' events.  
We're extremely excited to be able to announce our return to live, in person events this autumn. No-one could have anticipated the extent and duration of COVID -19's impact, but as we come out of a difficult 16 months, I'm looking forward to our fantastic programme immensely.

Nick Potter 

Music Programme producer, Sheffield Concerts 
​​​Highlights - Here are just a few of the highlights from this year.
Sound Junction, one of the UK's longest-running and most significant concert series dedicated exclusively to acousmatic, electroacoustic music, returned to Firth Hall with their 32 channel immersive sound system. Over the past 15 years, it has presented a wide range of home-grown, national and international composers to the public, including many of the world's leading electroacoustic figures; this year was no different. This year featured premieres of works by USSS students and staff. 
Following on from the success of our New Music Ensemble performances, we returned to DINA for an evening of wild music – featuring solo pieces from University of Sheffield Department of Music MA students. 
To celebrate the work of recently qualified professors Dorothy Ker and Renee Timmers, Sheffield concerts hosted an evening of inaugural lectures, Q&As and a performance from rising young soprano Ella Taylor. This inaugural celebration of two new Professors in Music put a spotlight on the incredible quality of research happening at Sheffield.
Ending the year; the official choir for the Department of Music, the Sheffield Chamber choir, returned to Firth Hall for their annual Christmas Carol Service. Bringing together students and staff from across the University in a festive celebration.
Learn more about our Ensembles: Meet Our Ensembles
Taking the Sheffield Stage by Storm
We were lucky here in Sheffield to host a number of professional musicians this year, here are just a few: 
John Grant, featuring special guest Teddy Thompson
Jarvis Cocker
Imogen Cooper
Peter Hill and Benjamin Frith 
Paul Weller and guests 
Sheffield Jazz .....and many more!
Looking forward - Spring 2022 
After another successful year of concerts, live performances, and virtual programming, the preparations for the Spring 2022 season are underway. The first preview of upcoming programming has been released, and 2022 is looking to be another great year for music at Sheffield. 
Learn more about Sheffield Concert series, and their upcoming events: Sheffield Concerts
A world top-100 university
We're a world top-100 university renowned for the excellence, impact and distinctiveness of our research-led learning and teaching.