New staff: Diversifying our specialisms
The University of Sheffield attracts world-leading academics who are an expert in their area of research. The Department of Music aims to create a creative and collaborative community in which students can study with staff at the forefront of musical discoveries.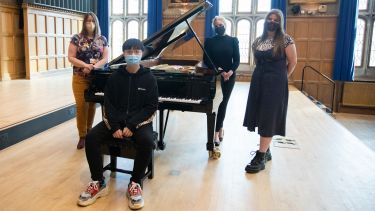 Academic Staff
We are delighted to have been able to diversify our academic specialisms in 2021 by welcoming several new members to the Department of Music. An international and interdisciplinary approach to staffing helps to provide inspiration to all students, whatever their preference for music genre and subject area. 
Professional Service 
Due to the expanding teaching and research activity taking place across the Department of Music, a larger structure of professional services staff has been established to maintain the high-quality support for students. This includes technical staff, performance and admissions support. 
Instrumental Tutors
Becoming a master of your instrument is at the heart of our teaching at Sheffield, and we ensure our students have the support to develop their creative voice. This is why we employ an enthusiastic team of  distinguished teachers who follow a successful and prominent performing careers within the classical, jazz, pop, theatre, and corporate music world. This year we welcome: 
A world-class university – a unique student experience
Sheffield is a research university with a global reputation for excellence. We're a member of the Russell Group: one of the 24 leading UK universities for research and teaching.