The Research Seminar Series is a series of talks by leading researchers at this university and elsewhere. The series is aimed at postgraduate students and staff but undergraduates and external visitors are welcome at every talk.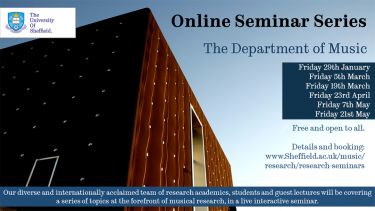 Friday Research Seminars, 12.00-1.00pm online. Each session will include a virtual presentation by an invited speaker followed by questions and discussion. For some events, materials may be shared ahead of time with links on this page.
The series is open to all staff and students of the University of Sheffield as well as external visitors. Staff and PG students should enter via Blackboard>MUS Postgraduate Hub>Collaborate>Research Seminar Room. UGs and external visitors should email to request the link f.hield@sheffield.ac.uk
2020-2021 Research Seminars
6/11/20 - Whose Ears? Cage, A King, and Humming - Dr Suk-jun Kim, The University of Aberdeen.

Suk-Jun Kim studied theology at Yonsei university, South Korea and Recording Engineering at OIART (Ontario Institute of Audio and Recording Technology). He earned a master's degree in Music Technology in Northwestern University and a Ph.D. in composition at the University of Florida. Currently, Kim is senior lecturer in Electroacoustic Music and Sound Art at the University of Aberdeen, Scotland and Director of PG Research in the School of Language, Literature, Music, and Visual Culture. As a composer and sound artist, Kim has won several international composition awards and attracted commissions. Kim was a DAAD resident composer between 2009-2010. Kim has written two books - Hasla and Humming – and is now working on new project on sound studies, including one that examines key aspects that have established the audience in the 21st century.
 

We often hear composers and sound artists say "Listen!" with an apostrophe. But what else would it mean to listen, if it is not an act of lending our ears to something that is not our own? In this talk, Suk-Jun Kim focusses on three incidents in which we lend our ears for listening, which have been explored in his recent book, Humming: John Cage with his Lecture on Nothing, A King from Italo Calvino's short story, A King Listens, and humming, a vocalic act closest to being mute, or silence.

20/11/20 - Modelling the perception of emotion and meaning in music using probability theory - Professor Renee Timmers, The University of Sheffield.

"Perception of emotion and meaning in music is to a large extent probabilistic rather  than deterministic. Certain properties of music may increase the likelihood that a  particular emotion is perceived over another or a particular imagery or association  is evoked. What emotion or imagery is perceived also depends on contextual factors such as the apriori probability of emotions, listeners' sensitivities and biases, 
and the distinctives of the properties within the musical context. In this presentation,  I will explore the use of Bayes' rule to model the perception of emotion and meaning, and to capture the influence of these contextually shaping factors.

Considering emotion perception, according to Bayes' rule, the posterior probability of perceiving an emotion given a musical property M is equal to the likelihood of the  observation of the musical property if the hypothesis of that emotion was true, times  the prior probability of that emotion (in the context of competing emotions). To  develop this method, measures of prior probability of emotions are required as well 
as probability estimates of musical properties in emotional expressions. Analogously, the posterior probability of multimodal imagery given musical property M is equal to the likelihood of that musical property in the context of the hypothesised multimodal phenomenon, additionally taking into account the prior probability of the phenomenon and the frequency of occurrence of the musical property across multimodal phenomena. Finally, probability calculations can be used to examine relationships between emotion and meaning in music: what is the posterior probability of an emotion given a multimodal association or vice versa what is the probability of a given multimodal imagery given an emotion? 

Data from existing research articles are used to get a proof of concept of these applications of Bayes' rule to model perception of emotion and meaning in music. Future directions for research are discussed as well as benefits and limitations of the adoption of a Bayesian approach to music cognition."

4/12/20 - The secret inner life of the piano: Cosmologies for piano and 3D electronics - Dr Aaron Einbond, City University London

Description

How does a listener know immediately when she or he walks into a room with a live grand piano instead of a recording? One reason is the complex interactions between the piano sound and the space that surrounds it. Artificial Intelligence (AI) research is ubiquitous, yet often ignores the spatial presence of the live instrument and performer. Yet research in the field of music perception points to the essential role of situated or embodied cognition our listening experience. My composition Cosmologies for piano and three-dimensional electronics seeks to place the embodied presence of the instrument and its performer at the centre, using machine learning of audio features to decipher the intricate interdependencies of timbre and space that bring an instrument to life. The results explode the space inside the piano out to the space of the concert hall, creating a virtual reality (VR) environment for the ears, and situating the listener inside the instrument to experience its secret inner life.

Speaker's bio

Aaron Einbond's work explores the intersection of instrumental music, field recording, sound installation, and interactive technology. He released portrait album Without Words with Ensemble Dal Niente on Carrier Records and Cities with Yarn/Wire and Matilde Meireles on multi.modal/NMC Recordings. His awards include a Giga-Hertz Förderpreis, a Guggenheim Fellowship, and artistic research residencies at IRCAM and ZKM. He teaches music composition, sound, and technology at City, University of London.

29/1/21 - On the Singing Hologram: Miku, Love and Labour - Professor Nick Prior, University of Edinburgh

The advent of the performing hologram opens up significant questionsaround the fate of "liveness" in the digital age, blurring if not collapsing distinctions between absence/presence, live/real, original/copy as well
as transforming well-worn ideas such as authenticity. Drawing on ethnographic fieldwork undertaken in Japan and the UK, this talk explores the case of virtual idol, Hatsune Miku, originally a marketing mascot for voice synthesis software but who now tours globally and is a representative agent of a new breed of virtual performers. As well as introducing the Miku media model – a relatively flat media ecology where fans are also Miku producers – the talk will offer some speculative thoughts on how a Miku performance "works" as an assemblage of love, labour and socio-technical affordances. Who or what is performing, how is liveness managed when the performer is pure code, and what does this tell us about relations between live music, participatory cultures and virtuality?

5/3/21 - 'Getting it right'. Classical music and class in England: Dr Anna Bull, University of Portsmouth 

In this talk, I draw on my recently published book, 'Class, Control, and Classical Music' (Oxford University Press, 2019), to discuss why, in the UK, classical music remains predominantly played by white middle-class people. I draw on data from an ethnographic study with young people playing in classical music ensembles in the south of England to explain how the inclusions and exclusions that are visible today were set up historically in the establishment of music education institutions in the late Victorian period. The link between class and classical music is also apparent in the social relations of classical music pedagogy, such as what I am calling a 'pedagogy of correction'. These social relations are not, I argue, separate from the music itself, but are in part formed by the demands of classical music's distinctive aesthetic, repertoire, and instruments. These demands create an aesthetic ideal of 'getting it right'. This means that in order to change the demographic patterns of who plays classical music, the aesthetic itself will need to change.

Speakers Bio

Dr Anna Bull is a Senior Lecturer in sociology at the University of Portsmouth. Her research interests include class and gender inequalities in classical music education; and staff sexual misconduct in higher education. Anna has published in leading sociology and music education journals and her monograph Class, Control, and Classical music, looking at the culture of classical music among young middle class classical musicians in the south of England, was published in 2019 by Oxford University Press, and in 2020 was joint winner of the Philip Abrams Memorial Prize from the British Sociological Association. Anna is also a director of The 1752 Group (https://1752group.com/), a research and campaigning organisation working to address staff sexual misconduct in higher education.

19/3/21 -  Transgressive Trad: Alternatives to Heteronormativity in Traditional Irish Song - Dr Lillis Ó Laoire 

Lillis Ó Laoire is Professor of Irish Language and Folklore at NUI Galway. He has published on the song traditions of Tory Island and with Sean Williams an award winning biography of Joe Heaney. He is a noted performer being awarde TG4 traditional singer of the year in 2020.

Sean-nós song is regarded by many as the hegemonic core of Irish Traditional Music (ITM). Central to sean-nós are themes of erotic love and loss. Irish Traditional Music is conventionally regarded as conservative in outlook, reinforcing heteronormative binary gender identities, thus creating a challenging environment for those identifying as LGBTQ+, who also enjoy performing or consuming traditional music. This paper will briefly outline the rationale of such a conservative outlook within a cultural nationalistic framework, before exploring some transgressive examples, showing that 'tradition' and 'heternormativity' are not necessarily synonymous. This aims to open a space for the recognition and validation of non-binary histories within ITM, and especially within the song tradition.

23/4/21 - The social impact of making music (SIMM) in Colombia: Meanings and practices in a postcolonial Latin American nation - Juan Sebastián Rojas E., PhD

Research and public discourse on the social impact of making music (recently, also called SIMM) have become more visible in the last ten years, accounting for a diversity of situations, in which music practices play an active role in processes of social transformation, at different levels. Juan Rojas will provide a perspective on the current landscape of SIMM activities in Colombia, as studied within the framework of the larger international research project, "Music for Social Impact: Practitioners' work, context, and beliefs." The project aims at comparing between the findings in four countries—Colombia, Belgium, Finland, and the UK—but the talk will revolve around the organizational, cultural, and political aspects that have shaped the Colombian SIMM field, with occasional comparisons, for context. In Colombia, SIMM activities seem to be notoriously divided between small grassroots organizations and large national level institutional programs, both focusing on the attention of vulnerable and marginalized populations, mostly people in conditions of poverty or victims of the armed conflict. This divide is a partial result of the implementation of neoliberal policies of cultural decentralization since the 1990s, which restricted regional budgets, while privileging national-level programs focused on Western classical musics. While this model caters for thousands of people, local SIMM activities, which include a wide range of culturally diverse musical practices, are mostly unattended in a nation that publicly praises its cultural diversity. Is this problematic? This presentation explores the Colombian case from a cross-cultural perspective, aiming at future understandings of the larger SIMM field.

Speakers Bio

Juan S. Rojas is a Colombian ethnomusicologist, musician, and anthropologist. He received his Ph.D. in ethnomusicology at Indiana University Bloomington, in 2018, and is an experienced researcher and performer of diverse Afro-Diasporic musical expressions, specializing in traditional and popular Colombian musics. His dissertation, titled "Drums, Raps, and Song-Games: An Ethnography of Music and Peacebuilding in the Afro-Colombian Town of Libertad," explores the potential contributions of local musics to processes of conflict transformation. He teaches ensemble courses and graduate seminars at University of El Bosque and University of Los Andes, in Colombia and is a member of the research team at Sonidos Enraizados Cultural Corporation. He currently holds a Post-Doctoral Research Fellowship at the project "Music for Social Impact: Practitioners' work, context, and beliefs," hosted by Guildhall School of Music and Drama, as part of his work at the UNESCO Chair in Education, Arts, and a Culture of Peace, at Juan N. Corpas University Foundation (Colombia).

7/5/21 - Musical life in a mid-eighteenth-century prison - Dr Cheryll Duncan, RNCM

Lewis Granom's Plain and easy instructions for playing on the German flute is significant in being the earliest work on the pedagogy of the instrument by a named English author. Legal records recently discovered in The National Archives reveal that the treatise had an extraordinary genesis, being largely the product of lessons given by Granom to its dedicatee, John Bourke, a wealthy Irish landowner who was incarcerated for debt in the King's Bench Prison at the time. The litigation that followed the breakdown of their friendship sheds light on a range of matters, including the patron/composer relationship, their musical tastes and views regarding Handel's posthumous reputation, the sources used to compile the Instructions, the cost of music lessons, copying and other related expenses, and the cultural and social life of one of London's more salubrious gaols.

Speakers Bio

Cheryll Duncan is a Senior Lecturer in Music at the RNCM. Her research investigates professional music culture in Britain during the late seventeenth and eighteenth centuries, with a particular focus on records of the equity and common-law courts. She has published several articles in leading musicological journals, and contributed a chapter to Geminiani Studies (ed. C. Hogwood). Her monograph on the violinist and composer Felice Giardini was published in 2020.

21/5/21 - Composing a Symphonist: Florence Price and the Hand of Black Women's Fellowship - Samantha Edge, Lord Crewe Junior Research Fellow in Music, University of Oxford.

Florence Price (1887–1953) is often described as the first African American woman to achieve national and international success as a composer. However, this deserved accolade tends to exceptionalize her achievements as a female composer of African descent and thus to obscure or negate the rich context in which she worked. "Composing a Symphonist: Florence Price and the Hand of Black Women's Fellowship" resituates Price in the dynamic cultural movement of the Black Chicago Renaissance and recognizes how a number of African American women played diverse and crucial roles within it. I illuminate Price's Chicago, in which a female-led community shaped an American art music that uplifted black musical idioms. Positioning Price's transition from Little Rock, Arkansas, against the backdrop of the Great Migration, the unfolding narrative explores the first six years in which she lived in Chicago (1927–1933); it delves into the community that awaited her and the particular influence of Nora Douglas Holt, Estella Conway Bonds, and Maude Roberts George in her ascent to become the first nationally-recognized black female symphonist. The result is a geographical and socio-cultural mapping of Price's Chicago that reveals the clasped hand of black women's fellowship.

Speakers Bio

Dr. Samantha Edge is the Lord Crewe Junior Research Fellow in Music at Lincoln College, University of Oxford. She is a leading interpreter and scholar of the African American composer Florence B. Price. She received the Society for American Music's Eileen Southern Fellowship (2019) and a Newberry Library Short-Term Residential Fellowship (2019) for her work on women's contributions to concert life in interwar Chicago. She has written for American Music, Women and Music, and the Kapralova Society Journal. She released Four Women: Music for Solo Piano by Price, Kaprálová, Bilsland and Bonds with Wave Theory Records in 2018. Her latest album is called Fantasie Nègre: The Piano Music of Florence Price.

Join at: https://zoom.us/j/99483467755

28/5/21 - Three's a crowd? Inviting Machine Learning into the collaborative space in a new work for contrabass clarinet, Ellen Sargen, Royal Northern College of Music.

This talk will focus on a recent collaboration between myself and Sarah Watts which used Machine Learning as a third collaborator in the creation of a new piece for contrabass clarinet and track. The aim of our research was to use Machine Learning as an objective observer of the idiosyncratic behaviours exhibited in either our performance or composition practices and to create a piece that documented these behaviours within it. We trained our chosen algorithm (PRiSM SampleRNN) on recordings of Sarah's improvisations and of my compositions. This generated new audio samples, exhibiting behaviours that the algorithm had 'learnt' from our original data. These samples, representative of an artificial space between Sarah and I were used to create a new work: 'You may own us but we are going to inform on you'. This piece aimed to give equal space to all collaborators. In this talk I will discuss the social and ethical concerns and benefits that arose from giving a non-human this position in the collaboration. 

Biography:

Ellen Sargen is an alumna of The University of Sheffield (BMus, MA) and is currently studying for a PhD in Composition at the Royal Northern College of Music, supported by the North West Consortium DTP. Ellen's research aims to explore musicians' relationships with their instruments, bodies and repertoire as they are performed in long-term collaborative spaces, before documenting these (with opportunity for development and transformation) in new works composed with her collaborators.

Ellen is an associate composer of University of York Music Press. Her music has been performed across the UK and abroad where she has worked with ensembles including Ligeti Quartet, Ensemble 360, Psappha, Ensemble Recherche, NoteBene etc. Recent commissions include those from National Opera Studio, Classical Sheffield Festival and Music in the Round (2018-2020). Ellen is also a flautist and directs the all-abilities ensemble CoMA Manchester.
Flagship institutes
The University's four flagship institutes bring together our key strengths to tackle global issues, turning interdisciplinary and translational research into real-world solutions.