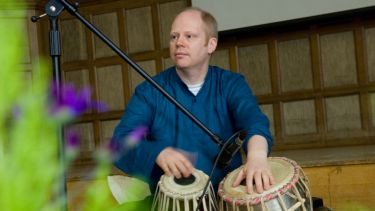 What is Ethnomusicology?
Ethnomusicologists seek to understand the whole process within which music is imagined, discussed and made. We try to relate specific musical sounds, behaviours and ideas to their broader social, cultural and political contexts. Studying individuals and societies all around the world, including the West, we aim to discover and document human musical life in its full richness and diversity. One unifying theme in the ethnomusicological approach is the method of participant-observation: typically, we work closely with our musical contacts over a sustained period, and we often learn performance alongside others in the tradition as a means of building expertise and sharing experience.
Ethnomusicology in Sheffield
The ethnomusicology research programme at Sheffield is one of the largest in Britain, with around forty postgraduate students as well as four academic staff and a world musician in residence.
The staff regularly publish in the subject's key periodicals (e.g. Ethnomusicology, Ethnomusicology Forum and Yearbook for Traditional Music) and are frequently invited to contribute to edited collections in the field. We're an active centre for meetings, having hosted conferences of the British Forum for Ethnomusicology (BFE), the European Foundation for Chinese Music Research (CHIME), the International Council for Traditional Music (ICTM) and Traditional Song Forum (TSF). We have also hosted many distinguished ethnomusicological visitors.
Programmes in ethnomusicology take advantage of Sheffield's location at the geographical centre of England to pursue strong interests in English traditional musics, while balancing the "ethnomusicology at home" approach with expertise in researching the music of more distant places, especially in Asia and Africa. Staff define their specialisms not simply by geographical areas but also by issues and themes that cut across cultures, and that also inform their teaching at both undergraduate and postgraduate levels: for instance, traditional music in the modern world, music and place, or music and community. This enables Sheffield ethnomusicology staff to provide effective supervision for postgraduate research projects both within and outside their own geographical areas of specialisation. Recent PhD theses in ethnomusicology at Sheffield have focused on musics of England, Crete, Vietnam, China, Taiwan and Nigeria.
Research projects
Ethnomusicologists at Sheffield have been involved in research projects of many kinds, from historical study to biography, from music analysis to studies of music in relation to sexuality and ethnicity, and from applied projects in health and education to large-scale works like the Garland Encyclopedia of World Music. Current staff research areas include:
Music of Korea
Music of India
Music of sub-Saharan Africa
Music, dance and song traditions of the British Isles
Musical theatre worldwide
Music and humour
Music and community
History, theory and methods of ethnomusicology
Applied and medical ethnomusicology
Meanwhile, current and recent research student projects include:
Blues as a transnational phenomenon
The revival of court music (uzagaku) in Okinawa, Japan
The beiguan music theatre tradition in contemporary Taiwan
Traditional music in the Greek Cypriot wedding
Musical and intra-/inter-cultural meaning of the flat second scale degree
Music of the Hmong minority in Vietnam
Yoruba culture and modern popular music in Nigeria
Academic Staff
Flagship institutes
The University's four flagship institutes bring together our key strengths to tackle global issues, turning interdisciplinary and translational research into real-world solutions.