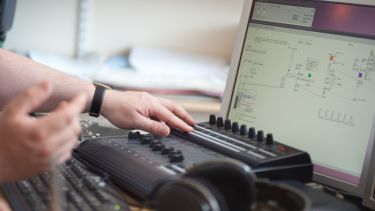 Music Technology is one of the major research areas within the Music Department and occupies a central position on both undergraduate and postgraduate programmes. Staff specialise in a range of musical activities involving technology, including: computer music composition, sonic art, live-sound technologies, software programming, studio recording and production, software development and spatial audio technologies, amongst others. In 2016, staff and students at the university featured in every major composition competition for sound art.
The University of Sheffield Sound Studios (USSS) is well-known for its pioneering use of open-source software and the development of bespoke 'tool-kits' that are used for both composition and performance. In learning how to use a number of tools, students pick up new terminology and techniques and begin to learn to programme computers. Armed with these skills, students find themselves returning to the computer to create their own software solutions.
In addition to the development of new software tools and solutions, USSS facilitates research and teaching with three full-time staff managing the studios, developing new software tools and creating new sonic art. At undergraduate level it is possible after Level 1 to create a music technology 'pathway' throughout your Level 2 and 3 study. At postgraduate level we offer an innovative Masters programme in Composition, where technical skills are learned and applied in creative contexts. From here, opportunities exist  to develop your research to PhD level.
Creative practice is strengthened through regular concerts, listening and analysis. Clear pathways exist, from year 1 undergraduate study through to PhD for those wishing to take this exciting and challenging research further. You can also read a sample our text book, 'Sonic Art: Recipes and Reasonings'.
Areas of Study
Composition
Software Tools
Acousmatic Musicology
Sound Spatialisation
Academic Staff
Flagship institutes
The University's four flagship institutes bring together our key strengths to tackle global issues, turning interdisciplinary and translational research into real-world solutions.