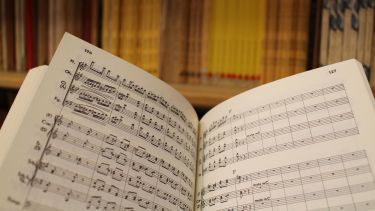 Off
Musicology focuses on historical, critical, stylistic, analytical and aesthetic aspects of music. As well as work on a single composer or group of composers, musicological research can include interdisciplinary research (on music and literature, music and art, and music and drama/dance, for example), as well as study of the social and historical context of music (related to a composer, genre, time, place).
The reception history of music, examining the genesis of a particular work or group of works (using primary and secondary sources) and the detailed analysis of music also fall within the remit of musicology.
Musicological work can also relate directly to performance, through (for example) the preparation of editions, or through research into performance practice.
The majority of the work done in musicology concerns Western art music, but we actively encourage the application of these same approaches to popular, contemporary, vernacular and traditional music. Performance practice, the history of listening, the development of education and amateur music-making, and feminist musicology are several of the developing sub-disciplines. Students specializing in musicology at Sheffield can explore intellectual territory shared with researchers in a wide variety of fields (including ethnomusicology, psychology, music technology, composition and music management).
The Department of Music at the University of Sheffield is an excellent place to engage in undergraduate and postgraduate musicological work: the intellectual culture is vibrant; and facilities (including libraries) are first rate.
The staff also have internationally recognized strengths in a wide range of areas, including twentieth-century music from Broadway to Björk, late eighteenth- and nineteenth-century instrumental and vocal music, Renaissance music and culture, and music and art.
Academic Staff
Flagship institutes
The University's four flagship institutes bring together our key strengths to tackle global issues, turning interdisciplinary and translational research into real-world solutions.