The city has so much to offer, the music, the greenery, the friendliness will open up a new world of life for you

Zhen Qin
MA Music Performance
Master of Music in Piano Performance
We had the pleasure of sitting down with Zhen to discuss what his experiences of studying and living in Sheffield have been.
1、What made you choose to study at Sheffield and your course?
"The University of Sheffield is a top international institution and when I applied for the Master of Music in Piano Performance at the University of Sheffield, I was impressed by the rich music programme included in the Music Department, which covers not only classical music but also contemporary music and other genres. I loved the peaceful and musical atmosphere of the city of Sheffield, where everyone loves music."
2、How did you research the University to find out about studying in Sheffield?
"Piano is an instrument that I have always loved and I researched other universities in the UK online. Fortunately, I chose to come to a school that was inclusive, in a beautiful environment, with professional and excellent teachers and fellow students, so that I could go on to achieve my dreams."
3、What was your initial impression of Sheffield and the University when you first arrived?
"My favorite part is the comfort and peace of the city, the vast expanses of grass and trees that brighten up my eyes and you might even fall in love with the air here. I went to visit the Jessop building, the Mappin building, every building is full of art and of course I can't forget the Soundhouse, the practice room with the Steinway piano!"
4、What does a typical day look like for you?
"Each day of my stay in Sheffield will be something new, we will learn how to play different composer's work in our music performance classes, work on performance techniques and theory with our teachers and after this I will go to Diamond to enjoy lunch there. Next I'll go to the soundhouse to practice, which is the most important part of my schedule, and although it can be boring at times, I enjoy every day here."
5、What are the highlights of your experience in Sheffield so far?
"The first highlight was my selection for this year's Mozart Concerto Concert at the University of Sheffield in April. This is a great opportunity for me to rehearse and perform as a soloist with an orchestra, as well as an invaluable experience for future engagements.  I have also performed in a number of concerts at the University of Sheffield, including Lunchtime Concerts, Sheffield Cathedral Concerts and Contemporary new music piano duets Concert. This is a great achievement for me.
Another highlight was that I was lucky enough to be recommended for two masterclasses with Martin Roscoe and Peter Hill, which were certainly unforgettable learning experiences for me and benefited me immensely. It all started with my studies in Sheffield."
6、What would you say to a student considering studying at The University of Sheffield?
"I would definitely recommend future students to apply to the University of Sheffield, if you are a music lover and a lover of life you can't miss what is on offer here, you will explore your major in different types of courses and you will receive constant encouragement and support from the people around you. The city has so much to offer, the music, the greenery, the friendliness will open up a new world of life for you."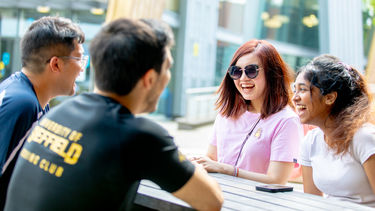 International Merit Scholarships
We offer a generous package of financial support for international students including 75 undergraduate scholarships worth £10,000 towards the annual tuition fee and 125 postgraduate taught scholarships worth £5,000 towards the tuition fee. Applications are now open for existing offer holders.