My career - music teaching and performance

Joss Mann-Hazell
Department of Music
BMus Music
2016
During the BMus undergraduate course, Joss was introduced to the world of North Indian Classical Music. He now uses these skills during a teaching training course, and shares why studying music at Sheffield helped in forging his musical career.
Why did you choose to study a music degree at the University of Sheffield?
More than anything else, the degree is so varied! I don't know of any other music degree in the country that covers as many subject areas as extensively as Sheffield does. Having such a free choice of modules in your second and third year means you can really shape the degree to the niche of music that you are interested in, whatever that might be.
Tell us about your current role: what do you do and what are your main responsibilities?
As part of a PGCE in Secondary Music I am placed at High Storrs school in Sheffield, and I am responsible for delivering Music Lessons across Key Stages 3-5, with specialism in Indian Music and Jazz.
What has been your career pathway since graduating from the University of Sheffield? Where else have you worked?
I have been a peripatetic piano and guitar tutor in various Sheffield schools since 2015, in addition to performing and recording regularly with a range of ensembles varying from pop and jazz to folk and North Indian Classical Music.
How did your time at Sheffield help prepare you for your current role? What skills, experience and advice did you gain through your Music degree that have been valuable in your career?
As part of the BMus degree at Sheffield, I was introduced to the world of North Indian Classical Music via World Musician in Residence John Ball. I became captivated with the subject and wrote my dissertation on improvisation in the parallel worlds of Indian Music and Jazz. As well as incorporating elements of North Indian music in my A-level and GCSE lessons at school, I make regular use of these skills in my performances with Indo-Folk Fusion band Mishra, and the Sheffield Indian Music Ensemble.
What does a typical day look like for you?
As a trainee my timetable at the moment is not quite as full-on as that of a regular teacher, so I have time to work on my university assignments and to give feedback to my pupils to help them progress in their composition work. I will typically teach in the classroom for two hours a day, apart from Fridays which are dedicated university days.
What do you think is the most exciting thing you've done as part of your current role?
Introducing my pupils to the musical ideas and concepts which fascinated me when I was at school is a real thrill. I'm currently teaching an A-level unit on Jazz History and it's great fun to be able to present my own personal take on the subject. I also enjoy working in the extra curricular groups such as the school Soul Band, passing on the musical skills and repertoire that was introduced to me at school and helped to shape my musical identity.
What advice would you give to current students who are interested in pursuing a career in your field?
Even when I was doing my undergraduate degree, I never thought I'd be interested in classroom teaching. It was only after 3 years of peripatetic work and gigging that I began to realise that it was something I might be able to do. It is a lot of work though, so I'd suggest to anyone thinking about teaching that there's no need to rush in to it. Once you're ready though, there are many routes into teaching, other than a straight core PGCE, so make sure to do your research and think about which course best suits you.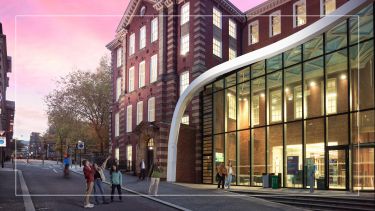 Visit us
Discover what sets Sheffield apart at our undergraduate open days on the Saturday 21 October or Saturday 18 November.