100-year-old Woman of Steel awarded honorary degree from University of Sheffield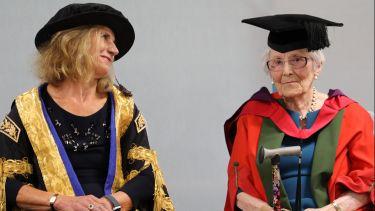 Iconic Sheffield figure Kathleen Roberts, 100-years-old, has been made an Honorary Doctor of Engineering by the University of Sheffield, following her campaign to get the city's Women of Steel recognised
The only surviving Woman of Steel, Kathleen was part of a strong team of women who fought for the recognition of female steelworkers during the war
The national campaign led to official government recognition, raised almost £170,000 and led to the unveiling of a commemorative statue in Sheffield's Barker's Pool in 2016
At one hundred years old, Kathleen is the oldest recipient of a University of Sheffield honorary degree
A Sheffield inspiration who sparked a seven-year national campaign to recognise the role of female steelworkers during the war has been made an Honorary Doctor of Engineering by the University of Sheffield.
At the beginning of World War II, Kathleen Roberts, who is now 100 years old, was called up to work in the steelworks while the men went off to fight, but was dismissed without thanks along with hundreds of her female colleagues when hostilities ended.
Together with the Sheffield Star and three friends, Kathleen campaigned for women to be recognised for the vital role they played during the war and raised almost £170,000 to erect a commemorative statue in Barker's Pool, Sheffield, and provide medallions for the surviving Women of Steel and their families.
It has been 82 years since Kathleen was called up alongside other women in the city to keep Sheffield's steelworks industry running during WWII while men were overseas. She was just 18 at the time, and had to work gruelling 72 hour weeks while being paid less than men doing the same job.
The conditions were poor and the air raid shelters were full of rats, so if the air raid siren went off the women would instead put on tin helmets and continue their work. While it is not known exactly how many women worked in the city's steelworks during the war, it is estimated to have been hundreds, possibly thousands, from all manner of backgrounds, working as everything from heavy machine operators to crane drivers.
Despite their huge contribution to the war effort, when the soldiers came home Kathleen and the others were told that they were surplus to requirements and encouraged not to speak about what they had been through.
For 64 years Kathleen abided by this, but in 2009 she was watching a television documentary about the Women's Land Army and its wartime role in keeping the country fed and something snapped. Why were others recognised for their efforts whilst Sheffield's Women of Steel had been overlooked? Encouraged by her family, she called the Sheffield Star and told her story.
Along the way Kathleen, who is the only surviving Woman of Steel, made three friends -  Kitty Sollitt, Ruby Gascoigne, and Dorothy Slingsby – who joined her campaign to see the Women of Steel finally recognised.
A monumental fundraising effort commenced, which saw concerts organised, cake sales and coffee mornings put on, and even an invitation from 10 Downing Street for a reception with the Prime Minister. Almost £170,000 was raised in total, and the campaign officially ended in 2016 with the unveiling of the iconic statue in Barker's Pool, Sheffield. The money also paid for hundreds of commemorative medallions to recognise Sheffield's Women of Steel.
At one hundred years old, Kathleen is the oldest recipient of a University of Sheffield honorary degree, which she received during a small ceremony with family and friends. 
Kathleen Roberts said: "It was such a surprise when I first heard I was to be given an Honorary Degree in Engineering, but I feel so honoured and privileged to accept it on behalf of all those Women of Steel who contributed to the war effort. 
"During the Women of Steel campaign I had the pleasure of meeting some female engineering students who will now be well on their way to an engineering career. My advice to students would be to get as much hands-on experience as you can. You can't learn everything in a book. 
"But most of all, embrace every opportunity that enables you to follow your dreams."
---
Contact
For further information please contact:
A global reputation
Sheffield is a research university with a global reputation for excellence. We're a member of the Russell Group: one of the 24 leading UK universities for research and teaching.