Affordable reef-safe sunscreen promised by new, more sustainable way to make zinc oxide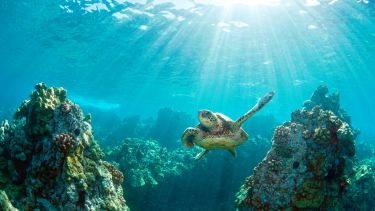 University of Sheffield engineers have developed a pioneering way to make zinc oxide, which requires 95 per cent less energy, for a new reef-safe sunscreen that is more affordable for the consumer
Zinc oxide is a mineral used for UV-protection and an active ingredient in many high end personal care products such as moisturisers, shampoos, soaps and sunscreens
The current method to produce zinc oxide is energy intensive and environmentally damaging
Low priced, chemical-based sunscreens, which are used widely across the globe, have a devastating impact on marine life such as the bleaching of corals
The new technique to make zinc oxide can be used in other industries, such as to manufacture more sustainable paint, tyres, batteries and sensors, and has the potential to revolutionise the raw materials industry
A new, more sustainable way to make zinc oxide - a key ingredient in many high end health and beauty products such as sunscreens - has been developed by researchers from the University of Sheffield and Imperial College London.
The new technique, developed by a team led by Dr Kyra Sedransk Campbell from the University's Department of Chemical and Biological Engineering, has the potential to revolutionise the raw materials industry. 
The new method is being rolled-out to synthesize zinc oxide with a view towards using it in a new sunscreen that is much better for the environment and more affordable for the consumer, but it could also be used to make other more sustainable high end health and beauty products too.
Many high end personal care products, such as moisturisers, shampoos, soaps and sunscreens, are made with zinc oxide as they appeal to consumers who are keen to avoid chemical-based products. However, the cost of these products puts them out of reach for most; and as such, globally most people opt for cheaper products, many of which contain chemicals that are hugely damaging to the environment.
In the case of sunscreens - the cheaper products often contain chemicals that have a devastating impact on marine life, such as the bleaching of corals. The high end products, even though they don't contain chemicals that are damaging to marine life, are still bad for the environment as the current method to produce zinc oxide requires a huge amount of energy.
Dr Kyra Sedransk Campbell, a Royal Society EPSRC Dorothy Hodgkin Research Fellow at the University of Sheffield, said: "The reality is that existing chemical-based sunscreens are damaging our fragile marine ecosystems, effectively killing coral reefs. 
"Bans are already being put in place - but not fast enough. Whilst zinc oxide is a known alternative, in fact it was the original UV-blocker, it currently is a high-end option you might struggle to find in your local chemist. 
"The challenge is cost without sacrificing consumer expectations. The new process we have developed has the potential to hit those points, and more. Our process is a sustainable, green, low energy method that can make zinc oxide. What's more is that we are cost competitive. Taken all together it is about using our know-how in the lab to protect our planet."
Zinc oxide is produced in two ways. Firstly, in mass, using extremely energy intensive processes creating generic materials. Secondly, using specialty smaller scale manufacturing that creates specific materials at a high cost and a large environmental footprint. There is a £4 billion zinc oxide market which continues to grow because of its ubiquity in products ranging from personal care products, to batteries, tyres, and sensors.
The team, led by University of Sheffield academic Dr Kyra Sedransk Campbell, has discovered a new way to make the zinc oxide particles using far less energy and a flexible manufacturing method that can enable production of a wide range of particle types - very unusual for a wet-chemistry method in which analyzing is done in the liquid phase. 
The team has now launched a spin out company to commercialise the technique; the company's first target is developing the active ingredient to make reef-safe and affordable sunscreen. The spinout - Nanomox - is looking for an industrial partner to help bring the product to market.
Contact
For further information please contact: