AI brain imaging technology given funding boost to help revolutionise healthcare research for patients with chronic nerve pain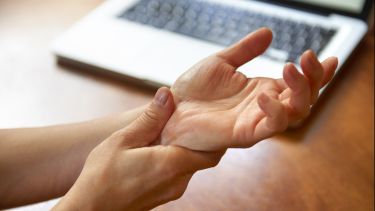 Revolutionary AI technology which can identify new biomarkers, could lead to more effective medical treatment for chronic nerve pain 
The pioneering University of Sheffield project has been awarded £463,000 from the UKRI Technology Missions Fund, to support AI innovation to accelerate health research
One in 10 adults over the age of 30 suffers from chronic nerve pain
Innovative AI technology which can identify new biomarkers that could lead to more effective chronic nerve pain treatments, has been awarded a funding boost to revolutionise healthcare.  
The pioneering project at the University of Sheffield uses AI-powered magnetic resonance (MR) neuroimaging technology, to discover new biomarkers which may accelerate much-needed new treatments for chronic pain.
Chronic pain arises from injury to the nervous system and affects one in 10 adults over the age of 30 in the UK. It causes patients to feel constant burning, aching or electric-shock type pains in their feet, legs and hands. 
As the pain is felt every day, patients may have difficulty doing simple daily activities such as walking to the shop or socialising with friends. This results in a poor quality of life and depression, with one in six of people rating their quality of life as 'worse than death'.
Led by Dr Dinesh Selvarajah, Senior Clinical Lecturer at the University of Sheffield's School of Medicine and Population Health, the new project has been awarded £463,000 from UK Research and Innovation (UKRI) as part of the Technology Missions Fund, designed to accelerate the responsible development and deployment of AI technologies.     
The funding will support Dr Selvarajah and his team at the University of Sheffield's Insigneo Institute, to carry out an external validation of the new approach that could lead to much wider, effective treatment of chronic nerve pain, showcasing the real-world impact artificial intelligence is having.
Dr Dinesh Selvarajah, from the University of Sheffield's School of Medicine and Population Health and Honorary Consultant Physician at Sheffield Teaching Hospitals NHS, said: "Chronic pain is a major unmet global health challenge. One in 10 adults over the age of 30 are affected by chronic nerve pain. Worryingly, this is expected to increase due to an ageing population, rising cases of diabetes, and improved cancer survival.
"Unfortunately, current medications provide only partial benefit in around half of all patients, with many enduring inadequate pain relief and unwanted side effects. Over the past 25 years, there has been a lack of new drugs that are more effective than the ones currently in use for treating chronic nerve pain."
As there are many different subtypes of neuropathic pain (NeuP), treatment response is very individual, with no efficient way to predict who will benefit. This often results in negative outcomes in drug trials, especially when conducted on a diverse group of patients.
The goal of Dr Selvarajah's project is to work with patients and industry partner AstraZeneca to develop new biomarkers for NeuP, to improve the success of future drug development programmes.
Created in collaboration with the University of Sheffield's Department of Computer Science, The PAINSTORM APDP consortium, AstraZeneca and Sheffield Teaching Hospitals, the AI-based magnetic resonance (MR) neuroimaging model will be tested on one of the largest datasets in the UK, comprising of people with (NeuP) from multiple causes, from different centres (Oxford and Dundee).
The model aims to predict patient treatment responses and identify clinical pain traits in patients who suffer with NeuP. The data collected will be used to establish an online platform for future collaboration with drug development programmes.
If successful, the biomarker will be incorporated in future clinical trials of NeuP medication.
The funding awarded to the University of Sheffield is part of £13 million being channelled into research that will deliver cutting-edge AI innovation in healthcare. The cash boost will support everything from the development of a semi-autonomous surgical robotics platform for the removal of tumours, to the ability to predict the likelihood of a person's future health problems based on their existing conditions - showcasing the real-world impact artificial intelligence is having.
Health and Social Care Secretary, Steve Barclay, said: "AI can help the NHS improve outcomes for patients, with breakthroughs leading to earlier diagnosis, more effective treatments, and faster recovery. It's already being used in the NHS in a number of areas, from improving diagnosis and treatment for stroke patients to identifying those most at risk of a heart attack.
"This funding is yet another boost to help the UK lead the way in healthcare research. It comes on top of the £21 million we recently announced for trusts to roll out the latest AI diagnostic tools and £123 million invested in 86 promising tech through our AI in Health and Care Awards."
More information about the University of Sheffield's Insigneo Institute.
Contact
For further information please contact:
Flagship institutes
The University's four flagship institutes bring together our key strengths to tackle global issues, turning interdisciplinary and translational research into real-world solutions.