Breakthrough medical device to improve prediction of preterm birth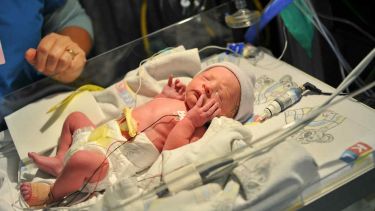 New portable, handheld device is a fraction of the cost and has a higher degree of accuracy than current ultrasound technologies
Pioneered by research into Electrical Impedance Spectroscopy (EIS) at the University of Sheffield, the device was brought to market by UK company EveryBaby
EveryBaby provides an assessment of the risk of preterm birth as early as the 18th and 20th week of pregnancy, which is a critical stage for clinicians to address preterm birth and associated complications
15 million babies are born prematurely every year - long term complications can include learning disabilities as well as visual and hearing impairments
90 per cent of babies born at less than 28 weeks in low income countries die within the first few days of life; yet less than 10 per cent of extremely premature babies die in high income countries 
Pioneering research carried out on Electrical Impedance Spectroscopy (EIS) at the University of Sheffield has led to the creation of the device, brought to market by EveryBaby, a UK based company backed by South Korean investment.
Current technologies for assessing the likelihood of preterm birth, such as transvaginal ultrasound, are expensive and not always available - especially in poorer countries.
EveryBaby uses pioneering patented technology involving a novel method of impedance spectroscopy to pick up on changes to the composition and structure of cervical tissue as a mother nears birth. The device provides a higher degree of accuracy in an affordable, hand-held and portable device, giving huge potential for export to low-income countries.
Dilly O'Anumba, Professor of Obstetrics and Gynaecology at the University of Sheffield and Consultant in Obstetrics & Gynaecology at Sheffield Teaching Hospitals Foundation Trust, said: "More than one in 10 babies are born too early and data has shown that preterm birth rates are increasing in many parts of the world.
"My team has spent over four years researching the potential for cervical Electrical Impedance Spectroscopy to improve the prediction of preterm birth.
"This pioneering technique will enable health care professionals to better prevent and manage preterm birth. It is not only more accurate than current methods but is significantly lower in cost making it more accessible, especially in low income communities where preterm birth rates are particularly high. EveryBaby's eventual commercialisation of this technology could help to save countless lives both in the UK and across the globe."
The World Health Organisation (WHO) estimates 15 million babies are born preterm every year, with complications arising from premature births being the leading cause of death in infants under five years of age.
Long term complications can be severe, and many survivors face a lifetime of disability, including learning disabilities as well as visual and hearing impairments.
According to the WHO global action report Born Too Soon, more than 90 per cent of extremely preterm babies (less than 28 weeks) born in low income countries die within the first few days of life; yet less than 10 per cent of extremely premature babies die in high income countries. 
A study of 449 pregnant women, led by Professor O'Anumba and published in Ultrasound in Obstetrics and Gynaecology, demonstrated that EIS assessment predicts spontaneous pre-term birth (PTB)[1].
Dabriel Choi, CEO, EveryBaby, said: "We are delighted to be working with the University of Sheffield to commercialise this exciting technology and bring a much needed innovation to the healthcare market. Sheffield is a leader in health research and we're proud to play a part in transforming research in the lab into a tangible product to improve patient outcomes."
For more information, please visit www.dcmedical.co.kr/en
---
Additional information
The research carried out on Electrical Impedance Spectroscopy at the University of Sheffield was undertaken by Professor Dilly O'Anumba and will be commercialised under licence by EveryBaby.
The University of Sheffield and Sheffield Teaching Hospitals NHS Foundation Trust have developed and tested this device in partnership and are global leaders in impedance spectroscopy research.[TA1]
[1] https://obgyn.onlinelibrary.wiley.com/doi/abs/10.1002/uog.22180
Flagship institutes
The University's four flagship institutes bring together our key strengths to tackle global issues, turning interdisciplinary and translational research into real-world solutions.