Charity walk raises more than £70,000 for life-changing genetic disease research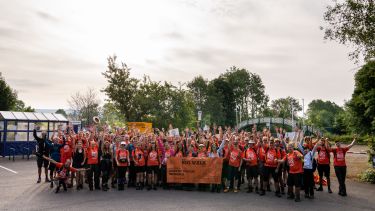 325 walkers and more than 100 volunteers took part in the Big Walk 2022, helping to raise £73,000 for genetic disease research at the University of Sheffield
Funds raised will go towards a state-of-the-art bioreactor, which will accelerate life-saving gene therapy treatments from the lab into clinical trials
Great British Bake Off winner Dr Rahul Mandal, a Research Associate at the University of Sheffield Nuclear AMRC, helped the cause by baking over 300 cakes as well as a 'show-stopper cake' for a raffle, which raised £600 for the University's Genetic Disease Research appeal
Staff, students, alumni and friends of the University of Sheffield have raised £73,000 for life-saving medical research after participating in a marathon walk across the Peak District.
More than 300 people took part in the Big Walk 2022, and 3,345 people donated to support the University's world-leading genetic disease research.
The funds raised will contribute to the £200,000 needed to build a bioreactor at the University's new Gene Therapy Innovation and Manufacturing Centre (GTIMC), located at the University of Sheffield's Innovation District.
The new bioreactor will help researchers find new treatments for genetic diseases such as Motor Neurone Disease (MND), dementia and other rare inherited diseases. 
Professor Mimoun Azzouz, Chair of Translational Neuroscience at the University of Sheffield and Director of the GTIMC, said: "Gene therapies are pioneering medical advances. They have the potential to offer much-needed treatments for many rare and incurable diseases that cannot be treated by conventional drug compounds. I'm very proud that Sheffield is one of the leading players in gene therapy in the world."
The walkers completed either a 50 or 30km walk across the Peak District, passing through Ladybower, Stanage Edge and then along Redmires Reservoir before finishing at the University Arms. The earliest finishers arrived at the University Arms at 1:15pm, and the final finishers crossed the finish line at 9:30pm.
Sarah Barnes, the Big Walk Event Lead from the University of Sheffield, said: "This year's Big Walk was a huge success. After many months of planning and hard work, I felt so proud to see the Big Walk come to life! I've been overwhelmed by the support received from University staff, participants, volunteers and suppliers."
At the finish line, walkers received handmade sustainable medals made at the University of Sheffield's iForge- a 24/7 student-led workshop that is the first of its kind at a UK university. After finishing, they were also able to buy cakes made by Dr Rahul Mandal, the 2018 Great British Bake Off Winner, and took part in a raffle to win a 'show-stopper cake' from the master baker, which raised more than £600 for genetic disease research.
Rahul Mandal, a Research Associate at the University of Sheffield Nuclear Advanced Manufacturing Research Centre, said: "It is a great cause, and I am honoured that the University asked me to get involved. Before this, I had made big cakes, but never this amount of patisserie-style cakes and desserts. It was a tremendous amount of work, baking almost 300 portions, including eclairs, gluten-free cake slices and vegan tartlets."
To find out more or to donate to the Genetic Disease Research appeal, please visit: https://www.justgiving.com/campaign/big-walk-2022
---
Contact
For further information please contact:
Stay connected with your University
Experience all the benefits and services that come from being a Sheffield graduate.