The Duchess of Gloucester explores pioneering Parkinson's research at SITraN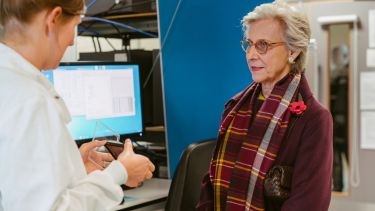 Parkinson's UK Patron, Her Royal Highness The Duchess of Gloucester, met neuroscientists from the University of Sheffield who are tackling the root causes of the progressive condition 
Around 153,000 people live with Parkinson's in the UK and there is currently no cure for the condition
Revolutionary research at the Sheffield Institute for Translational Neuroscience (SITraN) has resulted in promising breakthroughs, including identifying drug targets and candidates for a neuroprotective therapy to slow down or stop Parkinson's
Her Royal Highness The Duchess of Gloucester visited the Sheffield Institute of Translational Neuroscience (SITraN) today (10 November 2023) to see first hand the pioneering Parkinson's research which is transforming our understanding of the neurological condition.
Parkinson's UK patron, The Duchess of Gloucester, met University of Sheffield neuroscientists who are tackling the root causes of the progressive condition that causes unintended or uncontrollable movements, such as tremor, stiffness, and difficulty with balance and coordination, which have a huge impact on peoples'  lives. 
Around 153,000 people live with Parkinson's in the UK and it is the fastest growing neurological condition in the world. 
There is currently no cure for the condition, however the revolutionary research conducted at SITraN has resulted in promising breakthroughs, including identifying drug targets and candidates for a neuroprotective therapy to slow down or stop Parkinson's. The charity Parkinson's UK has helped fund some of this potentially life-changing work. 
The Duchess of Gloucester was taken on a tour of the facility, led by Professor Heather Mortiboys,  Professor of Cellular Neuroscience and Metabolism at SITraN, who has dedicated her career to Parkinson's research. 
Professor Mortiboys previously assessed more than 2,000 drugs in the world's first drug screen in Parkinson's patient tissue whilst working as a postdoctoral scientist in the team of Professor Oliver Bandmann. Professor Mortiboys has subsequently dramatically expanded the drug discovery program for Parkinson's and related disorders at SITraN. 
The initial drug screen has already helped the Sheffield team to identify a drug called ursodeoxycholic acid (UDCA), currently used to treat liver disease, as a very promising drug for Parkinson's. Researchers hope treatment with UDCA will slow down the worsening of Parkinson's by rescuing the mitochondria (cells energy centres) which are often faulty in Parkinson's.
Professor Mortiboys, who became a Parkinson's UK Senior Research Fellow in 2013, said: "What we are doing here in Sheffield is very rare. There are very few other places that are able to deliver a bench-to-bedside approach, which is only possible thanks to a huge team effort.  
"We work in close collaboration with the Sheffield Teaching Hospitals (STH), academics across other disciplines, industry, community-based home care teams, and have strong links with Parkinson's UK, which allows us to accelerate pioneering science from the lab, to clinical trials and directly to patients more quickly." 
She added: "By tackling the root causes of Parkinson's and developing personalised treatments, the University of Sheffield is finding a new way forward for patients. We've already made a promising breakthrough, identifying compounds that have the potential to slow its progression." 
A number of vital research projects at SITraN have been made possible thanks to funding from Parkinson's UK. In 2021, researchers received  £1.2 million to accelerate their work in developing a drug to protect dopamine-producing brain cells and slow down the progression of Parkinson's.
Caroline Rassell, Chief Executive of Parkinson's UK, said: "Parkinson's UK has invested over £120m in vital research that has delivered groundbreaking discoveries, new medications and better care. This includes some of the incredible work that's happening at SITraN. 
"As our Patron, Her Royal Highness, The Duchess of Gloucester, has always shown a passionate interest in hearing more about the life changing work that's happening across the UK and we're delighted that she was able to meet some of the researchers at the University of Sheffield to learn more about their contributions first hand."
During her visit to SITraN, The Duchess of Gloucester was given a tour of the state-of-the-art screening laboratory, which enables research to investigate both the mechanisms of Parkinson's and how we can find disease modifying therapies. 
PhD student Toby Burgess and Postdoctoral researcher Dr Rachel Hughes demonstrated how drugs are screened and how cells are examined to look for improvements in cellular health. The researchers highlighted how they use patient cells to understand both how the mitochondria (energy centres) and lysosomes (waste disposal routes) are dysfunctional in Parkinson's. They went on to explain how we can use this information to test for drugs which can rescue these changes in the skin cells from people with Parkinson's. 
The cells can also be reprogrammed and differentiated into the type of neurons lost in Parkinson's, these pathways and the drugs are then tested in these cells, in addition to assessing if the drugs make the neurons healiter and survive longer. These are critical experiments in the drug discovery pipeline.
The Duchess of Gloucester also met Professor Oliver Bandmann, Professor of Movement Disorders Neurology, who explained how research from the laboratory is translated to clinical research with patients. Professor Bandmann has worked in Sheffield as a researcher and consultant at the city's hospitals for 20 years. 
His group has recently completed the UP study (Ursodeoxycholic acid in Parkinson's disease). The UP study was a proof of concept clinical trial which confirmed the excellent safety and tolerability of UDCA in people with Parkinson's. It showed that UDCA has a beneficial effect on mitochondrial function in the brain by applying state-of-the-art functional imaging techniques and provided some evidence of a potential clinical benefit of UDCA, using gait sensors. 
The UP study was carried out with strong support from the NIHR-funded Sheffield Biomedical Research Centre, the University of Sheffield Academic Department of Radiology and the Insigneo institute. Based on the strong preclinical and clinical data from Sheffield, UDCA will now be taken into a large, definitive UK-wide trial to confirm its beneficial effect on disease progression in Parkinson's. 
The Duchess was also introduced to other members of the clinical Parkinson's Disease research team who are working on pain, dementia and the gut-brain axis in Parkinson's. In addition, she was informed about the newly established, UK-wide Parkinson's Clinical Studies group (UK-PD-CSG), which is coordinated from Sheffield. 
Established in 2010, SITraN was designed to push the boundaries of conventional research and foster real breakthroughs by bringing together multi-disciplinary teams of scientists, clinicians and patients. With advanced therapies and treatments tailored to people's individual health needs, there is an urgent need to accelerate the progress being made to better understand and treat neurological diseases like Parkinson's, MND and Alzheimer's. 
Sheffield Institute of Translational Neuroscience (SITraN)
---
Contact
Flagship institutes
The University's four flagship institutes bring together our key strengths to tackle global issues, turning interdisciplinary and translational research into real-world solutions.