Funny Girl: How Barbra Streisand turned the once struggling production into a classic Broadway hit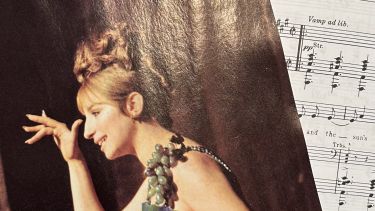 Draft songs from the Broadway hit Funny Girl reveal how Barbra Streisand created one of her most legendary performances, according to new University of Sheffield research
Notes on the drafts, found in the US Library of Congress, provide a fascinating insight into how Streisand collaborated with her creative team to turn the struggling production into one of the biggest landmarks in Broadway history
One annotation on a page of lyrics of the famous 'Don't Rain on My Parade', includes an unfamiliar verse for the song, which is marked 'too low' and then 'out?', noting that 'Barbra runs out of gas'
The notes provide a glimpse into the making of one of Broadway's most-loved musicals and the making of one its greatest stars
Broadway classic Funny Girl launched Barbra Streisand to stardom, now its draft songs reveal how the musical legend transformed the once struggling production into a landmark hit. 
Hand-written notes on draft songs from the musical have been unveiled by a researcher from the University of Sheffield, giving a new insight into how Streisand created one of her most legendary performances, ultimately leading to her Oscar win in the film adaptation of the show. 
The study, led by Dominic Broomfield-McHugh, Professor of Musicology, reveals the creative process Streisand, aged just 21, went through to transform the first struggling production into one of the biggest landmarks in Broadway history.
Found in the US Library of Congress, the notes of the draft songs show how Streisand worked with American songwriter, composer, lyricist, and screenwriter Bob Merrill to perfect the musical, as she stood on the brink of stardom. 
Merrill made notes on the draft songs while watching Streisand rehearse the show and subsequently donated them as part of his papers at the Library of Congress.
Funny Girl - with its signature song "Don't Rain on My Parade" went on to run on Broadway for more than three years. It received eight nominations at the 18th Tony Awards and its cast, including Streisand, was inducted into the Grammy Hall of Fame. Streisand's performance in the show is widely seen as her most iconic.
Nearly 60 years after premiering on Broadway, Funny Girl enjoyed a revival in 2022. Critics gave Glee star Lea Michele acclaimed reviews, but for many the role based on the rise and fall of comedienne Fanny Brice will be synonymous with Streisand.
Professor Broomfield-McHugh from the University of Sheffield's Department of Music, said: "It's well documented that Funny Girl struggled on its pre-Broadway tryout, but what these draft songs show is how Streisand and the creative team worked together to turn it into one of Broadway's most-loved musicals. As Streisand stood on the brink of stardom, the creative team supported her by making adjustments to the songs to show her off at her best.
"The drafts bring to life the process that Streisand went through to turn Funny Girl into a hit and what is now widely seen as her most iconic role. These wonderful sources provide a window into one of the biggest landmarks in Broadway history and into the making of one of its greatest stars."
On a page of lyrics of the famous 'Don't Rain on My Parade', there is an unfamiliar verse for the song, which Merrill has marked 'too low' and then 'out?', noting that 'Barbra runs out of gas'. 
Professor Broomfield-McHugh, explains: "This was not a criticism: the refrain of the song is hugely demanding, and Merrill proposed to drop the verse so that she had more stamina left to thrive in the refrain. They went ahead and dropped it. It became one of the signature songs of her career, and its success was the result of a level of refinement created through collaboration with the people around her."
On the reprise of 'Don't Rain on My Parade' at the end of the show, Merrill notes twice that the key is too low and needs to be raised to suit her vocal range.
Professor Broomfield-McHugh adds: "It's clear that Streisand was open to improvements. It's also clear that she knew her own mind, and that this was respected. 
"For example, Merrill makes a note to indicate the words of two verses might be swapped, writing 'Please have Barbra make up mind before orchestrating.' Obviously, Streisand was trusted to know what worked best for her, and no decision was imposed on her, even at this early stage of her career."
For the satirical song 'His Love Makes Me Beautiful', Merrill notes that Streisand needs to avoid turning upstage because the audience can't see her, and also encourages her not to 'try too hard' with the humour because the costume will help her to get the laughs.
And for her hit ballad 'People', Merrill again notes her inclination to turn upstage, something that would disconnect her from the audience.
"Again, these are helpful refinements to help show her off at her best rather than criticisms," explains Professor Broomfield-McHugh. "Her achievements are her own yet the documents from the Library of Congress reveal that collaboration has been a key part of her success."
The research will be presented in a public lecture by Professor Broomfield-McHugh in his new role as Visiting Professor of Film and Theatre Music at the historic Gresham College in London (founded in 1597) on 26 October.
Contact
For further information please contact:
Flagship institutes
The University's four flagship institutes bring together our key strengths to tackle global issues, turning interdisciplinary and translational research into real-world solutions.