Global study reveals that Indigenous lands protect tropical forests from deforestation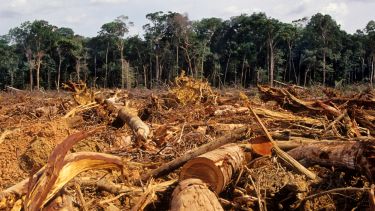 A global study into deforestation is the first of its kind to cover all three of the global tropics - Americas, Africa and Asia
Globally, Indigenous peoples' lands have roughly a fifth less deforestation than non-protected areas
In Africa, protected areas did not reduce deforestation substantially, and Indigenous lands in fact outperformed protected areas in retaining tropical forests
A team of researchers led by the University of Sheffield has discovered that rates of deforestation and degradation in tropical forests are lower in Indigenous lands compared to other areas.
The findings, published in Nature Sustainability, show that across the tropics, Indigenous lands had a fifth less deforestation on average compared to non-protected areas, and in Africa, Indigenous Lands reduce deforestation more effectively than protected areas. In Asia, deforestation rates in protected areas and Indigenous lands were similar, with both having reduced deforestation by roughly 20 per cent compared to non-protected areas.
Jocelyne Sze, a PhD student from the University of Sheffield's Grantham Centre for Sustainable Futures and lead author of the paper, used maps of protected areas and Indigenous peoples' lands to identify what areas are protected formally under state regulations, are managed or owned by Indigenous peoples, are covered by a combination of both, or are not protected at all. She used recent satellite data to calculate their levels of deforestation and degradation.
Deforestation took centre stage at COP26 in Glasgow, with more than 100 world leaders pledging almost £14 billion to end deforestation by 2030. Indigenous peoples are often billed as potential guardians to deliver on these ambitions. The study from the University of Sheffield is the first to quantify this potential across the tropics, spanning Latin America, Africa and Asia.
Jocelyne Sze, lead author from the University of Sheffield's Grantham Centre for Sustainable Futures, said: "Indigenous peoples have been saying for decades that they are the best guardians of their homelands, and our results affirm this point. With upcoming international policy discussions on safeguarding biodiversity and climate, this is a particularly opportune moment to recognise and support Indigenous peoples in their efforts both legally and financially."
Surprisingly, it was discovered that in the Americas, deforestation was higher in Indigenous lands compared to protected areas by about 15 per cent. Previous studies have largely found that deforestation was lower in Indigenous territories in Latin America compared to protected areas. Sze believes this may have started changing in the last decade as a result of government policies that weaken environmental regulation, such as those in Brazil under Jair Bolsonaro, which are making it harder for Indigenous peoples to protect their forests.
Deforestation is a major global issue that threatens biodiversity and carbon stocks that can help to slow climate change. An average of 14 million hectares of tropical forest, an area twice the size of Ireland, has been destroyed every year for the past five years, equivalent to losing forest the size of 38 football pitches every minute.
Professor David Edwards, senior author of the research from the School of Biosciences at the University of Sheffield, said: "We must support Indigenous communities in our shared goal to deliver on the lofty ambitions of the Glasgow Declaration on Forests to halt deforestation by 2030. Failure to do so will edge us closer towards breaching 1.5C in global temperature rise."
The paper is available to view here.
---
Contact
For further information please contact:
Flagship institutes
The University's four flagship institutes bring together our key strengths to tackle global issues, turning interdisciplinary and translational research into real-world solutions.