New nursing apprentices providing vital support on NHS frontline during pandemic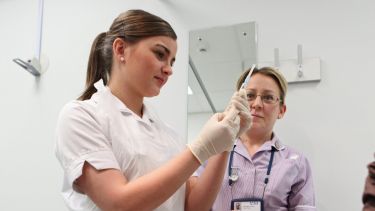 Today marks the start of National Apprenticeship Week (8-14 February 2021) which aims to shine a light on the amazing work being done by employers and apprentices across the country
The role has been introduced to help build the capacity of the local nursing workforce and deliver high-quality care while supporting registered nurses focus on more complex clinical duties
​More than 100 Nursing Associate Apprentices are making a major contribution to the fight against Covid-19 on the NHS frontline, after graduating from the University of Sheffield. 
The dedicated apprentices completed 3,000 hours of learning and more than 2,000 hours of work placements in local hospitals, GP surgeries, hospices and with community healthcare providers over the two year programme, which continued throughout the pandemic.
Many of the students directly cared for the critically ill during their work placements, providing vital support to the local healthcare workforce, despite the challenges they faced during extremely difficult times.
Lynne Firth, Director of Apprenticeships at the University of Sheffield's Health Sciences School, said: "We are making a major contribution to the fight against the pandemic as this programme refused to be haltered, with local hospitals and healthcare providers continuing to make nearly 1,000 diverse work placement opportunities available to our students. 
"Many students were directly caring for Covid-19 patients and to support the employers, we made the transition to online learning and virtual clinical skills in order to reduce the impact on teaching and assessments."
The University of Sheffield was specially selected as the education provider for Trainee Nursing Associate Apprenticeships across South Yorkshire and Bassetlaw back in 2018, providing a progression route into graduate-level nursing many students would previously not have thought possible. 
The role has been introduced to help build the capacity of the local nursing workforce and deliver high-quality care while supporting registered nurses and wider-disciplinary teams to focus on more complex clinical duties. 
Nursing Associate Apprentice graduate, Michelle Bird, said: "I was attracted to this new role because it offered progression in my career.
"I found the apprenticeship rewarding and gained a wide range of knowledge which has given me the ability to assist caring for patients and understanding their requirements. 
"I would highly recommend the Nursing Associate Apprenticeship, especially to people already involved in the NHS or healthcare work. The apprenticeship offers opportunities to progress whilst receiving a wage which can have a huge impact on your personal life."
The apprenticeship has helped me gain new skills, confidence and I have developed both personally and professionally. I believe this will benefit future job roles and employment opportunities

Michelle Bird

Nursing Associate Apprentice 
Today marks the start of National Apprenticeship Week 8-14 February 2021 which aims to shine a light on the amazing work being done by employers and apprentices across the country. 
Suzanne Gillott, Vocational Services Manager at Sheffield Children's NHS Foundation Trust, said: "It has been a fantastic opportunity to work with all the hospitals and health care providers across South Yorkshire to pioneer the new role of the Nursing Associate. 
"Working collectively to ensure that all students experienced benchmarked learning and a variety of alternative placement opportunities has been very successful. 
"The challenge of the pandemic and transferring to online learning has brought the best out of all in the partnership. Through clear communication and rapid planning by the University of Sheffield and placement providers, students got the experience they needed and deserved leading to the successful completion of their course and employment in their host organisation.
"Our Trust is really proud of the achievements of the first cohort of Nursing Associates and wish them success on their next steps of their career journey."
There are currently another 300 Nursing Associates working towards their apprenticeships with the University of Sheffield, and an additional Advanced Clinical Practitioner Apprenticeship programme also planned to start later in the year. 
Tracey Moore, Dean, Health Sciences School, University of Sheffield, said: "The school is very proud of the fact that we are one of the very few providers of this type of nursing apprenticeship who, with the help of our clinical partners, have been able to keep the programme going, despite the challenges due to Covid-19. 
"The University works with a dedicated nursing workforce in the South Yorkshire and Bassetlaw Hospital NHS Trusts and other health and primary care providers, providing the apprentices with skilled practice assessors and practice supervisors to ensure that new clinical knowledge gained is transferred to competency at pace."
---
Additional information
Nursing Associate Apprenticeships 
The University of Sheffield's Health Sciences School
Contact
For further information, please contact: 
A world top-100 university
We're a world top-100 university renowned for the excellence, impact and distinctiveness of our research-led learning and teaching.