New partnership with Sutton Trust set to help young people from low-income backgrounds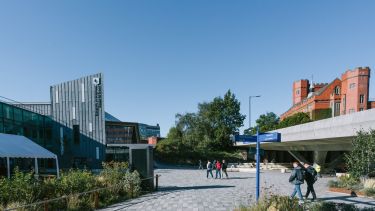 The University of Sheffield has partnered with the Sutton Trust, to offer less advantaged young people the chance to access the Sutton Trust's UK Summer Schools 
New partnership will give students an experience of university life and help them develop the skills needed to apply to higher education
The University of Sheffield will offer summer schools in architecture, biosciences, engineering, history and English
Young people will be able to access the Sutton Trust's UK Summer Schools at the University of Sheffield for the first time this year.  
The new partnership ensures that young people from low-income backgrounds have the opportunity to experience university life and learn the skills they will need to apply to higher education. 
Each year, students on the Sutton Trust's UK Summer Schools spend a week at one of 13 leading universities across the country, exploring one of over 40 subjects. 
Students get to take part in taster academic sessions, application skills workshops and social activities. The programme provides lower-income young people with the confidence and skills needed to choose where to apply to university and what to study, and how to make a competitive application. It also allows them to find support through a network of like-minded peers. 
Around 100 students will be participating in the programme at the University of Sheffield. Summer schools will be offered in architecture, biosciences, engineering, history and English, providing less advantaged young people with the chance to explore what studying for a degree in one of these subjects is like. 
The Sutton Trust's UK Summer Schools are open to all students in Year 12 in England and Wales, S5 in Scotland or Year 13 in Northern Ireland who attend – and have always attended – a state school or college in the UK. There are additional criteria which include having been entitled for free school meals, being the first in their family to attend university, attending a school with low rates of progression into university, living in a socio-economically deprived area and achieving 5 GCSEs at grades 6 to 9. Students who have been in care or looked after only need to meet the age, school and academic requirements.  
Analysis of UCAS data found that young people who took part in a Sutton Trust UK Summer School between 2006 and 2016 were four times more likely to apply to a top university, four times more likely to receive an offer, and 4.5 times more likely to accept an offer from a top university, compared to their classmates with similar grades and from similar backgrounds. 
Heather Macleod Jones, Head of Access and Admissions Policy and Compliance Manager at the University of Sheffield, said: "We're thrilled to be partnering with the Sutton Trust to deliver this exciting programme of summer schools. As a Russell Group university which is committed to widening access to research intensive institutions, we know the value of summer schools in preparing the way for students to succeed in higher education.  
"Our offer will allow young people from across the UK to experience our intensive subject tasters, collaborating with other students, including those currently studying at the University of Sheffield, whilst developing the essential skills required to be a successful university student and preparing them to transition from school or college to HE with a clear sense of belonging." 
Jonny Tyndall, Head of University Access and Digital at the Sutton Trust, added: "Our UK Summer Schools are a great opportunity for young people to gain insights into university life and access opportunities that we know can make a real difference to their futures.  
"We are thrilled that the University of Sheffield is joining the programme and young people will now be able to access these opportunities through another brilliant partner university." 
The partnership forms part of the University of Sheffield's ongoing commitment to improving access to its courses for students who are under-represented in higher education or experience different circumstances that may impact upon their student journey. 
---
Contact
For further information please contact:
A global reputation
Sheffield is a research university with a global reputation for excellence. We're a member of the Russell Group: one of the 24 leading UK universities for research and teaching.