New research sets to improve detection of high blood pressure in the lungs using advanced imaging tools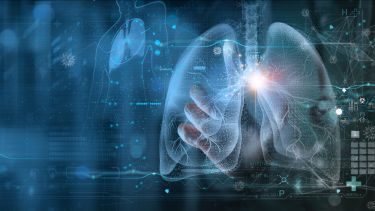 A new University of Sheffield study awarded £200,000 grant will enable quick and more accurate diagnosis of pulmonary arterial hypertension in patients with systemic sclerosis
Quicker and more accurate diagnosis will reduce the emotional and physical impact of the disease on patients
Around 10 per cent of patients with systemic sclerosis develop pulmonary arterial hypertension
The study will use innovative hyperpolarised imaging to provide detailed pictures of the transport of oxygen into the lungs
A new study at the University of Sheffield to enable quick and more accurate diagnosis of pulmonary arterial hypertension in patients with systemic sclerosis has received a £200,000 grant from Heart Research UK.
The project will use cutting-edge imaging methods to improve the identification of pulmonary arterial hypertension (PAH) in patients with systemic sclerosis (SSc) which will potentially enable quicker and more accurate diagnosis and reduce the emotional and physical impact of the disease on patients.
Systemic sclerosis is a disease of blood vessels, skin and other organs. Around 10 per cent of patients with systemic sclerosis develop pulmonary arterial hypertension, a problem with the blood vessels in the lungs that can ultimately lead to heart failure and death. 
Around half of SSc patients diagnosed with PAH will die within three years, meaning better detection methods are needed to improve early diagnosis and quality of life.
The new research project is part of the National Institute for Health and Care Research (NIHR) Sheffield Biomedical Research Centre and is led by Dr Roger Thompson who seeks to use innovative hyperpolarised imaging.
Patients will undergo MRI scans while breathing a special 'hyperpolarised' gas that provides detailed pictures of the transport of oxygen into the lungs from the air and can measure blood flow in the lungs. 
Dr Roger Thompson, said: "Our goal is to provide a quicker, more accurate diagnosis of pulmonary hypertension in patients with connective tissue diseases such as systemic sclerosis. By using advanced MRI scanning techniques, in which patients inhale a 'hyperpolarised' gas, we hope to improve early detection of pulmonary hypertension and how we monitor response to treatment.
"This work aims to reduce the emotional and physical toll of the disease by providing the potential for earlier and more effective treatment strategies."
The project will involve two groups, one set of patients with SSc who have developed PAH and the other who have not yet developed PAH. Patients will have MRI scans, and some will have repeat tests after six months to assess the disease progression. 
Professor Wild, a co-investigator on the research project, said: "Exploring the sensitivity of our Sheffield-made hyperpolarised xenon gas MR imaging methods to the effects of connective tissue disease on gas exchange in the lungs, in this group of patients with pulmonary hypertension, is of great interest. 
"Our group have developed and pioneered this technology over the years in Sheffield in collaboration with our clinical colleagues in the NHS at the Sheffield Pulmonary Vascular Disease Unit and this collaboration is vital in translating these methods for patient benefit."
It is also hoped that this will allow for better monitoring of PAH and how it responds to drug therapy in different patients, providing insight into how best to treat the condition.
Kate Bratt-Farrar, Chief Executive at Heart Research UK, said: "We are delighted to be able to award one of our Novel and Emerging Technologies grants to Dr Thompson and his team.
This ground-breaking research will hopefully improve the identification of pulmonary arterial hypertension in patients with systemic sclerosis. 
"The results from this study will hopefully improve patient quality of life whilst hopefully leading to the discovery of a new treatment that targets blood vessel damage."
For more information about the research funded by Heart Research UK visit: https://heartresearch.org.uk/current-research/ 
 
---
Flagship institutes
The University's four flagship institutes bring together our key strengths to tackle global issues, turning interdisciplinary and translational research into real-world solutions.