New sustainability centre will bring region together to lead drive for net-zero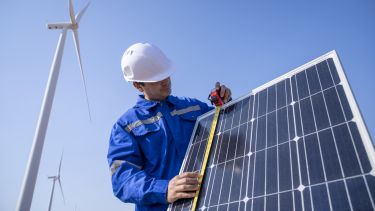 The South Yorkshire Sustainability Centre is announced today at South Yorkshire Economic Summit 2022
The centre will connect world-leading research with regional partners to develop and implement plans to reduce emissions, while also providing jobs and economic growth
The centre will apply its research to a range of projects; from retrofitting housing, optimising transport routes and decarbonising the food system
It will help organisations to consider not only the environmental aspects of sustainability challenges, but also balance these against economic and social factors in finding solutions
A new translational research centre to help decarbonise organisations across South Yorkshire has been announced today (Wednesday 9 March 2022). 
The South Yorkshire Sustainability Centre, announced today by South Yorkshire Mayor Dan Jarvis, will bring together researchers, businesses and organisations across the region to co-design solutions to regional and global sustainability challenges and work towards net zero emissions by 2050.
The South Yorkshire Sustainability Centre is led by the University of Sheffield through a partnership that includes  the South Yorkshire Mayoral Combined Authority, the four South Yorkshire local authorities, Sheffield Hallam University, and a range of private and voluntary sector organisations.
Projects that will be coordinated by the Centre include the optimisation and decarbonisation of transport routes, retrofitting housing stock, decarbonising the agri-food sector and heavy industry, and restoring  the region's natural environments and assets. 
Announcing the South Yorkshire Sustainability Centre at the South Yorkshire Economic Summit today, South Yorkshire Mayor Dan Jarvis, said: "South Yorkshire is the heartland of innovation and we are harnessing these credentials to tackle the biggest challenge facing our generation: the climate emergency and the need to drastically reduce carbon emissions. I've made it my mission to create a stronger, greener, fairer South Yorkshire economy and our investment in the Sustainability Centre will catalyse our region's plan to reach net zero emissions by 2040, unlock good green jobs and grow and attract new businesses and investment."
The South Yorkshire Sustainability Centre has recently received £5 million of funding from Research England. It will be delivered by a network of academics working closely with the region's established business and industrial capabilities. 
President and Vice-Chancellor of the University of Sheffield, Professor Koen Lamberts, said: "The drive towards reaching net zero emissions is more important than ever. While there is a lot of available academic evidence around sustainability, it can sometimes be challenging for businesses to apply it to meet their own individual opportunities and challenges.  This new centre will provide a wealth of information and support for companies in South Yorkshire who want to decarbonise. It is collaborative in its approach, but has been designed to move at pace and it will be flexible to the region's ever changing environmental landscape."  
Centre Director, Professor Rachael Rothman, said: "The South Yorkshire Sustainability Centre will bring together academic expertise from across Sheffield's two universities to address specific regional challenges. It is important to look at sustainability challenges holistically; ensuring that in our urgent drive to reduce emissions we are also considering the economic and social impact, and opportunities, of the solutions we propose. We are looking forward to working with organisations of all sizes to assess the opportunities to work together to decarbonise for the future. While we have identified initial projects for the centre, we also have some funding for future projects and we are keen to hear from organisations that would like to work with us to co-design solutions to regional sustainability challenges" 

Sheffield Hallam University will lead on decarbonising the agri-food sector and supporting a just transition to net zero through two of their leading research centres – the National Centre of Excellence for Food Engineering (NCEFE) and the Centre for Regional, Economic and Social Research (CRESR).
 
NCEFE is an industry-facing research and innovation facility, providing technology-led innovations for the global food system. Researchers will work with regional business partners to examine ways to reduce the environmental impact of food manufacturing in South Yorkshire while improving the energy efficiency in the region's food processing sector. CRESR is one of the UK's leading centres of policy research and evaluation. Academics will work alongside voluntary sector groups, small businesses, workers and vulnerable communities in the region to ensure their views and needs are central to actions towards a sustainable South Yorkshire. Their work will provide a basis for policy to support workers and SMEs in the transition to net zero.
 
Professor Wayne Cranton, Dean of Research at Sheffield Hallam University, said: "The South Yorkshire Sustainability Centre is an excellent example of how collaboration and partnership can come together to build on research excellence, expertise and knowledge across organisations and across disciplines - to realise economic and social impact through the common goal of addressing the urgent sustainability challenges.  
 
"I am delighted that our research teams at the National Centre of Excellence for Food Engineering and at the Centre for Regional, Economic and Social Research will be at the forefront of this work through our partnership in the new Centre."   
 
For more information please contact sysustainabilitycentre@sheffield.ac.uk.
---
Flagship institutes
The University's four flagship institutes bring together our key strengths to tackle global issues, turning interdisciplinary and translational research into real-world solutions.