Power of data science will help UK manufacturers cut energy bills, boost productivity and increase competitiveness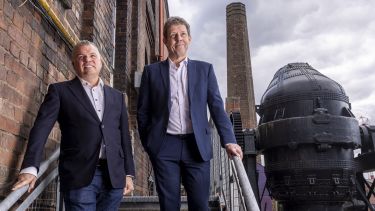 UK manufacturers can cut energy bills, boost productivity and gain new competitive edge 
Launch of AMRC Data Cloud and EyUp Data Science Academy in Sheffield
Digital technologies can have same impact as Bessemer converter
UK manufacturers will be able to cut energy bills, boost productivity and become even more competitive with the launch of bleeding-edge digital tools and technologies to harness the power of data science in their factories.
The AMRC Data Cloud will open up access to world-leading machine learning and artificial intelligence capabilities at a fraction of the cost to unleash a new wave of innovation in industrial processes. The EyUp Data Science Academy will supply the skills and knowledge to make the most of these powerful new applications.
The initiatives were launched at an event at the Kelham Island Museum called How Data Will Shape the Future of Manufacturing. Attendees included senior figures from the manufacturing and technology industries along with the Mayor of South Yorkshire Oliver Coppard.
Technology entrepreneur David Richards MBE, chair of the AMRC Digital Meet Manufacturing Commission, said: "Manufacturers are facing exceptional difficulties caused by Brexit, Covid lockdowns and war in Ukraine. The AMRC Data Cloud and EyUp Data Science Academy will help them to overcome these challenges and drive economic growth."
He added: "It is fitting we are launching these initiatives at Kelham Island Museum, which is a testament to Sheffield's proud industrial past. In the 19th century, our city's entrepreneurs pioneered the commercial use of the Bessemer converter* to lead the world in steelmaking. We believe today's industrialists can seize a similar opportunity by harnessing the power of new technology."
Professor Koen Lamberts, President and Vice-Chancellor of the University of Sheffield, said: "The AMRC Data Cloud will allow manufacturers to generate actionable insights from their own factories to cut energy bills, boost productivity and become even more competitive.
"These new tools and technologies will help to accelerate the digital transformation of a hugely important sector, and the EyUp Data Science Academy, alongside our degree programmes and apprenticeships, will ensure businesses have the skills they need for the future.
"We are very proud to be working with partners to drive innovation and productivity and to help manufacturers overcome the challenges they face."
WANdisco plc, the Sheffield and Silicon Valley-based live data company, and the University of Sheffield's Advanced Manufacturing Research Centre (AMRC) built the AMRC Data Cloud with support from world-leading software vendors Databricks and Microsoft. The infrastructure will help smaller manufacturers to adopt robotics, sensors, 3D printing and augmented reality in their factories and unlock new applications. These include predictive maintenance, improved forecasting for yields, supply chain management, energy consumption and demand, automated quality testing, enhanced product design and optimised transport and logistics. 
The Data Science Academy will equip manufacturers with everything they need to know to introduce data science techniques into their factories. The accredited six-week training course is being delivered by award-winning Yorkshire tech skills provider EyUp in partnership with the AMRC and the South Yorkshire Mayoral Combined Authority. 
The academy is targeted at industry practitioners with some familiarity of computer programming and aims to produce 'bilingual' graduates who can understand both data science and manufacturing. Starting in January, the course will provide an overview of data science techniques and applicability in manufacturing environments, requirements for acquiring and using data in machine learning and experience of real-world scenarios employing the AMRC Data Cloud. 
To register for the course, please visit www.eyup.com
---
Contact
For further information, please contact:
A world top-100 university
We're a world top-100 university renowned for the excellence, impact and distinctiveness of our research-led learning and teaching.