Scientists publish a call to arms on the war on plastics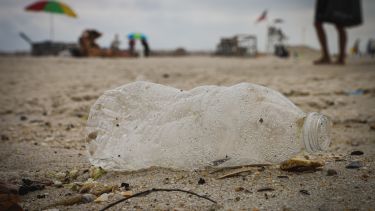 Scientists from the University of Sheffield and University of Delaware publish a call to arms to tackle the global challenge of plastic waste
Multiple sustainable methods, including chemical recycling and upcycling, backed by scientists to tackle the issue
Scale of problem has been exacerbated by the pandemic, which saw mass consumption of plastics, impacting the immediate future of our environment
Scientists advise plastic lifecycle should be considered at the design stage to lessen impact of waste
Three quarters of all plastic material is currently not recycled and ends up in landfill or the oceans
Scientists calling for more sustainable approaches to address the massive global challenges faced by plastic waste have published a call to action today in Science.
Scientists from the Universities of Sheffield and Delaware emphasise the importance of adopting multiple sustainable methods to combat the surge in plastic waste through recycling, upcycling and other complementary routes; to minimise energy, cost and environmental impacts in 'Toward polymer upcycling–adding value and tackling circularity'.
The publication aims to encourage those working in research and development to take action to combat the increasing problem of plastic waste that the human consumption, and demand for convenience is creating; and to use their expertise to develop solutions to the problem which is contributing heavily to the environmental damage of the planet.
Following the advent of cheap and available plastics in the 20th century, use of the resource has exploded with many forms of packaging using multiple forms of plastics. This creates massive demand on the production of 'virgin' polymer plastic material. Not all forms of which are currently recyclable; and of the ones that are, finding methods to do this that can provide reusable plastic material for use in products again is still limited.
The scientists - including LaShanda Korley, Distinguished Professor of Materials Science and Engineering and Thomas Epps III, Allan & Myra Ferguson Distinguished Professor of Chemical and Biomolecular Engineering from the University of Delaware and Brett Helms from the Lawrence Berkeley National Laboratory in California - join Professor Tony Ryan, Director of the University of Sheffield Grantham Centre for Sustainable Futures - to highlight how the pandemic has greatly contributed to the consumption of plastic, adding to the recent demand of single use plastics, including medical packaging, masks and gloves.
Co-author and Professor of Physical Chemistry at the University of Sheffield, Tony Ryan, said: "This paper is essentially a call to arms to other scientists in this area to put their intellectual power behind potential solutions to the plastic problem. This is something that needs policy and business models to come together and create a broad multidisciplinary mix. It's a wicked problem that needs a holistic approach.
"One of the biggest hurdles to overcome around the problem is all of the regulations around the use of plastics, particularly in medical consumables such as devices and Personal Protective Equipment, which were written when single use plastic was at its cheapest and doesn't consider what would happen to it after it's useful life. Basically we've had 50 years of cultural training to throw things away that we now have to undo."
With less than 10 per cent of plastics being recycled worldwide, only 1 per cent currently recycled more than once and only 12 per cent incinerated for energy recovery; over three quarters of plastic material is currently being wasted and thrown away, contributing to the more than seven billion tons of plastics already posing an urgent crisis for the planet.
Traditional methods of recycling plastic waste, such as mechanical recycling, can still be inefficient, limit the amount of plastic material that can be recovered and reduce its material properties, limiting its second or third use as a new product and meaning it is typically cheaper to produce new plastic and products.
Methods such as chemical upcycling can be used for certain plastics, like those used to create plastic bottles, to turn the plastic material into something with better properties than before, saving more in the process and even dealing with certain levels of contamination.
Within the discussion paper, the academics hope that vital steps within the development of plastic products will generate more efficient use of polymer materials. Designing products to be recycled when used and to promote the development of upcycling and upgrading of plastics, so they can be used again instead of creating more waste.
One example is an initiative by Sea2See eyewear, that uses discarded fishing nets to create glasses and timepieces, by finding material with a known provenance and the ability to turn the material back into its original polymer form, they are able to create something new, reducing the burden of waste on the environment, and producing less virgin material for their products.
Professor Tony Ryan added: "The University of Sheffield and the Grantham Centre are striving for global equity and building a more sustainable future, what I want to be really clear in the paper was this isn't the silver bullet, it's not going to address every problem, but there are certain niches where this is the best solution and we can exploit it to find the best solutions for different problems, and of course different plastics."
Promoting the cultural change needed to create the diverse solutions needed to tackle the complex problem of plastic waste worldwide is a central focus of Professor Ryan's  Grantham Centre for Sustainable Futures Many Happy Returns project, where experts are developing reusable plastic packaging systems to reduce the need for single-use plastics, and tackle the plastic material produced for packaging each year, over half of which is never reused.
For more information about the Many Happy returns: reusable plastic package, visit: http://grantham.sheffield.ac.uk/research-projects/many-happy-returns-plastic/
---
Flagship institutes
The University's four flagship institutes bring together our key strengths to tackle global issues, turning interdisciplinary and translational research into real-world solutions.