Self Esteem singer Rebecca Lucy Taylor to be awarded honorary degree from University of Sheffield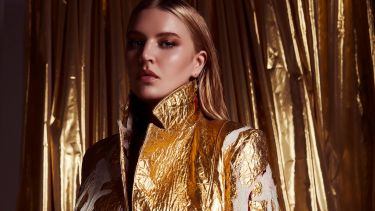 Rebecca Lucy Taylor, better known by her stage name Self Esteem, is to be awarded an honorary degree from the University of Sheffield, for her success in the music industry and public championing of inclusivity and diversity. 
Rotherham-born, Rebecca is a critically acclaimed, Mercury nominated singer and proud ambassador for Sheffield
The chart-topping singer will be given the Doctor of Music accolade during a graduation ceremony for students studying in the Faculty of Arts and Humanities on 17 July 2023
Rebecca joins 11 other notable public figures with links to the city who will be awarded honorary degrees in the summer graduation ceremonies, including Olympic gold medalist hockey player Hollie Pearne-Webb
Chart-topping Rebecca Lucy Taylor, better known by her stage name Self Esteem, will be made an honorary Doctor of Music at the University of Sheffield today (Monday 17 July 2023), in recognition of her success in the music industry and public championing of inclusivity and diversity.
Rotherham-born Rebecca, who has shot to fame for her edgy, contemporary pop tracks, will join 11 other notable public figures being awarded honorary degrees alongside the latest cohort of graduating students.
The critically-acclaimed singer has taken the music industry by storm and acts as a proud ambassador for Sheffield, performing at Glastonbury 2022 in a Meadowhall-inspired outfit, which was designed in Sheffield.
Rebecca champions inclusive and diverse communities in all the work she does and as a public educator works to address the rights and aspirations of women to achieve and be proud.
Her success has come relatively later in life, which is a transparent element of her identity, and she uses this meteoric and mature rise to reflect upon how women are often positioned in music, despite generations of feminism. 
I am insanely chuffed to be receiving an honorary doctorate from the University of Sheffield. I love Sheffield with all my heart and to be acknowledged like this bolsters my dream of changing so much for people in music like me.

Rebecca Lucy Taylor

Self Esteem
Rebecca's second album, Prioritise Pleasure, saw her nominated for the prestigious Mercury Music Award and the album was also named best album of 2021 by both The Guardian and The Sunday Time. The anthemic single 'I do this all the time' was also the Guardian's Song of the Year for 2021.
A multi-instrumentalist, vocalist, songwriter and theatre composer, Rebecca also won the 2021 BBC Music Introducing award. She most recently composed the soundtrack to the West End production of Suzie Miller's play Prima Facie, starring Jodie Comer.
Rebecca said: I am insanely chuffed to be receiving an honorary doctorate from the University of Sheffield. I love Sheffield with all my heart and to be acknowledged like this bolsters my dream of changing so much for people in music like me. I am overwhelmed, galvanised and energised! Also thrilled to finally get a cute pic of me in a cap and gown, not gonna lie.
Professor Gill Valentine, Deputy Vice-Chancellor of the University of Sheffield, said: "Rebecca Lucy Taylor follows a long line of successful musicians who have continued to put Sheffield on the map. Her work to promote inclusive and diverse communities aligns with our values at the University, and we are pleased to welcome her into the wider University of Sheffield family.
She continued: "We are incredibly proud to recognise the achievements of all our honorary graduates, who have contributed so much in their respective fields. We hope they will go on to be advocates and ambassadors for the University, as well as help inspire our students to success during the next stage of their lives."
Other honorary graduates
Rebecca Lucy Taylor will be joined by 11 other honorary graduates, who will all be recognised throughout the week for their own unique contributions to Sheffield:
Hollie Pearne-Webb, MBE
Hollie Pearne-Webb, MBE will be receiving a Doctor of Letters.
Since graduating from the University with an Economics degree, Hollie is regarded as one of the best defenders in world hockey.
A member of both the England and Great Britain Hockey teams she has achieved the greatest and most prestigious award available in her field. Scoring the decisive goal of the penalty shootout, she helped Great Britain to win gold at the 2016 Rio Olympic Games.
She was crowned Player of the Tournament as England secured a bronze medal at the 2017 European championships, before taking over as captain of both England and Great Britain in 2018. She led Great Britain to bronze at the Tokyo 2020 Olympics and was awarded an MBE IN 2017.
---
Tony Pedder, OBE
Tony Pedder, OBE DL will be receiving a Doctor of Engineering.
Leading industrialist and former Master Cutler, Tony Pedder, has given great service to South Yorkshire including Chairing the University of Sheffield Council for almost 10 years before retiring in July 2022.
Tony was also Chair of the Board of the University of Sheffield's Advanced Manufacturing Research Centre (AMRC) and was a passionate supporter of the University's work in partnership with local and international business.
He began his career with British Steel where he progressed to Group Chief Executive of British Steel's successor company, Corus plc. in 2001, before holding a number of non-executive roles, including Chair of Sheffield Forgemasters Ltd, where he remained for 12 years.
He also served as independent Chair of Sheffield Teaching Hospitals NHS Foundation Trust (STHFT), for almost 10 years. In 2013 he was awarded an OBE for services to business, health and the voluntary sector in Sheffield.
---
Emeritus Professor Nigel Bax and Emeritus Professor Deborah Bax
Emeritus Professor Nigel Bax and Emeritus Professor Deborah Bax will be receiving Doctorates of Medicine.  
A physician specialising in neuroendocrine tumours, Emeritus Professor Nigel Bax graduated from Guy's Hospital Medical School in 1972 and received a PhD from the University of Sheffield in 1985, before going on to become leader of the University's MBChB course.
Honorary Emeritus Professor Deborah Bax graduated from the University of Sheffield in 1976 and was awarded an MD in 1989, before going on to become an eminent rheumatologist. She specialised in the genetics of susceptibility to rheumatoid arthritis.
Both have worked with medical colleges and postgraduate medical training organisations in Iraq since 2010, amidst the perils of conflict, for which they have received numerous awards including the President's Medal from the Royal College of Physicians of Edinburgh, the Gold Decoration of Honour from the European Union of Medical Specialists, the Iraq Higher Education Medal and the Warith al-Anbiaa College of Medicine has named a lecture hall after them both.
---
Professor Dame Helen Atkinson
Professor Dame Helen Atkinson will be receiving a Doctor of Engineering.
An internationally renowned metallurgist and materials scientist, Dame Helen has been an inspiring role model for women entering into the science and engineering sector.
A former member of staff, she quickly rose from lecturer to reader before taking a Chair at the University of Leicester and finally joining Cranfield University as Pro-Vice-Chancellor of the School of Aerospace, Transport and Manufacturing in 2017.
Her connection with Sheffield remains through serving as Deputy Chair of the Strategic Facilities Advisory Board for the Henry Royce Institute.
She became the first woman President of the Engineering Professors' Council in its 50-year history and was a Secretary of State public appointment to a major safety committee with the MoD. A Fellow of the Royal Academy of Engineering, Atkinson was made CBE in 2014 and DBE in 2021 for services to Engineering and Education.
---
Richard Mayson
Richard Mayson will be receiving a Doctor of Letters.
Geography alumnus Richard Mayson has given exceptional support to the University over many years both through his time and philanthropy.
A former member of the University Council, joining in 2013, he most recently served as the University's Pro-Chancellor from 2017 to 2021. An active volunteer and representative of our alumni community, he was Chair of the University's Alumni Board, where he remained for 6 years.
He has also provided valuable guidance and support to his former department over many years, as a member of the Department of Geography's Alumni Advisory Board. Professionally, Richard is an award-winning, internationally recognised writer and expert on fortified wines and the wines of Iberia.
---
Alison Hope
Alison Hope will be receiving a Doctor of Letters.
Chemistry alumna Alison Hope has given back a huge amount of time to the University of Sheffield, including as a member of University Council for the last 10 years before retiring in July 2022.
A fellow of the Institute of Chartered Accountants, her 15 years as a Partner at KPMG specialising in corporate transactions provided critical expertise. Alison also Chaired the HR Committee and served on the Senior Remuneration Committee and Council Nominations and Senate Nominations Committees. She was also Deputy Chair of the University's Alumni Board.
Most recently she led the search for key new members to the University Council.  Alison was also a Non-Executive Director at the Marsden Building Society for 10 years and has served on the Board of Trustees of Eureka – the National Children's Museum - for over 10 years, chairing their Finance and General Purposes Sub-Committee.
---
Matthew Bannister
Matthew Bannister will be receiving a Doctor of Letters.
Born and raised in Sheffield, Matthew is a media executive and broadcaster with a highly successful career. Beginning as a local journalist and radio presenter he moved to London, gaining experience at commercial radio stations before his prestigious appointment in 1993 as Controller at BBC Radio 1. There he was credited with much of the station's subsequent success with bringing in a new, younger audience.
Rising to the position of Director of BBC Radio in 1996, Bannister had responsibility for all the national BBC radio networks other than Five Live. He then went onto become Chief Executive of BBC Production, responsible for all non-news programme-making on English television, radio and online, before returning to radio presenting.
A Fellow of the Radio Academy, today Bannister is known for his award-winning Folk on Foot podcast. He continues to be connected to the region and has delivered a number of talks and masterclasses to students in the School of Journalism Studies.
---
Kris Gibbon-Walsh
Kris Gibbon-Walsh will be receiving a Doctor of Letters.
Chemistry alumnus Kris Gibbon-Walsh is UK Director of Network, Community and Operations at FareShare, the largest charity food distribution organisation in the UK. Providing food access to thousands of community-based organisations across the UK and working in partnership with the majority of major food retail organisations and many food producers, the FareShare network, under Kris's leadership, has grown from 2,500 to 8,000 organisations in 15 months.
During the pandemic, Kris secured and managed funding of £30 million from Defra to enable communities to access the food that was needed by those who were self- isolating, directed to shield at home, or who were in financial hardship.
Kris also led the VCS-EP Food response group, consisting of more than 40 national charity organisations including the British Red Cross and Business in the Community, as well as government and commercial partners, to assess, align and understand the reasons for hunger and hardship and to find solutions to solve it collectively.
His most visible achievement was working with Marcus Rashford's campaign during the pandemic,  to extend free school meals which resulted in FareShare distributing the equivalent of 21 million meals.
---
Bernadine Evaristo, OBE, FRSC, FRSA
Bernadine Evaristo, OBE, FRSC, FRSA will be receiving a Doctor of Letters.
Bernadine Evaristo is an award-winning, highly respected author of eight books and numerous other works that span a range of genres, however it is for her eighth book that she has gained most acclaim.
The novel, Girl, Woman, Other, won the Booker Prize in 2019, making her the first black woman and the first black British person to win it. The novel also won many other prizes including the British Book Award's Fiction Book of the Year and Author of the Year, and the Indie Book Award for Fiction. It was a #1 Sunday Times bestseller for five weeks and Bernadine was the first woman of colour to achieve this position in the paperback fiction chart, spending 44 weeks in the Top 10.
A Professor in Creative Writing at Brunel University London, Evaristo is an advocate for the inclusion of writers and artists of colour. A recipient of many honours including an MBE, OBE and a Fellow of the Royal Society of Literature and Royal Society of Arts, she has recently been named as the next President of the Royal Society of Literature - the first writer of colour to hold the position and only the second female in the society's 200 year history.
---
Dr Nike Folayan
Dr Nike Folayan will be receiving a Doctor of Engineering. Electronics alumna Nike Folayan has risen to the height of her chosen career as a Chartered Engineer and has dedicated 15 years to advocating for equality and inclusion within the sector.
Despite the challenges she has identified as a Black woman in a male dominated industry, she has worked her way up from a researcher and is now Technical Director at WSP, one of the world's leading engineering professional services firms. She is one of the engineers central to digitising the UK's rail sector using new technology to transform the way we experience travel.
A supporter of several trusts and advisory groups, her most impactful achievement was establishing the Association for Black and Minority Engineers (AFBE) with her brother and fellow alumnus Oluwole. She continues to Chair the UK arm of the AFBE and tirelessly works to promote higher achievements in education and engineering. In 2020 she was awarded an MBE for her services to diversity in engineering and is one of the Financial Times' Top 100 most influential Women in Engineering.
---
Flagship institutes
The University's four flagship institutes bring together our key strengths to tackle global issues, turning interdisciplinary and translational research into real-world solutions.