Sheffield researchers awarded £4.7m for major new greenhouse gas removal demonstration project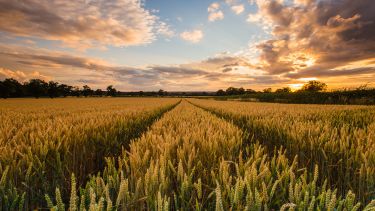 Scientists at the University of Sheffield receive a £4.7m award for a project to assess the feasibility of using rock dust to capture greenhouse gases and enhance UK food and soil security. 
The project builds on research by University's Leverhulme Centre for Climate Change Mitigation, showing that rock dust amendment of agricultural land could help remove carbon dioxide from the atmosphere and boost crop yields.
The funding has been awarded by UKRI as part of a large programme to assess Greenhouse Gas Removal methods by the UK government, to understand its role in meeting the UK's net-zero carbon emissions by 2050 obligation.
A team of scientists, led by Professor David Beerling FRS at the University of Sheffield, have been awarded £4.7m to develop a large multi-partner research project looking at the scientific, economic and social acceptability of using rock dust in agriculture to capture greenhouse gases. 
The project focuses on UK agricultural systems and will investigate using enhanced mineral weathering, or amending soils with crushed calcium and magnesium rich silicate rocks to accelerate natural CO2 capture processes, while improving and sustaining the fertility of soils for UK crop production and decarbonising the food system.
The project at Sheffield is based on previous research by the University of Sheffield's Leverhulme Centre for Climate Change Mitigation showing that adding basalt rock dust to agro-ecosystems of large geographical extent outside of Europe could help soils to remove atmospheric carbon dioxide (CO2). 
Building on this research, the project will provide the first integrated whole system assessment of the science, societal and scalability opportunities and challenges of enhanced mineral weathering deployment in UK agriculture.
The results will be used to shape longer-term Government decision-making on the most effective technologies to help the UK tackle climate change and reduce CO2 emissions. 
The project is one of five funded by UK Research and Innovation (UKRI) as part of a £30 million investment which will assess Greenhouse Gas Removal methods, coordinated by a central hub located at the University of Oxford. It is the largest programme to assess Greenhouse Gas Removal methods funded by the UK government to date. 
Professor David Beerling FRS, Principal Investigator of the project and Director of the University of Sheffield's Leverhulme Centre for Climate Change Mitigation, said: "I'm delighted that UKRI have funded our greenhouse gas removal demonstrator project investigating all aspects of enhanced weathering, from science to society. This promising approach may have the advantage of simultaneously delivering co-benefits for UK crop production and soil health. We look forward to building our understanding of the role it may play in helping the UK government reach net-zero by 2050."
Dr Jonathan Scurlock, Chief Adviser, Renewable Energy and Climate Change at the National Farmers' Union, said: "The NFU believes that UK research on enhanced rock weathering for greenhouse gas removal addresses important applied research and policy needs, underpinning some of the national 'net zero' land-use decisions that will be made in the near future.  Demonstrating that enhanced rock weathering and agriculture creates a major carbon sink would be important for the delivery of our NFU net-zero ambition."
Teams across the UK will investigate the viability of five innovative methods of large-scale greenhouse gas removal from the atmosphere to help the UK reach its Net Zero climate targets.
Partner institutes involved: University of Sheffield, Cardiff University, Leeds University, UKCEH, Rothamsted Research (Harpenden and North Wyke), Southampton University, National Oceanography Centre, Southampton, Aberdeen University, Heriot-Watt University and Oxford University. 
---
Additional information 
Institute for Sustainable Food at the University of Sheffield
Contact
For further information please contact: 
Flagship institutes
The University's four flagship institutes bring together our key strengths to tackle global issues, turning interdisciplinary and translational research into real-world solutions.