Sheffield students set to hit £1 million with 'Donate, Don't Waste' scheme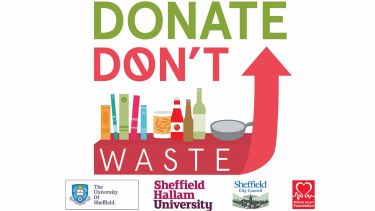 Since 2013, Sheffield students have donated 66,071 bags of useable items to the British Heart Foundation
The Donate, Don't Waste run by the city's universities and Sheffield City Council, also helps to minimise the environmental impact created when thousands of students move out of their accommodation
The University of Sheffield has many ground breaking research projects in collaboration with, and funded by the British Heart Foundation
A scheme to help Sheffield students donate reusable items and minimise their impact on the environment and local community when they move out of their student accommodation, is set to hit the equivalent of £1 million in donations this summer.
The Donate, Don't Waste scheme which is run by the University of Sheffield, Sheffield Hallam University, Sheffield City Council and charity partners, aims to minimise the environmental impact created when students move out, whilst helping to raise vital funds for the British Heart Foundation. 
Since 2013, Sheffield students have donated 66,071 bags of useable items which is the equivalent of over £925,000 worth of donations. It is hoped that this year's donations will see that figure reach the £1 million mark.
Donations made by students reduce the waste produced when they are moving out while also making a positive difference in the wider community.
The University of Sheffield has many research projects in collaboration with, and funded by the British Heart Foundation.
Examples of these projects include developing new ways to image the lungs, creating a new virtual tool to detect heart patients needing stents, and research into uncovering the mechanisms behind pulmonary arterial hypertension; working towards a cure.
Amanda Purkiss, University Account Manager at the British Heart Foundation, said: "We are delighted by the support the University of Sheffield provides through their 'Donate, Don't Waste' campaign each year. 
"With over 700 shops and stores, we rely heavily on the donations from students and staff for much-needed stock. The 'Pack for Good' scheme encourages students and staff from universities, like Sheffield, to donate unwanted items, such as clothing, shoes, books, DVDs, bags and small electricals, to the BHF. 
"This is a convenient campaign for students to easily donate preloved items at the end of term via donation banks and pop-up bins. The money raised by these donations helps the BHF fund life-saving research into heart and circulatory diseases."
Over 9.4 tonnes of tinned food and unopened food packages have also been donated by students to S6 Foodbank since 2015, equating to 17,465 meals. The donations also have a large environmental impact and the total is equivalent to saving 4,776,677kg CO2, compared to if the items were sent to landfills.
Andrew Woffindin, Contracts and Environmental Coordinator at the University of Sheffield, works closely with charities, including the British Heart Foundation.
He said: "We are so grateful for the thousands of items given by the students. The scheme benefits everyone, and especially in light of what's happening in the world, with more people going into poverty, student donations are making a positive impact on the wider community.
"We make sure no items go to waste. The British Heart Foundation doesn't accept duvets and bedding but many other charities are more than happy to take them, including AID4Gambia and St Vincents De Paul, who the university also works with. All items are put to a good cause and help families in the Sheffield community greatly."
Contact
For further information please contact: