Sheffield walkers raising thousands for life-saving genetic research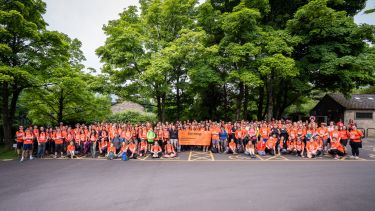 More than 350 staff, students and friends of the University of Sheffield are taking part in The Big Walk 2022 to raise vital funds for genetic disease research
Funds raised will go towards a state-of-the-art bioreactor, which will accelerate life-saving gene therapy treatments from the lab into clinical trials
Fundraisers taking part in the walk include Professor Julia Dobson, who lost her dad to motor neurone disease (MND), Dr Philip Powell, who works with boys and men with Duchenne Muscular Dystrophy (DMD) and hopes gene therapy will help the patients he works with, and Sam Guest, who has Cystic Fibrosis and hopes gene therapy will have a lifelong impact for others like it did for him
The last Big Walk, which took place in 2019, raised over £37,000 for student scholarships
Hundreds of staff, students, alumni and friends of the University of Sheffield are hiking across the Peak District today (Friday 24 June 2022) to raise money for life-changing genetic disease therapies.
The Big Walk 2022 is set to raise thousands of pounds in support of the University of Sheffield's Genetic Disease Research Appeal, which will fund the development of pioneering gene therapy treatments for diseases such as motor neurone disease (MND), dementia and other rare inherited diseases.
This year's event returns after a two-year break due to the Covid-19 pandemic. It is the sixth Big Walk hosted by the University since 2015. The annual event has raised over £400,000 in total supporting a variety of life-changing projects such as Yorkshire's first MRI-Pet scanner as well as student scholarships so that everyone, regardless of their financial position, can access university education.
More than 350 people are taking part in this year's event including Professor Julia Dobson, from the University of Sheffield's School of Languages and Cultures, who lost her Dad to motor neurone disease in March 2020.
She said: "Due to the pandemic, I've been able to do very little to mark my father's passing and celebrate his life. The Big Walk gives me the chance to do something personal and practical through helping to raise funds for genetic disease research.
"I have done the Big Walk before and it was a really enjoyable and positive experience. I relished the opportunity to spend all day in the beautiful countryside with great people for a good cause. My motivation is clearly very personal and will be more than enough for every step of the walk."
Fundraisers have the choice of either 30km or 50km route across the Peak District. The 50km walk sets off from Hope train station before meeting the shorter distance walkers at Edale, with the route then taking participants from Ladybower, to Stanage Edge and along Redmires Reservoir, before finishing at the university campus.
After crossing the finish line this year, walkers will each receive a sustainable medal made from scrap materials by the iForge - a 24-7 student-led makerspace that is the first-of-its-kind at a UK university. There will also be a charity cake raffle after the walk with cakes made by Great British Bake Off 2018 winner Dr Rahul Mandal, who works at the University of Sheffield Nuclear Advanced Manufacturing Research Centre (Nuclear AMRC). All proceeds from the cake sales will go towards the Genetic Disease Research Appeal.
Dr Philip Powell, a Research Fellow at the University of Sheffield's School of Health and Related Research (ScHARR) works with boys and men with Duchenne Muscular Dystrophy (DMD) - an inherited disorder which causes progressive muscular weakness. Dr Powell is taking part in the Big Walk because he hopes gene therapy might one day help the patients he works with.
He said: "I have witnessed first-hand the impacts of this terrible genetic disease, on people living with it day-to-day and their families.
"Likewise, I've got to know the amazing boys and men that are living with Duchenne. I've had the privilege to learn about their lives, and discover how research into new health technologies can help to make things better for them.
"Research and innovation in genetic diseases and associated healthcare treatments and interventions is one of the most effective ways of producing results that will lead to improving outcomes for families."
Sam Guest, a Senior Recruitment Officer from the University of Sheffield's Management School, has Cystic Fibrosis (CF). In November 2020, a new treatment called Kaftrio, dubbed a miracle drug, drastically improved Sam's life expectancy whilst also removing the symptoms of Cystic Fibrosis. Now, Sam is tackling the Big Walk in the hope that genetic disease research can have a lifelong impact for other people like it did for him.
Sam says: "When I was born, the mortality rate was 13 for patients with CF. It's now thankfully mid-50s. And with continuing research, it'll hopefully be much higher in the future.
"I am excited to be walking with my friends from work who I've known for several years now. This is all for a fantastic cause and I hope to be able to contribute to the lifesaving research that in turn will one day help others have a better quality of life.
"I feel very proud to work for a university that highlights and helps raise funds for fantastic causes such as this. I hope everyone throughout the world one day has access to life changing drugs to help them be the best version of themselves. Because right now my only limitation is my imagination."
Professor Mimoun Azzouz, from the University of Sheffield's Department of Neuroscience, leads gene therapy research at the university and is also taking part in the walk. He said: "I am delighted to participate in this event and help raise funds to support the Genetic Disease Research Appeal in Sheffield.
"The University of Sheffield is a leading organisation in gene therapy technology and these efforts will strengthen our capacity to manufacture life-changing therapies for these devastating diseases."
For more information about The Big Walk 2022 or to donate to the Genetic Disease Research Appeal, please visit: https://www.justgiving.com/campaign/big-walk-2022
---
Contact
For further information please contact:
A global reputation
Sheffield is a research university with a global reputation for excellence. We're a member of the Russell Group: one of the 24 leading UK universities for research and teaching.