Tennis club at University of Sheffield crowned best of its kind in Britain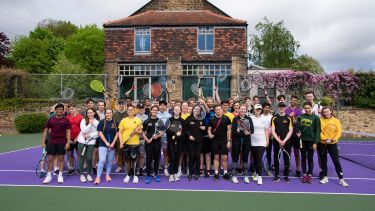 In recent years the tennis club has surged in popularity to become one of the largest sports clubs at the University, with over 300 active members
The LTA Tennis Awards highlight the incredible achievements of clubs across Britain, as well as the volunteers who dedicate their time and energy to make tennis accessible to all
So far this year the club has raised over £500 for charitable causes including aid for people in Ukraine and the Sheffield Royal Society for the Blind
The University of Sheffield Tennis Club has been named the best of its kind in Britain after receiving the University of the Year accolade at the LTA Tennis Awards 2022.
The awards highlight the incredible achievements and contributions of people and their tennis clubs across Britain who dedicate time and energy to making tennis accessible for all.
The club has seen a huge growth in membership and participation in recent years to become one of the largest sports clubs at the University. With over 300 active members, it has more than doubled its membership in the last year, and now has two mens teams and two women's teams.
In recent years the club has strived to become as inclusive as possible so that anyone who wants to play tennis at the university, no matter their ability level, can feel comfortable joining. To help with this, it has introduced coaching sessions which are available to all members.
The club also participates in numerous charity events throughout the year. This year it has already raised more than £500 through events such as its annual 12 hour 'rallyathon', with funds going towards helping people in Ukraine and the Sheffield Royal Society for the Blind, which provides opportunity, support, friendship and services to blind and partially sighted people in Sheffield.
Tennis players and doubles pairing Olivia Nichols and Alicia Barne announced the University of Sheffield Tennis Club as the winners at a live-streamed awards ceremony where British No.1 Emma Raducanu was named Player of the Year. Other special guest presenters included Judy Murray OBE, Sally Bolton OBE, HRH the Duchess of Gloucester and TV personality Bear Grylls.
Jacob Bates, Club Captain of the University of Sheffield Tennis Club, said: "To carry on from such a difficult time for everyone in the sporting community and still have a thriving club with over double the members of previous years has been amazing and certainly challenging. To have our hard work and dedication recognised at a national level is something we'd never expect and has been an amazing surprise."
Oliver Carruthers, who is also Club Captain of the Tennis Club, added: "We've had to come up with new creative ways to provide more sessions and court time for our members and increase our capacity to match the huge demand. We're really pleased to see the hard work both this year and last year's committee put into the club and we look forward to seeing what the future of tennis at Sheffield will look like."
The club is entirely led by student volunteers and, in partnership with the University, offers members financial assistance in obtaining LTA coaching qualifications; paying up to two thirds of the cost.
Last year, the club worked with the University of Sheffield to restore two tennis courts at Endcliffe, which are free for all students to use and will be regularly maintained.
---
Contact
For further information please contact:
A world top-100 university
We're a world top-100 university renowned for the excellence, impact and distinctiveness of our research-led learning and teaching.