Toxic Twitter abuse could skew UK wildlife law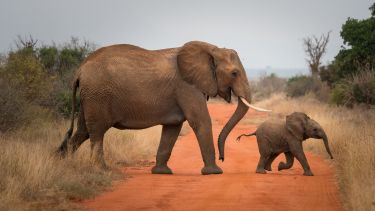 Researchers analysing tweets about trophy hunting have found that seven per cent contained abusive content, such as threats of violence and insults - a similar proportion to the number of abusive posts found on extreme messaging sites such as Gab or 4Chan
The hostile atmosphere to trophy hunting on social media, and the 'pile-ons' that can occur, mean that different conservation viewpoints are not heard and policymakers are less aware of them
A new British law banning hunting trophy imports is due to be discussed in Parliament next Friday (March 17), but it is feared that it may not be properly discussed and debated by experts and the public due to the polarising nature of the topic
Wildlife conservation efforts could suffer because toxic online rows about trophy hunting are becoming increasingly abusive, ecologists have warned.
Scientists from the University of Sheffield and the University of Reading analysed hundreds of tweets about trophy hunting and found that seven per cent were abusive. This is a similar proportion to content on partisan topics on social media platforms known to highlight extreme viewpoints.
Graphic images posted on Twitter of tigers, crocodiles, giraffes and elephants shot by hunters often provoke angry responses from Twitter users. For example, in two tweets examined by the researchers, one user says a trophy hunter 'deserved to die' and another said trophy hunters should 'shoot yourselves.'
The findings, published in Conservation Biology, reveal that as a result of this hostile atmosphere, arguments from some conservationists, who suggest trophy hunting might be positive overall for protecting species and habitats, are often shouted down by the opponents of hunting. This means different conservation viewpoints are not heard and policymakers are less aware of them.
Dr Thomas Johnson, co-author of the study from the University of Sheffield's School of Biosciences, said: "Debating trophy hunting and conservation is a delicate and difficult topic at the best of times but, on Twitter, the discussion has reached a new level of anger and entrenchment.
"The level of abusive content is shocking - it makes it extremely difficult to put forward viewpoints that some people disagree with, and that could cause some major real-world issues. Conservation policy could well be impacted if experts choose not to share their arguments for fear of being attacked on social media."
The research team examined 500 tweets to identify themes and tones in trophy-hunting debates on Twitter. They found that 350 tweets opposed trophy hunting, with Twitter users often conveying sadness, anger or disgust at the suffering caused to the hunted animals.
Of these anti-hunting tweets, seven per cent contained abusive content, such as insults or threats of violence. This is a similar rate to the proportion of abusive posts found on extreme messaging sites such as Gab or 4Chan. 
Less than five per cent of tweets expressed views in favour of trophy hunting, often with a 'reluctant' tone, or acknowledging that the practice was a 'necessary evil'. Some Twitter users disliked the shooting of animals, but suggested trophy hunting provides funding and aids wider conservation efforts, helping other species to thrive in habitats maintained as hunting grounds.
Dr Luke Evans, lead author of the study from the University of Reading's School of Biological Sciences, said: "Controversial cases involving trophy hunting, such as the killing of Cecil the Lion in Zimbabwe in 2015, have caused an explosion in angry tweets.
"These comments become more hostile and angry as celebrities, activists and some politicians risk creating 'pile-ons' in opposition to any mention of trophy hunting, or those who suggest pro-hunting viewpoints. For example, one prominent ecologist who regularly advocates for the conservation benefits of trophy hunting on Twitter has been called a murderer and a psychopath.
"This strong anti-trophy hunting sentiment is now moving into UK law, with the UK government proposing a ban on trophy hunting imports. Such a law needs to be properly discussed and debated by experts and the public, but it is almost impossible to have this discussion online without seeing extreme anti-hunting viewpoints, often combined with abuse.
"A new British law banning hunting trophy imports could have a big impact on conservation worldwide, with both negative and positive influences in different locations. This needs to be scrutinised, but it's possible that Twitter's toxicity could skew the debate away from the evidence."
All the tweets analysed by the researchers were anonymised, to protect the identities of the tweeters.
The paper can be viewed in full here.
---
Contact
For further information please contact:
Flagship institutes
The University's four flagship institutes bring together our key strengths to tackle global issues, turning interdisciplinary and translational research into real-world solutions.