UK manufacturers to receive boost from new data analytics tool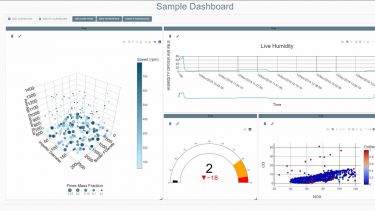 University of Sheffield researchers and Siemens have developed a new data visualisation dashboard to help British manufacturers better understand their data and keep pace with larger, international competitors who are taking advantage of digital manufacturing
New dashboard provides a birds-eye view over massive datasets to give manufacturers an invaluable insight into their processes to help them problem-solve using novel high-dimensional visualisation techniques
With industry going through a fourth industrial revolution - Industry 4.0 - British manufacturers are under increasing pressure to implement cutting-edge, digital technologies to which data analytics is crucial
The UK's ageing workforce means many firms lack the resources and expertise to take advantage of data analytics tools and digital manufacturing - the new tool developed at Sheffield makes this easier than ever before
A new tool that could help British manufacturers better understand their data and keep pace with larger, international competitors who are taking advantage of digital manufacturing, has been developed by engineers at the University of Sheffield.
The data visualisation dashboard, developed by researchers from the University's Department of Chemical and Biological Engineering in collaboration with Siemens, can provide a birds-eye view over massive datasets to give manufacturers an invaluable insight into their process relationships, enabling fast and effective decision making and process optimisation. 
The dashboard is a one-stop shop for data analysis and visualisation. It can be accessed by anyone with a web browser and a dataset, and can be used without the need to code or download software - a barrier that many UK firms, particularly SMEs, face in trying to take advantage of the benefits of digital manufacturing.
With industry going through a fourth industrial revolution - coined Industry 4.0 - there is increasing pressure on UK manufacturers to implement cutting-edge technologies such as cloud computing, Internet of Things, cyber-physical systems and big data analytics into their manufacturing processes and push toward becoming smart factories.
Data analytics is crucial to smart factories, giving manufacturers the increased ability to make intelligent decisions and control their own manufacturing processes. 
However, with an ageing workforce, many UK firms feel they lack the resources and expertise to implement and take advantage of data analytics tools and fear they are being left behind by larger corporations who are benefiting from increased digitalisation.
A 2020 survey of UK SMEs found that big data analytics and machine learning ranked as high-benefit but also high-complexity tools to implement for their operations. Existing commercial software that offer accessible platforms for data analytics and visualisation aren't specific to the manufacturing industry, and so lack the breadth and depth of analysis required to properly understand complex multivariate process relationships.
To help address these challenges, a team of researchers led by Dr Peyman Moghadam and Professor Joan Cordiner has used a state-of-the-art facility in Sheffield's Faculty of Engineering - the Siemens' MindSphere Lounge - to build a new dashboard that makes it easier than ever before for British manufacturers to visualise their data and keep pace with the digital revolution.
Dr Moghadam said: "As manufacturing data become bigger and more complex, ready-to-use data analytics/visualisation techniques are crucial in discovering patterns in unstructured data providing actionable insights to improve productivity and reduce risk for businesses."
The University of Sheffield was the first university in the world to establish a Siemens' MindSphere Lounge and join the Siemens' MindSphere Innovation Network.
MindSphere is a leading operating system from Siemens for industry that uses advanced analytics and AI to provide data-driven insights.
The MindSphere Lounge at Sheffield is enabling collaborations between Siemens, the University and the Sheffield City Region to help accelerate digitalisation, boost digital skills, and promote technology and knowledge exchange to meet the needs of an increasingly digitalised industry.  
Furthermore, the MindSphere Lounge is strengthening Sheffield's engineering education to help the University produce graduates with the digital skills needed by UK manufacturers in order to close the skills gap. 
To access the Wiz data visualisation dashboard, please get in touch with Dr Peyman Z. Moghadam at p.moghadam@sheffield.ac.uk 

Learn more about the Siemens' MindSphere Lounge at the University of Sheffield.
Contact
For further information please contact: