Universities develop ways for wind turbines to generate more energy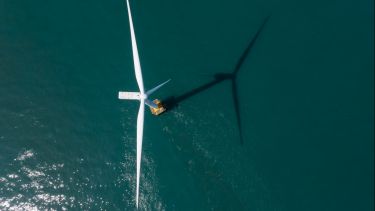 Major collaboration between universities and industry has made vital improvements to offshore wind production
Partnership between Universities of Sheffield, Durham, Hull and energy companies Siemens Gamesa and Ørsted has developed ways to make wind turbines more efficient, reliable, lighter and cheaper 
Collaboration is also helping energy companies better predict issues and faults
Improvements mean wind turbines could run for longer and generate more renewable energy - reducing the UK's reliance on fossil fuels
A major collaboration between universities and energy companies has made vital improvements to offshore wind turbines, which could help them generate more renewable energy and reduce the UK's reliance on fossil fuels.
The £7.7 million partnership between the Universities of Sheffield, Durham, Hull and two global energy companies, Siemens Gamesa Renewable Energy and Ørsted, could help offshore wind turbines run for longer periods of time - boosting the amount of energy each wind farm generates.
The collaboration, which includes several projects at each university, has developed ways to make wind turbines more reliable, efficient, lighter and cheaper.
A project at the University of Sheffield's Department of Electronic and Electrical Engineering has made crucial improvements to the direct-drive generator - the technology that enables wind turbines to run without a gearbox. This is often the most vulnerable part of a turbine and can require expensive maintenance and repairs. 
The Sheffield researchers have made improvements to the materials used in many of its components, so the generator is much more reliable, efficient and lighter. The improvements have also reduced manufacturing costs. 
Professor Zi-Qiang Zhu from the Electrical Machines and Drives Research Group at the University of Sheffield, said: "In modern direct-drive generators, there is no gearbox. This eliminates 50 per cent of the components of a wind turbine and has a direct positive impact on the reliability of the system. We have developed ways to make the generator even more efficient, including improvements to the choice and use of better materials for many of the components. This helps reduce the cost of manufacturing the generator system by 20 per cent."
Academics in Sheffield's Department of Mechanical Engineering, led by Professors Nikolaos Dervilis, Keith Worden, David Wagg and Elizabeth Cross, have created ways to monitor the health of components in wind turbines to help energy companies better predict issues and faults.
Professor Dervilis, said: "The new technologies that we have developed use a combination of data and physics to allow us to monitor the performance of whole wind farms as well as individual components on each turbine, such as the blades and the mechanics.
"These advancements, along with research being carried out at Durham and Hull universities, will ensure that offshore wind turbines are operating more efficiently and for much longer periods of time. This in turn will help to reduce the UK's reliance on non-renewable energy sources and enable a greater percentage of the UK's overall energy usage to be provided by renewable sources."
Dr Arwyn Thomas, Industrial Principal Investigator from Siemens Gamesa Renewable Energy (SGRE), one of the world's leading providers of wind power products and solutions, said: "This collaboration allows SGRE to steer the University to apply its excellent track record for innovation towards real life issues facing the industry. It helps to focus the research into areas that are far more relevant and which will have much more immediate, positive impacts. This, in turn, ensures that our graduate and post-graduate researchers develop the right skills to enter industry and help meet the current skills shortage."
Dave Bould, Senior Project Representative from Ørsted, who develop, construct and operate offshore wind farms, said: "The work of the University of Sheffield to develop more efficient and effective ways of monitoring the health of wind turbine blades is an exceptional example of research that can be directly applied by industry to improve commercial performance.  
"Modern wind turbines are massive structures that, ideally, should last for the entire life of an offshore wind farm without needing replacement or significant maintenance. Replacing a structure of this size in the harsh offshore environment is a very costly and time consuming exercise that results in significant amounts of lost electricity generation. The work of the University of Sheffield directly targets improvements in early warning of potential defects in blades and helps us minimise the risk of needing to unexpectedly repair or replace components. 
"Overall, improvements in health monitoring, operations and maintenance helps us to continually drive down the cost of offshore wind energy – savings that are passed on to the consumer."
It is estimated that the cost of energy from offshore wind farms is now one quarter of what it was in 2009, thanks in part, to advancements made from these types of partnerships.
Another key outcome of the collaboration has been in helping to identify where the next stages of research need to be concentrated, to allow even more improvements to be developed. Funding for a number of follow-on projects has already been secured which the partner institutions will collaborate on. 
The importance of further investigations in this field has been recognised by the award of an EPSRC-funded research grant worth £6.3 million. This will be led by the University of Sheffield and will drive new standards for safer, greener structures in the future.
The partnership was funded by the UKRI Prosperity Partnership programme, which aims to support research into real-life problems and issues identified by industrial partners. As a result, the outputs of the project can be quickly adopted into the research and development and production strategies of the offshore wind sector. 
Contact
For further information please contact:
Flagship institutes
The University's four flagship institutes bring together our key strengths to tackle global issues, turning interdisciplinary and translational research into real-world solutions.