University celebrates Black History Month 2021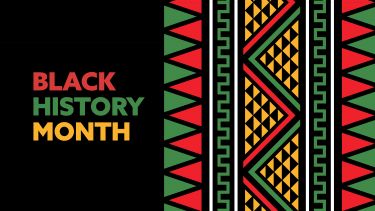 Black History Month is an opportunity for our colleagues, students, stakeholders and the wider community to celebrate Black culture and the contributions Black people have made to society today.
Throughout October, events are being hosted, panel discussions are being live streamed and people are sharing their stories and experiences to commemorate Black History Month in the UK.
Building on the celebrations that took place last year, we're reaffirming our position as an inclusive and diverse university that is reflected in the people who choose to study and work here. In 2021, we want to play an active role in celebrating Black heritage and learning more about the contributions our Black communities have and continue to make to British history.
If you fancy joining the conversation or getting involved in this year's events, then here's our selection of what's happening online and in-person near you.
Events
For the public:
For our staff and students:
Open to the public, University staff and students.
Hidden Voices in Sheffield Archives - Desiree Reynolds and Cherly Bailey
Thursday 21 October, 12.30pm - 1.30pm, Millennium Gallery
This event is hosted by Desiree and Cheryl and explores the stories of Black and marginalised voices. This illustrated talk reveals some of the hidden histories and important discoveries that have been found.
Find out more and book your ticket
Manifesto - Bernardine Evaristo
Tuesday 19 October, 7.30pm, Crucible Theatre
Tickets: £13/£10
In MANIFESTO Bernardine Evaristo offers insights into the nature of race, class, feminism, sexuality and ageing in modern Britain. It's a manifesto for anyone who has ever stood on the margins.
Find out more and join the event
Black Women Write Now – curated by Désirée Reynolds
Saturday 30 October, 11am - 8pm, Millennium Gallery
Tickets:  £6/£5, or buy any two Black Women Write Now events for £10/£8
Désirée Reynolds curated a strand of events for the festival to celebrate, look up for a moment and revel in what was happening with Black Women's writing, focusing on their voices in poetry, fiction, lifestyle, journalism, short stories.
The pieces of literature that will be discussed during the programme include:
See the full list of Off the Shelf events taking place in October
---
Sheffield's first African Caribbean market
Monday 25 - Saturday 30 October, 10am - 6pm Fargate
Reflecting the diverse culture of Sheffield, visitors will be able to enjoy a flavour of the Caribbean with food, clothing, books, crafts, song and dance, bringing old and young people together.
The Black Archive Exhibition - 'The Windrush Generation Pioneers in Sheffield'
Monday 4 October - Saturday 30 October, Moor Market
Created by BATAAC and Sheffield Action for African-Caribbean Health, this photograph exhibition will be displaying the images captured by a number of local photographers.
The Young People's Art Exhibition 
Monday 4 October - Saturday 30 October, Moor Market
Art produced by young local talent will be on display, titled as 'Looking Glass Into My Black Mind Exhibition.'
The Front Room Exhibition
Thursday 28, Friday 28 and Saturday 30 October, Moor Market
Three plays will be performed about life in the 1950's and 60's in Jamaica inside a space that recreates the Jamaican front room.
The Human Library
Monday 25 October - Saturday 30 October, Moor Market
Hear from individuals from the Black community, inviting you to explore the experiences of the Windrush generation.
Discover more events happening around the South Yorkshire region, alongside the variety of organisations that you can become involved in.
---
Celebrating African American/black gothic literature with Dr Maisha Wester
Tuesday 12 October, 6pm - 7.30pm, online
Open to University staff and students
Free
Join Dr Maisha Wester, to celebrate and learn more about Black Diasporic Gothic literature.
Dr Wester is a visiting lecturer at the University of Sheffield, having come from Indiana University, Bloomington, USA. 
Her research and teaching focuses on Gothic literature and Horror Film. Dr Wester also teaches American literature and African American Cultural Studies.
Find out more and get your free tickets.
Celebrating Black Success: A talk with Professor Dame Elizabeth Anionwu
Thursday 21 October, 6.00pm to 7.30pm, online
Open to University staff and students
Free
Listen to Professor Dame Elizabeth Anionwu talk about her distinguished career in the healthcare sector, including the challenges she faced and the success that she has achieved. Born in Birmingham in 1947, Professor Anionwu identifies herself as of Irish/Nigerian heritage. She started working for the NHS as a school nurse assistant in Wolverhampton at the age of 16. Since then, alongside other awards and achievements, she was honoured with a Damehood (DBE) in the 2017 Queen's New Year's Honours List for her services to nursing and the Mary Seacole Statue Appeal.
In July 2018, as part of the celebrations for the 70th Anniversary of the National Health Service, Professor Anionwu was included in the list of the 70 most influential nurses and midwives in the history of the NHS.
Find out more about the speaker and sign up for the event.
---
Open to students and staff only
Black History Month carnival 
Saturday 30 October 2021, Students' Union building and University concourse
The event will take over the Students' Union building and the University concourse, with food vendors, cultural performances, live music, and market stalls from local, Black-owned businesses.
More events will be added throughout the month, and you can find out more about what the Student's Union is organising on their official web page.
Students' Union Sports Committee event
Monday 18 October, on the University concourse
The Sheffield Students' Union Sports Committee is hosting a Goathon event to raise money for Black Minds Matter UK - a charity with a mission to connect Black individuals and families with free mental health services. On the University concourse there will be rowing machines or exercise bikes and running machines for people to jump on to raise money for this cause.
---
Open to students and staff only
Black History Month reading group for students
Tuesday 26 October, from 7pm 
Gallery Room 3 of the Students' Union
In 2020 our Library services team hosted the Reading for Diversity: Black Lives Matter reading group, a pilot event in partnership with BookSoc.Following the success of the event the group is back for 2021 and has plans to read and discuss books by black authors. More details will be revealed closer to the date.
Black Lives Matter reading list - curated by students
Check out the list of book recommendations by our students as part of our Black Lives Matter reading list
A world top-100 university
We're a world top-100 university renowned for the excellence, impact and distinctiveness of our research-led learning and teaching.