University of Sheffield academic to conduct celebration of exiled Afghan composers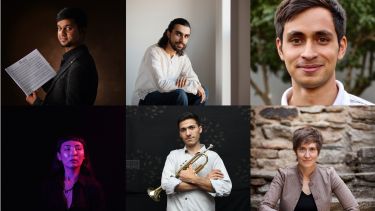 Master musicians on traditional Afghan instruments will join the Oxford Philharmonic Orchestra at Spitalfields Music Festival on 5 July 2022 in a UK first
Nine new orchestral works by Afghan composers will be showcased, co-curated by University of Sheffield Leverhulme Early Career Research Fellow, Dr Cayenna Ponchione-Bailey and Afghan pianist and composer, Arson Fahim
The concert promotes the flourishing Afghan orchestral music and composers, many of whom are silenced in their home country and are now living in exile
Dr Ponchione-Bailey researches the historical and contemporary orchestral activities of Afghanistan and is also working to bring some of these works to Sheffield in the future
Nine new orchestral works by Afghan composers, many of whom are silenced in their home country and living in exile, will be showcased in a concert co-curated and conducted by a University of Sheffield academic.
The event at the Spitalfields Music Festival on Tuesday 5 July 2022, will be led by Dr Cayenna Ponchione-Bailey from the University of Sheffield and marks the first time a British orchestra has performed a concert of Afghan orchestral music. The concert aims to promote the work of musicians and composers silenced by the Taliban, while also celebrating the history of orchestral music in Afghanistan.
The Orchestral Music of Afghanistan: Looking Forward, will bring together the Oxford Philharmonic Orchestra with musicians playing traditional Afghan instruments including; an Afghan rubāb (a short-necked plucked lute often considered the national instrument of Afghanistan), tabla (a pair of pitched drums), and a Herati dutār (a long-necked lute).
Dr Ponchione-Bailey, a Leverhulme Early Career Research Fellow at the University of Sheffield's Department of Music and Conducting Fellow of the Oxford Philharmonic Orchestra, has worked closely with musicians at the Afghanistan National Institute of Music in Kabul since 2018, and has taught many young Afghan conductors and composers.
She said: "Musicians in Afghanistan have once again been silenced by the Taliban - a return to their cultural policy of the 1990s, when musical activity was banned in the country. From 2001-2021 a great deal of effort was put into rejuvenating the musical culture of Afghanistan and now that work must continue in the diaspora.
"It is both thrilling and heart-breaking to be organising this concert with composer and pianist Arson Fahim. Thrilling, because it is wonderful to be bringing this vibrant and unique orchestral practice to the UK and to be supporting the creative work of Afghanistan's musicians while they are in exile. But heart-breaking, because this music should be able to be heard in Afghanistan, and that is currently not possible."
"I believe it is critical that we continue to collaborate internationally in order to ensure a platform for the flourishing creativity of Afghan composers and musicians, many of whom are exiled or in hiding."
The orchestras of Afghanistan have a rich history stretching back nearly 100 years. In the latter half of the 20th century, orchestral music-making flourished alongside a boom in radio and television broadcasting. In the 21st century their musical repertoire has often been a blend of arrangements of existing Afghan compositions and traditional songs with arrangements of European-heritage works, as well as original compositions by Afghan composers and voices from across the globe. 
Dr Ponchione-Bailey added: "The orchestras of Afghanistan are unique in that they usually encompass a fusion of traditional Afghan instruments and historically-European instruments. Arson and I wanted to build on the orchestral instrumentation established at the Afghanistan National Institute of Music over the past decade, whilst expanding it to include instruments less frequently part of these ensembles in Afghanistan, including upright double basses, bassoons and trombones. The composers showcased at the concert represent some of the most exciting new compositional talent to come out of Afghanistan in the last decade."
The works of nine Afghan composers will be performed, including original compositions, and arrangements of traditional Afghan songs by Milad Yousufi, Qambar Nawshad, Arson Fahim, Elaha Soroor, Ghafar Maliknezhad, Mohsen Saifi, Meena Karimi, Qudrat Wasefi and Ustad Zalai Pakta. Eight of these nine are world premieres, specially commissioned for the concert. 
Performing with the Oxford Philharmonic Orchestra will be some of the UKs leading experts in Afghan music including Saphwat Simab (Afghan rubāb), Shahbaz Hussain (tabla), Yusuf Mahmoud (harmonium), William Rees Hoffman (Herati dutār) and Mehboob Nadeem (sitar). 
Arson Fahim's music is infused with his compassion and a fierce commitment to social justice within his homeland of Afghanistan. Having graduated from the Afghanistan National Institute of Music in 2020, he is now pursuing a composition degree at Longy School of Music in Boston.
He said: "Despite music having an important role in Afghanistan's culture and history, over four decades of war and extremism have had a devastating impact on it. In the late 90s music was completely banned by the Taliban and taking power in August of 2021, they are once again silencing music by breaking instruments and persecuting musicians. This concert is about sharing the beauty of Afghanistan and its music but also raising awareness about the sad realities the country is facing. The concert is a way of keeping the sound of Afghan music loud and alive – a symbol of resistance and a message of hope." 
After its first night at Spitalfields Music Festival, Dr Ponchione-Bailey is working with the University concerts team to bring some of these works to Sheffield including a performance of Afghan singer-songwriter and composer, Elaha Soroor and the bank Kefaya.
You can find out more about the concert, and Spitalfields Music Festival here: https://spitalfieldsmusic.org.uk/events/the-orchestral-music-of-afghanistan-looking-forward/
---
Flagship institutes
The University's four flagship institutes bring together our key strengths to tackle global issues, turning interdisciplinary and translational research into real-world solutions.