University of Sheffield academics recognised as UK's most talented early career researchers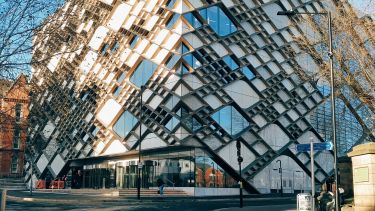 Three academics from the University of Sheffield have been recognised as some of the UK's most talented early career researchers by a prestigious fellowship
UKRI Future Leaders Fellowships help develop the next wave of world class research and innovation leaders in academia, support people on diverse career paths and provide long-term funding so academics can tackle ambitious and challenging research and innovation
The Sheffield academics awarded fellowships are capturing images of DNA in unprecedented detail to help find new gene therapies, developing new therapies that could transform the fight against neurodegenerative diseases such as MND, and developing new MRI methods to help assess and monitor infant lung and heart disease
Three academics from the University of Sheffield have been recognised as some of the most talented early career researchers and innovators in the UK by a prestigious fellowship. 
Dr Alice Pyne from the University's Department of Materials Science and Engineering, Dr Tatyana Shelkovnikova from the Sheffield Institute for Translational Neuroscience (SITraN), and Dr Neil Stewart from the Medical School have been awarded Future Leaders Fellowships by UK Research and Innovation (UKRI).
These fellowships help universities and businesses to develop their most talented early career researchers and innovators or to attract new people to their organisations, including from overseas. They provide flexible, long-term funding so academics can tackle ambitious and challenging research and innovation, whilst also developing their career. Furthermore, the scheme supports people on diverse career paths, including those returning from a career break or following time in other roles.
Professor Sue Hartley, Vice-President for Research at the University of Sheffield, said: "I'm delighted that once again academics at the University of Sheffield have been recognised for being at the forefront of research and innovation in the UK. The projects they are leading will make a huge impact in their respective fields, helping to find new treatments for diseases that currently have no cure and have devastating effects on people's lives. I'm incredibly proud of the work they are doing and wish them every success with their fellowships."
Dr Alice Pyne is a Senior Lecturer in Polymers and Soft Matter and Head of the Royce Nanocharacterisation Laboratory at the University of Sheffield. Her research combines high-resolution atomic force microscopy (AFM) and image analysis to determine how the structure and shape of individual DNA molecules affect fundamental biological processes. 
Throughout her career so far, Dr Pyne has worked closely with industry to develop new AFM methods capable of routinely imaging the DNA double helix on individual molecules. Her research has enabled us to see for the first time how small circles of DNA adopt dance-like movements inside a cell and has shown in unprecedented detail how the stresses and strains that are placed on DNA when it is crammed inside cells can change its shape.
Being able to study DNA in such detail could accelerate the development of new gene therapies by utilising how twisted and compacted DNA circles can squeeze their way into cells. Dr Pyne is also spearheading an international effort to promote quantitative tools for analysis in AFM and is building a community in the biosciences that adopts her high-resolution imaging methods, enabled by developing an automated image analysis pipeline, TopoStats, which combines AFM image correction, molecule identification, and tracing into a single tool. 
Dr Tatyana Shelkovnikova is a Senior Research Fellow at the Sheffield Institute for Translational Neuroscience (SITraN) - an international centre of excellence for research into neurodegenerative diseases. Research led by Dr Shelkovnikova and SITraN is essential in the fight against motor neuron disease and other common neurodegenerative disorders. Her research forms part of the University of Sheffield Neuroscience Institute, which brings together leading experts in medicine, science and engineering to better understand the nervous system and tackle the biggest challenges in neuroscience.
The fellowship awarded to Dr Shelkovnikova will focus on biomolecular condensates made of RNA and protein - known as RNP granules - that regulate virtually all processes in living cells. Given the spectrum of fundamental functions RNP granules fulfil, changes to their metabolism can lead to fatal human diseases, including neurodegenerative disorders such as motor neuron disease and frontotemporal dementia. These conditions progress rapidly, currently have no cure or effective disease-modifying treatment, and represent a significant unmet medical need. 
Dr Shelkovnikova's research is set to explore how to restore RNP granule balance in cells by targeting RNP granule components and regulatory factors using small molecule drugs - a therapeutic strategy that could be transformative for tackling neurodegenerative diseases.
The work planned by Dr Shelkovnikova within the Future Leaders Fellowship will help us understand how healthy cells utilise the RNP granule network, why it collapses in neurodegenerative disease and how abnormal metabolism of RNP granules can be corrected or restored for the benefit of human health.
Dr Neil Stewart is a physicist based in the University of Sheffield's Polaris Group working on the development and optimisation of magnetic resonance imaging (MRI) methods and technology. 
Dr Stewart's fellowship will focus on developing tailored MRI approaches to tackle the challenges associated with assessment and monitoring of infant lung and heart disease. This will lead to better understanding and management of diseases such as those related to premature birth, which not only have an impact in early life, but also lead to long-term complications throughout childhood and beyond.
This fellowship awarded to Dr Stewart will capitalise on pioneering developments in lung and cardiac MRI at the University of Sheffield, and advance state-of-the-art infant cardio-pulmonary imaging. Together with world-leading research groups, MRI industry, and clinical partners in the Sheffield Teaching Hospitals Jessop Wing and Sheffield Children's Hospital, Dr Stewart's research will drive real clinical change in infant lung and heart disease management.
Contact
For further information please contact: