University of Sheffield apprentices celebrate National Apprenticeship Week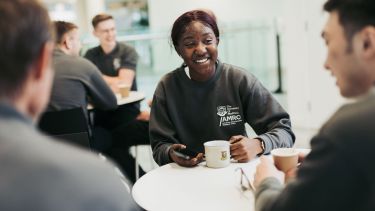 As this week is National Apprenticeship Week (6-12 February 2023), meet some of the apprentices in the University of Sheffield's Division of Nursing and Midwifery and Advanced Manufacturing Research Centre (AMRC) Training Centre.
Laura Marie Moorcroft, Trainee Nursing Associate
How did you get into the role?
When I left school, I had no desire to enter higher education. Throughout college I experienced poor mental health which depleted my motivation hugely. My attendance was poor, and I left college with a C in Sociology, a C in English Language and a U in Psychology. I thought I had reached the end of my educational journey, and at 18 years old, my career prospects were looking pretty bleak. I continued to work in the chip shop that I had worked in since I was 16, and in 2019 I was offered a job working as a Donor Carer at NHS Blood and Transplant (NHSBT). 5 GCSEs and good customer service skills were required, which I had.
At NHSBT I was taught phlebotomy, how to complete a basic health screening assessment, and I took to it like a duck to water. Over time I took on more responsibilities and more training, and when the Covid-19 pandemic came about, I applied for a promotion as an Education and Training Facilitator. I was successful in my interview and started travelling around the North of England training new donor carers how to take blood, platelets and plasma from donors. Soon after, I realised that I had reached the ceiling.
At 20 years old, I had climbed as far as I could within my organisation, without having a degree. I knew I wanted to be a nurse, it was the obvious next step. I lived with my partner at the time, and had no savings. There was no way I could afford to stop working and go to university full time with bills to pay. The route to Nursing seemed so un-accessible to anyone that wasn't fresh out of college. How could anyone like me, afford to go to University for 2 years and continue to be self-sufficient? Not to mention I didn't have enough UCAS points to even think about applying to complete an undergraduate degree. 
I started doing my research. I read about the courses that were available, I had meetings with university career advisors, and everything seemed to be pointing me in the same direction. The Trainee Nursing Associate apprenticeship route. I applied for numerous TNA roles, and eventually was offered an interview. I did my interview, and two weeks later I got the call to say I had been accepted for the role of a Trainee Nursing Associate working in General Practice. I couldn't believe it. I cried and called my mum to tell her that I'd been offered the job. I felt so proud to see where I had come from, where my situation had seemed so finite, this opportunity would open many doors for me.
What do you do as a TNA?
I started working at my surgery in July 2021, and started my University course at the University of Sheffield in the October that followed. I have University once a week on a Tuesday. Throughout the pandemic these have been a mixture of online and in person lectures. For the other four days, I am on my base placement at the surgery. Every 2-3 months I go on a placement for 2-3 weeks and experience a different field of nursing in a different setting. So far, I have experienced placements in Endoscopy, on a Psychiatric Intensive Care Unit, and Health Visiting 0-5 year olds. All of these placements have been such valuable experiences. 
The beauty of the TNA role is that it covers all 5 fields of nursing, including Adult, Child, Mother and Child, Mental Health and Learning Disability. Day to day, in general practice I complete a variety of tasks. This includes taking blood samples, analysing urine samples, completing ECGs, chronic condition reviews, NHS Health Checks, wound care, suture removals and vaccinations. There are more skills in the pipeline for me too, including ear irrigation training, pill checks, advanced wound care, HRT checks. And when I am a registered NA, I will complete my cervical smear training too.
What are the best bits and challenges of being a TNA?
The thing I love most about my job is that every day is a school day. There is always something to learn, something to read and something new to see. Things are changing all the time and it really keeps the job interesting. I also really like the independence that comes with working as a TNA in general practice. I get involved with the care planning for patients and will monitor patients over time, for example, if they have high blood pressure. Primary care is here to prevent illness and promote good health, and I really like working with the early intervention side of care, preventing conditions like diabetes and hypertension, and educating people about good lifestyle choices and practising safe sex etc.
The workload can be challenging. Working full time and completing a foundation degree concurrently certainly can be a big task at times, but with the commitment and determination that is required, anybody could excel within the TNA route. Of course, working with poorly patients can be challenging emotionally at times, however, I am happy to say that the good certainly outweighs the bad. Every single day I work with good people who are grateful for the care they receive. I could not imagine doing any other job now. I wouldn't want to. Job satisfaction is something that you cannot buy, and it is something that I am lucky enough to experience every day at work.
What are your plans for the future?
When I have completed this course and I am a registered Nursing Associate, I plan to complete the top up apprenticeship to become a registered nurse. Then, the sky's the limit! I plan to take this role all the way and to complete my Advanced Nurse Practitioner training. I would also like to complete the prescriber course. There are always strings to add to your bow in this job, I am never bored! At the moment, I plan to stay working within general practice for the foreseeable future. But again, the beauty of nursing is that it can take you absolutely anywhere! If I wake up one day and decide I want to go and work in orthopaedics, or a prison, or a school, or a rehabilitation centre, I absolutely could. Nursing is flexible and gives you choice, which is fantastic.
Do you have any tips for anyone thinking about starting the TNA apprenticeship?
My advice to anyone thinking about this course is absolutely go for it. It doesn't matter how old you are or what your background is, just go for it. This course is for anyone that has the drive to do it. It might change the course of your career! You don't have to complete the top up, but equally you could if you wanted to. You could end up working as a Senior Sister on a ward, or you might want to stay as a Nursing Associate working in whatever field of nursing takes your fancy. I never thought I would be here, but here I am. So, get on NHS Jobs and start applying now. You never know where you might end up.
Nandipha Moyo, Machining Apprentice at Boeing Sheffield
Why did an apprenticeship appeal to you? 
After completing a BTEC level 2 course in engineering I found that the course structure, which balances theory and practical work, was the easiest and most effective way for me to learn as I was able to gain knowledge and apply it at the same time.
What are the benefits of an apprenticeship? 
There is exposure to a range of people from all different backgrounds and walks of life as it is an opportunity that is open to everyone. You are also able to gain knowledge and work experience at the same time, which is very beneficial for learning and other jobs that may be of interest in the future.
Who inspired you to pursue a career in engineering?
I had always had an eye for engineering as I enjoyed making things from whatever I could find, however my engineering teacher from secondary school gave me the final push I needed to pursue a career in engineering and to do an apprenticeship as he had always encouraged me to try new things.
How will your apprenticeship give you the skills and knowledge you need for a rewarding career?  
I've gained many job-specific and general skills which will help me progress in my job and develop overall as a person. Being able to develop skills such as financial literacy, time management and social skills has and will continue to allow me to work effectively and take part in different events to further develop my skills and knowledge.
What is the most challenging part of an apprenticeship? 
Balancing a job, college work and a social life is a very challenging part of an apprenticeship as it requires lots of prioritising and time management, however there is a lot of support from your employer and education provider to help support.
What tips and/or advice would you give to other people looking to do an apprenticeship? 
When looking for an apprenticeship, know what level of education you're looking for and the requirements. It's an easy way to plan out your career path by having a rough idea of where to start and where you want to be. Don't feel as though you're stuck with your choice as there are many career paths and job opportunities that can stem from your apprenticeship.
What has been the best part about doing an apprenticeship at Boeing Sheffield?
Working at the Boeing Sheffield site has been really exciting from the start. I've gained lots of valuable experience which has helped me progress in my apprenticeship and met amazing people who have made my time as an apprentice really enjoyable. My experience at Boeing Sheffield has been a real highlight at the start of my career.
More information on Trainee Nursing Associate apprenticeships at the University of Sheffield
More information on apprenticeships at the AMRC Training Centre
Contact
For more information please contact: