University of Sheffield awarded renewed term as partner in the NIHR School for Public Health Research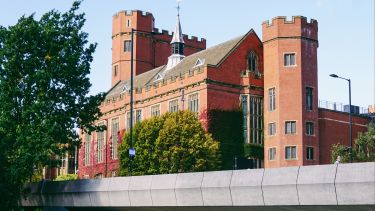 New funding has been awarded to continue the NIHR School for Public Health Research
The University of Sheffield's contribution to the partnership has been led by the School for Health and Related Research (ScHARR) since 2012
The school aims to build the evidence base for effective public health practice by bringing together England's leading public health research expertise
The University of Sheffield has been awarded a third term of membership of the NIHR School for Public Health Research (SPHR) for another five years from 2022.
The National Institute for Health Research (NIHR) has awarded £25 million to the NIHR School for Public Health Research, a partnership between nine leading centres of academic public health research excellence including the University of Sheffield.
Liddy Goyder, Professor of Public Health at the University of Sheffield and Sheffield lead for the current NIHR School for Public Health Research, said: "Researchers at Sheffield are passionate about having a positive impact on health and wellbeing, globally, nationally and regionally. 
"We're looking forward to working with our academic and practice partners and with communities across England to deliver an ambitious five year research programme, at a time when evidence for how we can protect public health, promote wellbeing and tackle inequalities has never been more important."
The school aims to build the evidence base for effective public health practice by bringing together England's leading public health research expertise in one virtual organisation. The school conducts applied public health research to increase the volume and quality evidence on cost-effective interventions and supports local public health practitioners and policy makers to engage with research and seek out research evidence to inform their decisions.
The University of Sheffield's contribution to the partnership has been led by the School for Health and Related Research (ScHARR) since 2012. Lead researchers from across the University contribute key expertise across high priority public health areas, including: health inequalities, racism and ethnicity, public mental health, health behaviours including diet, exercise, alcohol and tobacco, children and young people; social isolation, connectedness and communities; and active and healthy ageing.
Professor Lucy Chappell, NIHR Chief Executive, said: "The NIHR's investment in the School for Public Health Research has generated valuable local evidence that has informed Local Authority spending and planning to improve child health and create healthier neighbourhoods. With the new £25 million, the NIHR SPHR will continue to address key challenges in public health while expanding geographic reach and ensuring research takes place where it is needed most."
---
Contact
For further information please contact:
Flagship institutes
The University's four flagship institutes bring together our key strengths to tackle global issues, turning interdisciplinary and translational research into real-world solutions.