University of Sheffield engineer recognised for impact on society and economy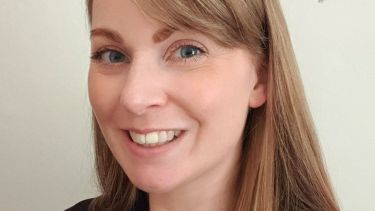 University of Sheffield researcher Dr Amy Gandy has been awarded a prestigious fellowship for her work that promises significant benefits to society and the economy
Dr Gandy is an expert in nuclear materials engineering and is helping us understand which materials can be used to build nuclear fusion reactors
Nuclear fusion promises a nearly limitless, clean source of energy - potentially vital for reducing carbon emissions - but is challenged by the availability of materials capable of withstanding the extreme environment inside a nuclear fusion reactor
An engineering researcher from the University of Sheffield has been awarded a prestigious fellowship in recognition of her research that promises significant benefits to society and the economy. 
Dr Amy Gandy, an expert in nuclear materials engineering at the University's Department of Materials Science and Engineering, has been awarded a Leverhulme Trust Research Fellowship from the Royal Academy of Engineering.
Only six other engineering researchers from across the UK have been awarded one of the fellowships this year.
Dr Gandy's research is set to improve our understanding of which materials can be used to build nuclear fusion reactors.
Nuclear fusion promises a near limitless, clean source of energy and has the potential to play a major role in how the UK and countries around the world reduce their carbon emissions, while still generating the electricity needed to power industries and heat homes. 
The technique produces electricity by mimicking the process of how the sun produces heat and light. It fuses gas particles together by either using shockwaves induced by a laser beam or by using incredibly strong superconducting magnets.
However, the technology is still in an experimental phase and no nuclear fusion reactors have been used to generate electricity yet. One of the major challenges in deploying the technology is developing materials that can withstand the extreme environment inside a nuclear fusion reactor. 
Complex alloys - materials made up of five or more elements in near equal ratios - show potential for being able to withstand extreme environments, but it is not yet known how the alloys respond to high levels of radiation.
Dr Gandy's research, funded by the new fellowship, is set to address this problem by exploring how complex alloys are affected by extreme levels of radiation - similar to what they would experience inside a nuclear fusion reactor. As well as being hugely beneficial to the nuclear industry, the research could also help the aerospace industry as complex alloys are used to build new aircraft such as passenger jets and spacecrafts.
Dr Gandy said: "I'm incredibly excited to have been awarded this fellowship, which will allow me to get back into the lab after a rewarding six years where my focus has been developing and delivering the Faculty of Engineering's new interdisciplinary degree - General Engineering. 
"Some compositionally complex alloys have been reported to display excellent high temperature and radiation damage resistant properties, but due to the range in compositions and ion implantation conditions - used to simulate radiation damage in the alloys - utilised across different research groups, it is difficult to unpick this complex situation and, as a consequence, numerous damage recovery mechanisms have been proposed.
"During this fellowship, I'll be studying suites of alloys, with systematic variations in crystal structure and composition, using a range of electron microscopy, X-ray diffraction, and ion implantation techniques, to determine a link between alloy structure and radiation damage recovery mechanisms. I hope results from this fellowship will ultimately aid scientists and engineers around the world in designing new radiation damage resistant alloys for a range of applications."
Dr Gandy is part of the University of Sheffield's Department of Materials Science and Engineering - one of the UK's leading research centres for materials science. The department drives innovation in the processing, properties and applications of materials for the benefit of industry, society and the economy.

Dr Gandy is also part of the University of Sheffield Energy Institute, which is bringing together some of the world's leading energy researchers to develop low-carbon solutions to the UK's and the world's energy challenges.
Contact
For further information please contact: