University of Sheffield ranked within top 100 universities in 2023 QS World University Rankings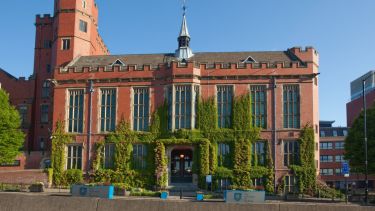 The University of Sheffield has been ranked joint 16th in the UK, 96th in the world and second in Yorkshire and Humber in the QS World University Rankings 2023
The global ranking is the most-consulted independent evaluation of the world's top 1,422 universities
The University of Sheffield has been ranked as one of the top 100 universities in the world in the QS World University Rankings 2023, reaffirming its position as a leading global university for teaching and research excellence.
The global league table has also named the University as joint 16th best in the UK, 96th in the world and second in Yorkshire and Humber. In the 2023 edition of the QS World University Rankings, the University performed among the top seven per cent of universities.
The global ranking is the most-consulted independent evaluation of the world's 1,422 top universities. This year's edition featured expert opinions of over 151,000 academics and contributions from 99,000 employers.
Over 16.4 million academic research papers and 117.8 million citations were also examined to measure the impact of the research produced by the universities ranked.  
The QS World University Rankings also measure academic standards, employability records, research quality, teaching capacity and internationalisation.
The University of Sheffield's strongest scores were in two internationalisation indicators, ranking the University 60th globally and demonstrating its diverse community. It received 97.8 points out of a total of 100 for the International Students indicator; and 85.3 points for the International Faculty indicator.
President and Vice-Chancellor of the University of Sheffield, Professor Koen Lamberts, said: "We are very proud that our reputation as a top 100 global university has been reaffirmed by the latest QS World University Rankings.
"As a university with a diverse community of students and staff from more than 150 countries, it is particularly pleasing that we have been recognised for our strong international outlook and global ethos.
"At Sheffield, we strive to make a significant impact across the world through our life-changing research and outstanding teaching.  We are delighted that our University has been recognised as a global leader."
The ranking follows recent news that the University of Sheffield's Students' Union was awarded the Whatuni Student Choice Award 2022 for Best Students' Union, for the fifth year running. Earlier in the year the University was also ranked one of the most international universities in the world by Times Higher Education.
---
Contact
For further information please contact:
A world top-100 university
We're a world top-100 university renowned for the excellence, impact and distinctiveness of our research-led learning and teaching.