University of Sheffield recognised for its impact on society and the economy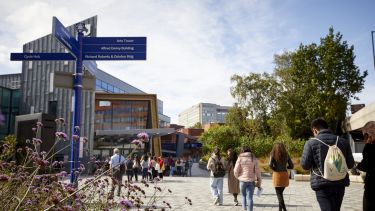 The University of Sheffield is one of the top universities in England for collaborating with businesses and working with the public and third sectors 
First ever Knowledge Exchange Framework (KEF) highlights Sheffield's strength in working with partners from all sectors to find solutions to challenges in industry and society
KEF also shows that Sheffield is among the top universities in England for public and community engagement and for commercialising research and intellectual property (IP)
Data from KEF shows the rich contributions English higher education providers make, both economically and socially, on both local and national levels.
The University of Sheffield is in the top 10 per cent of universities in England for working with businesses to find solutions to problems in industry and society, according to a new framework published today (Wednesday 31 March). 
The first ever Knowledge Exchange Framework (KEF), published by Research England, also places Sheffield in the top 10 per cent of universities for working with the public and third sectors, as well as commercialising its research and IP, and for public and community engagement.
The KEF is a new analysis of data that shows the contribution that higher education institutions make to society. It reveals how universities work with partners locally, nationally and internationally to find solutions to economic and social challenges - known as knowledge exchange. 
In the framework, universities across the UK are grouped into clusters of institutions with similar characteristics to help create a picture of the diversity of knowledge exchange activities that take place throughout higher education. Sheffield has been grouped into a cluster with 16 other universities*. 
The new KEF also includes narratives which paint a picture of how higher education providers can stimulate local growth. Over the last 20 years, the University of Sheffield Advanced Manufacturing Research Centre (AMRC) has shown how effective the model of an academic-business partnership can be to stimulate local growth. It has attracted global brands like McLaren and Boeing to open new facilities in the North, as well as empowered Sheffield City Region's own homegrown manufacturing leaders and SMEs.  
Other examples of working with business can be demonstrated by the University's partnerships with SMEs from across the Sheffield City Region, enabling them to prosper and grow. 
For example: District Eating - a specialist horticultural site and consultancy based in the city - develops indoor growing sites that create jobs, increase food security and promote economic growth while reducing the emissions and congestion associated with excessive food transportation. 
District Eating partnered with the University to increase its in-house knowledge of commercialisation of low carbon combustion equipment and worked with the Translational Energy Research Centre, which is part of the University's Energy Institute, to create tools for one of their clients to help attract investors.  
Through initiatives such as RISE, the University also works in collaboration with SMEs in the city to provide access to graduate talent, skills and innovation while also providing graduates with access to employment opportunities, career progression and the chance to make an impact in the region. 
Growth, impact and innovation are also driven by companies that spin out of the University, such as Diurnal Group plc - a specialist pharmaceutical company that develops innovative treatments for patients with hormone deficiencies to aid lifelong treatment for rare and chronic endocrine conditions.  
Knowledge exchange also includes public engagement activities where academics communicate their research with the public through festivals, cultural celebrations,open events,lectures and school activities. The University collaborates with groups and organisations from across the city to co-create projects and activities which contribute to the city's cultural vibrancy.
For example: Festival of the Mind, showcases local creative talent and world class academic research through a series of events held across the city every two years. The University also brings Off the Shelf, one of the largest literary festivals in the UK, to the city of Sheffield each year, adding to the city's cultural vibrancy. Between 2016 and 2019, 203,000 people attended University-led events with a further 400,000 visitors to key city partner events.     
Professor Dave Petley, Vice-President for Innovation at the University of Sheffield, said: "I'm delighted to see that the new Knowledge Exchange Framework recognises the strength and volume of partnerships the University has throughout the Sheffield City Region, the North and beyond.
"At Sheffield, we have a strong track record of knowledge exchange, working with a large range of businesses, organisations and groups from multiple sectors. The University has strong partnerships throughout the region, and beyond, and makes a rich contribution both economically and socially, on local and national levels.  We're very enthusiastic about the ways in which we can help the city, the North and the country recover from the pandemic.
"We're looking forward to building on this success by working with a bigger range of partners to further drive innovation and growth, and to promote wellbeing, in the region and nationally."
More information on the University's role in the Sheffield City Region
More details on how the University works in partnership with businesses
View the KEF from Research England
*The University of Sheffield has been grouped into a cluster with the following institutions:
Imperial College London
King's College London
University of Birmingham
University of Liverpool
University of Nottingham
University of Southampton
University of Warwick
London Business School
University of Oxford
Queen Mary, University of London 
University College, London 
University of Bristol
University of Cambridge
University of Leeds
The University of Manchester
Newcastle University
Contact
For further information please contact: