University of Sheffield students help speed up cancer diagnosis at new Julia Garnham Centre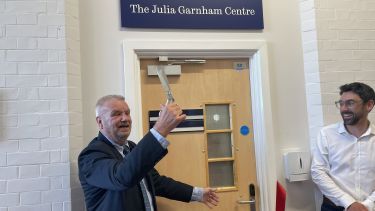 The University of Sheffield and Sheffield Children's NHS Foundation Trust have launched the Julia Garnham Centre, a new clinical genetics training and work placements facility 
Named after inspirational geneticist Julia Garnham, the facility will help to reduce the time it takes to diagnose certain types of blood cancer
The students learn diagnostic skills, an understanding of patient pathways and the importance of the results. These students then go on to work within the NHS all over the UK
The University of Sheffield and Sheffield Children's NHS Foundation Trust have officially opened the Julia Garnham Centre, a new genomic pre-screening facility, which helps NHS geneticists to diagnose blood cancers. 
Based in the University of Sheffield's Firth Court, the new remote NHS work placement centre provides students with essential experience and training in genetic analysis. The students prepare anonymised cancer cases, making them ready for NHS Geneticists to analyse, which helps to save time for Sheffield Children's and speeds up the time it takes to report these types of cancer results.
The Julia Garnham Centre is the first of its kind in helping the analysis of genetic karyotypes for leukaemia patients. During a three month trial, the facility improved the time it took Sheffield Children's genetics team to analyse and report cases.
The centre is named after Julia Garnham, an inspirational Sheffield genetic technologist who worked for Sheffield Children's NHS Foundation Trust's genetics department for over 30 years helping to diagnose genetic disease, including many cancers. 
Julia, who sadly passed away in 2018, dedicated her career to ensuring high quality preparations and offering excellent training and development for scientists managing the genetic analysis to ensure patients, including those with cancer, received a high quality and timely diagnosis, a core ambition of the new centre. 
Our students are at the beginning of their scientific careers, and they relate to Julia's story. The new facility will provide them with the opportunity to use their intellect and education to save lives right now - during their degree. Julia's example inspires our students, sharpens their enthusiasm for knowledge, experience, and service to others.

Dr Adam Hodgson

Academic lead of the Julia Garnham Centre at the University of Sheffield
Dr Adam Hodgson, academic lead of the centre at the University of Sheffield, said: "Julia believed in sharing her knowledge and experience to help others and in making the workplace vibrant and welcoming. These are the core values we will embed in the centre.
"Julia served our local community by helping to save lives - she was a true NHS unsung hero because many of the people and families that she helped to save wouldn't know her name. I wanted to name the new centre after Julia to help share her story of selflessness and dedication, so that it may help to inspire others, and as a way to thank her and her family for her years of service."
Duncan Baker, Lead Clinical Scientist at Sheffield Diagnostic Genetics Service, part of Sheffield Children's NHS Foundation Trust, said: "This unique collaboration has been successfully helping the genetic analysis of samples from patients with leukaemia. The students have already been trained by the University so that they are immediately beneficial to the service. 
"They learn diagnostic skills, an understanding of patient pathways and the importance of the results. These students then go on to work within the NHS all over the UK, indeed we have numerous ex-placement students now working in Sheffield Diagnostic Genetics. 
"Naming the centre after Julia is a fabulous way to remember a person who represents the best of the NHS. Julia trained and supported masses of NHS staff in techniques being applied in the centre. Julia was hugely dedicated to her work and to her colleagues she's remembered especially for all the fun and laughter that she always brought." 
Dr Polly Talley, Consultant Clinical Scientist, and Lead Scientist for Haemato oncology at North East and Yorkshire Genomic Laboratory Hub, said:  "The Julia Garnham Centre is a truly symbiotic way of providing support to the diagnostic service and offering specialist career skills to the students. The team have demonstrated that students can make a true difference to managing analysis backlogs and improving the turnaround times for cancer patients, and this is a model that is being considered for national roll out. 
"As well as this it gives the students valuable scientific skills which have been instrumental in progressing their own training and career progression. Dedicating the name of the centre to Julia is a wonderful recognition of a beautiful, much-loved person's skills in producing high quality genetic preparations, and her ability to instil enthusiasm in her trainees."
---
Contact
For further information please contact:
Flagship institutes
The University's four flagship institutes bring together our key strengths to tackle global issues, turning interdisciplinary and translational research into real-world solutions.