University spin-out wins prestigious award for innovative work to improve rail network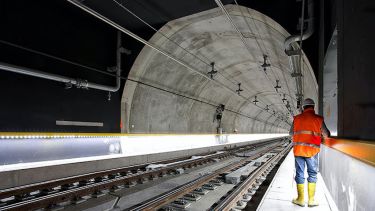 University spin-out company Geoptic has been recognised for its work supporting Network Rail to investigate the overburden of tunnels, with a prestigious national award.
Geoptic, a spin-out company from the University of Sheffield, the University of Durham, and St Mary's University, Twickenham, was awarded the national Institute of Physics Business Start-Up award.
The company was recognised for the innovative contribution it has made to the rail industry via the development of non-invasive imaging instrumentation and techniques.
Cosmic ray muons 'rain down' on the Earth's surface and can be used in the same manner as X-rays in medical imaging. Geoptic's pioneering technique offers new benefits of being non-invasive, improving the safety of tunnel overburden investigations.
Lee Thompson, Professor of Experimental Particle Physics at the University of Sheffield and Technical Director at Geoptic, said: "We're delighted that Geoptic, a University spin-out company, has been recognised with a national award from the Institute of Physics.
"I first started building cosmic ray muon detectors for schools outreach projects. Looking back, never at that time could I have imagined that years later we'd be using very similar instrumentation to help the rail industry look for hidden shafts and voids in railway tunnels."
Geoptic is a multidisciplinary company in the fields of nuclear and particle physics instrumentation, advanced data analytics, and geophysics.
Dr Chris Steer, Managing Director of Geoptic, said: "The recognition of the Geoptic team's hard work by this IOP award is fantastic and sets us up well for success in future years."
The Institute of Physics (IOP) is the professional body and learned society for physics, and the leading body for practising physicists, in the UK and Ireland. With a rich history of supporting business innovation and growth, it is committed to working with physics-based businesses, and companies that apply and employ physics and physicists.
The IOP's prestigious Business Awards are unique in the UK and Ireland in recognising the significant contribution that physicists and physics make in industry.
The IOP Business Start-Up Award specifically recognises and celebrates young companies with a great business idea founded on a physics invention, with the potential for business growth and significant societal impact.
Institute of Physics President, Jonathan Flint, said: "The IOP Business Awards recognise and reward the achievements of physics-based businesses of all sizes; innovative companies that have developed new technologies or repurposed existing ones, and that are at the cutting edge of the UK and Ireland's scientific research and development."
"These companies, old and new, large and small, have the power to drive the economy. They use the applications of physics to create positive individual, social, industrial and economic change, both at home and overseas."
"Rarely has the need to recognise and encourage our scientists been more apparent. We must continue to encourage, reward and invest in our researchers. Their commitment, drive and imaginations help to keep us comfortable, healthy and safe."
A world top-100 university
We're a world top-100 university renowned for the excellence, impact and distinctiveness of our research-led learning and teaching.