Our department offers a range of engaging interactive talks for school students of all ages, free of charge.
Off
Talks can be delivered online or in-person, depending on your school's location and government advice on COVID-19.
Talks for schools
Our academics can deliver interactive talks in your school. We cover many fascinating topics including:
Exploring the Universe (KS2, KS4 and KS5)
Particle physics and CERN (KS4 and 5)
Stars (KS4 and 5)
Lasers (KS4 and 5)
Nanotechnology (KS4 and 5)
Dark Matter (KS4 and 5)
Light (KS2, 3, 4 and 5)
Quantum Computers (KS5)
Sound (KS2)
Biological Physics (KS5)
Please note we can only travel to local schools in South Yorkshire, and during periods of high demand, we will give priority to schools in areas of low progression to university.
If you are interested in arranging a talk, please complete the booking enquiry form below and we will be in touch.
Interactive workshops
We also offer some interactive workshops to ignite student's curiosity in physics. To make a workshop booking enquiry please email laura.meade@sheffield.ac.uk.
Please note that workshops are only suitable for in-person delivery (not online) and we can only travel within our local area of South Yorkshire. During periods of high demand we will prioritise schools in areas with low progression to university.
Power Up (Key Stage 2)

What is electricity? Find out all about the mysterious energy that powers up our lives. We'll take a look at the tiny particles that make it all possible and investigate what makes the best conductors and insulators, finishing with the chance to make your own circuits from some surprising materials.

Learning outcomes:

Recognise conductors and insulators
Build simple circuits using surprising materials
See how electrons flow around a circuit to power electric components

What's in the Box? (Key Stage 2)

Can you figure out what's inside our mysterious sealed boxes? This activity is designed to put all your science enquiry skills into action. Use your senses along with your thinking and communication skills to discover what's in the boxes. This activity puts scientific enquiry into context and demonstrates how we do science.

Learning outcomes:

Develop scientific enquiry skills in recording evidence and observation
Develop communication skills by discussing and supporting findings with classmates
Understand that science is always evolving and there is always room for new ideas.

Connect Physics (Key Stage 3)

Connect Physics is a set of three workshops for Key Stage 3 science students which answer the questions:

What is physics?
Why do physics?
How do we do physics

The workshops are suitable for students of all science abilities. These workshops help relate ideas in KS3 science to phenomena in the world around them, bring in connections between different subject areas, connect KS3 science ideas to the big ideas at the forefront of physics research and introduces the idea of modelling and peer review to develop and evaluate explanations, all key components and skills-building that work alongside all of the KS3 Science National Curriculum

Exploring Space (Key Stage 2)

This is a three part project delving into the secrets of our solar system and the science behind space travel. Together we will go for a space picnic, launch rockets and find out what it's like to live in space. 

Developed for Year 5 and Year 6 groups this is a repeat intervention project designed to spark curiosity with physics and highlight the skills that scientists use (skills your pupils have too!). 

Each session has been designed with the National Curriculum in mind and includes content relevant to topics such as Forces and Motion and Earth and Space.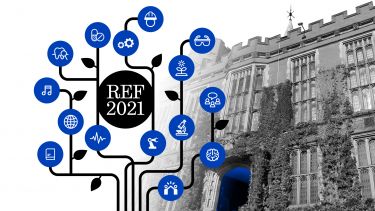 Research Excellence Framework 2021
We have been rated 1st in the UK in terms of the quality of our research. In the latest REF, 100 per cent of research and impact from our department has been classed as world-leading or internationally excellent.
A global reputation
Sheffield is a research university with a global reputation for excellence. We're a member of the Russell Group: one of the 24 leading UK universities for research and teaching.