Dr Kate Dommett awarded grant from Leverhulme for project on online political advertising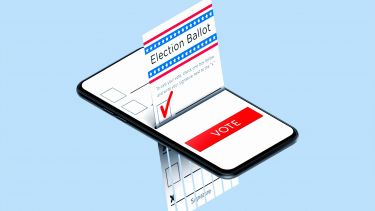 Dr Kate Dommett, Senior Lecturer in the Public Understanding of Politics in the Department of Politics and International Relations, has been awarded a Leverhulme grant for her work on online political advertising. Working with colleagues Dr Tom Stafford from the Department of Psychology and Dr Nikos Aletras from the Department of Computer Science, Dr Dommett's project will explore the use and impact of online political advertising, using interviews, experimental surveys and social media analysis to explore what is seen as legitimate practice, how effects are understood, and how these ideas translate into practice.
About the project
Online political advertising has become prolific in recent elections, raising democratic concerns about the legitimacy of this activity. Despite urgent calls for research exploring the impact and significance of online political advertising, at present we have no systematic account of how it works, how it is perceived by citizens and whether current practices are seen to be legitimate. This makes it difficult to design appropriate regulation. Drawing methods and insights from three disciplines, this project will generate new data and theories designed to inform regulation and analysis of online political advertising around the globe.
Whilst political advertising is not a new idea, the rise of online political advertising has raised significant questions about electoral integrity and the appropriate democratic use of advertising. Claims of voter manipulation and misinformation have led to an urgent demand for research exploring the impact and legitimacy of this activity. Whilst to date studies have emerged tracing the outputs of online political advertising by, for example, monitoring advertising spend or targeting, scholars have not yet provided a holistic account of the process of online political advertising, tracing how different actors understand this activity and assess legitimacy. 
This project will develop a holistic understanding of the process of online political advertising by generating data on how this activity is perceived by the public, how it is understood and described by practitioners, and how it actually appears online. This will allow the team to interrogate the impact and perceived legitimacy of different political advertising practices amongst the public, practitioners and policymakers, to inform debates about regulatory response. 
To do this, the project team will:
Synthesise currently fragmented disciplinary insights around online political advertising, to provide a comprehensive account of existing literature on advertising online, its effects, practice, regulation and use.
Map perceptions of online political advertising amongst the public, practitioners and policy makers in regards to advertising capacities, effects and legitimacy.
Use online political advertising archive data to classify and map practices
Theorise variations in perceptions, objectives and practices in online political advertising and develop taxonomies of practice for comparative study in other jurisdictions.
Propose regulatory and industry responses to online political advertising, reflecting on the significance of practices and perceptions as a drive for future regulation.
Flagship institutes
The University's four flagship institutes bring together our key strengths to tackle global issues, turning interdisciplinary and translational research into real-world solutions.