The degree at Sheffield allowed me to study the subject in more depth - the list of optional modules on offer are very interesting

Momina Baig
First year student
BA Politics
BA Politics student Momina explains about her course and how University is an amazing way to learn new skills and meet new people.
How did you come to study Politics at the University of Sheffield?
I did not anticipate studying at Sheffield; it was an option, but I never believed this would be the university I would choose to study at. However, I am confident that I made the right decision in doing so because I would not be as happy as I am here had I not decided to study at Sheffield!
After studying Politics at A Level, I knew this would be the subject I wanted to continue studying at university. Politics is hugely relevant in society as it affects every individual and the degree at Sheffield would allow me to study the subject in more depth. The list of optional modules they offer here are very interesting and cover a broad range of topics. This was one of the reasons why I chose to study at this university. 
How have you found settling in to Sheffield?
Initially, settling into university was quite difficult, just as I expected it would be. I moved to Sheffield and found the change slightly overwhelming. However, as the academic year began, I found myself settling in faster than I thought I would! The lectures and seminars for each of my modules have been quite fascinating because I am learning about many new topics which I've always been curious about.
How have you found settling in to the course?
Settling into the course was challenging at first because of the change of structure from A Levels to a degree. Despite this, the support provided at Sheffield has been great. We are always encouraged to speak to tutors if we are finding anything difficult and here at Sheffield, there is an Academic Skills Centre you can visit if you need help with academic writing or reading. This is a great opportunity to receive any advice you need to develop your writing/reading skills when studying at university becomes difficult.
My favourite module is certainly British Politics because it reminds me of some of the topics I studied at A Level that I really enjoyed! 
What is your favourite thing about the city so far?
The best thing about Sheffield is definitely the number of parks in the city! Simply walking past these parks when I'm on my way to a lecture or seminar boosts my mood. In my spare time, visiting these parks and going on walks are my favourite things to do. The cafés and restaurants here are also great to visit!
Are you involved in any clubs or societies yet?
At the moment, I have been trying to take part in as many extracurricular activities as I can. For example, I am part of a student led organisation called Enactus Sheffield. This is a brilliant opportunity to get involved in activities outside of your degree. At Enactus, we are organising local projects to make a difference in our community and these projects can become extremely successful in the future. Not only is this an exciting project to take part in, but it is also a great way to make friends!
What were your 'expectations vs reality' for studying at Sheffield?
I was quite worried before starting university because I knew I would struggle with the change of environment. I have never lived away from home for more than a week, so I was afraid of feeling homesick. This became a lot easier to deal with once I began to get involved with activities within the university and signed up to take part in things which put me outside of my comfort zone. The course is academically challenging, but you still have the time to take part in activities outside of your studies!
What advice would you give to new students starting next September?
The number one piece of advice I wish I heard when I was a student applying to university is that it is okay to feel nervous or afraid.
So many students have these feelings and feel alone in this because many people prefer not to speak about it. University can be daunting but once it begins, things become normal faster than you expect. As well as this, if you still feel overwhelmed by university after starting your studies, there are many ways you can receive help and advice from the university.
Furthermore, once you begin university, get involved in as many things as you can! University is an amazing way to learn new skills and meet new people. As intimidating as this may sound, putting yourself out there and taking every opportunity you get will make you experience worthwhile.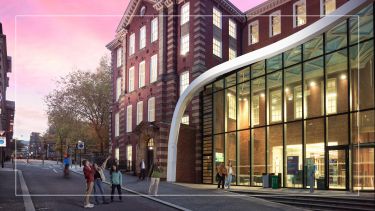 Visit us
Discover what sets Sheffield apart at our undergraduate open days on the Saturday 21 October or Saturday 18 November.